Caller ID mounted on your iPhone XS Max comes handy when you want to know who's calling you. It could be anyone from someone you knew years ago or someone from customer representatives calling you to either ask for a short survey or it could be a promotional call for new or existing products with offers and whatnot that you must avoid. Well, since using Caller ID allows you to check out who's calling you, the same applies for the recipient of your calls so it works both ways.
The thing is, it is a software piece and must work without any glitch as Apple usually takes care of the bugs and all you might encounter, the problem can occur almost at any time or place. You might encounter that your caller ID is not working on your iPhone XS Max in which case, you will not know who has been calling you. There are several reasons why it could've happened and therefore, I have constructed a list of generic and workaround troubleshooting methods that you can deploy on your iPhone XS Max in an attempt to fix the issue so read along and follow.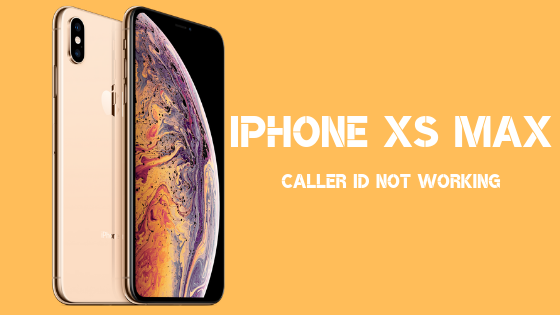 How to fix Caller ID that's not working on the Apple iPhone XS Max?
The preliminary action plan
Before we can commence doing anything that might jumpstart caller ID not working on iPhone XS Max issue, let's scrutinize a bit to know if it was actually broken or damaged or impaired or not. First of all, go to Settings >> Phone and check if you have 'Show My Caller ID' enabled or not. Toggle it several times so that if there was any problem with it, it must have gone now. Note that if you are getting caller IDs from a few callers but getting IDs of others, it could be because the caller might have disabled 'Show My Caller ID' feature that you just toggled.
On the other hand, invalid timestamps can also cause problems with the device which isn't something new. Check if the time and date are correct or go to Settings >> Time & Date to set up the correct time manually or set it up automatically on the network so that every time the time and date goes off the sight on your device, the carrier will automatically update the correct timings. If these preliminary methods don't come handy, proceed to the actual troubleshooting guide that follows.
First Method: The Almighty Reboot
This comes as a handy method is fixing random and abruptly occurring issues such as when caller ID on your iPhone XS Max suddenly stops working. This must resolve the temporal issue by relieving the phone from any bugs or issues with the phone. It is an effective method and thus, I have listed it here in this troubleshooting guide.
First of all, you need to turn off the device by long-pressing the 'Side button' and any volume button until a slider appears.
Roll the slider captioned 'Slide to Power Off' towards the right and the phone will turn off.
Stall for a few seconds and hit the 'Side button' for a while until the phone powers up and you are done.
Second Method: Reinstall the SIM card
SIM cards are basically tiny smart computers that enable the connection between user and carrier and provides all sorts of services including cellular network. If the problem is induced due to SIM card issues, you can employ this troubleshooting method to accomplish the fix. Here's how you can do it about.
First of all, turn off the phone.
Use the SIM ejector tool and push it into the small hole placed on the SIM tray.
This will bring out the SIM tray and you can remove the SIM.
Check out if there's any physical damage to the SIM card or any scratches or whatsoever seems dubious.
If yes, get a SIM replacement from the telecom carrier and if not, reinsert the SIM card back on the tray and push it inside the phone until a click sound is heard.
Third Method: Update Carrier Settings
Updating carrier settings is also crucial. This allows the phone to get rid of any issues, install certificates and settings recommended and pushed by the carrier, etc. To update the settings, open Settings app and proceed to General >> About to find if there's an update available or not.
Fourth Method: Update the iOS firmware
It might or might not work but what's in a try. Outdated firmware can result in countless issues overtime no wonder why Android phones turn slow over time as they are not as updated firmware-wise as iPhones. Since Apple pushes iOS updates every month for several generations of iPhones, updating the firmware isn't a big deal even if you are using an iPhone 7 with iOS 13. Since we are talking about iPhone XS Max, you don't have to worry about it turning out-of-support for a couple of years now.
Updating the firmware is indeed a boon for the system as well since it brings new features, optimizes the system and relieves it from previous bugs and issues that it had to handle either as a result of regional or globally spread bugs or if something you do on your iPhone XS Max triggered the issue. To update the iOS firmware, check out if there's any update available within Settings >> General >> Software Update.
Fifth Method: Reset Network Settings
Your iPhone XS Max has everything sorted based on its categories such as the Network Settings have everything you need on networks. Since there are many features within this section, invalid or incorrect entries can cause issues and thus, might even hinder with the caller ID that you reported to be not working. You can always find what's wrong with the network settings or reset it to default settings to verify if the change made any difference to the issue or not.
Step 01: Launch Settings application from the Home screen.
Step 02: Proceed to the General >> Reset section.
Step 03: Amidst the list, tap on 'Reset Network Settings'.
Step 04: Your iPhone will seek authentication before going through and will ask for a passcode that you need to enter to confirm the said step.
Step 05: Once the network settings are reset, go to Phone and check out if the caller ID is back online or not.
Sixth Method: Restore the iPhone XS Max to Factory Settings
Restoring the iPhone XS Max to its factory settings is literally what you think it is. The feature retreats the phone to its original factory settings the way you had it after removing it out of the box for the first time. This method comes handy whenever there's any software or network related issues so keep it in mind. Also, the thing you need to know is that you must take a backup of all data either in an external drive or iTunes so that nothing is lost.
Step #1: Go to the Home screen.
Step #2: Launch Settings app on your iPhone XS Max.
Step #3: Tap and open General and go through Reset.
Step #4: There are several options available here where you need to click on 'Erase all user data and settings'.
Step #5: The system will ask for a password to confirm the selection and once provided, the process will go through.
Step #6: Finally, perform a soft reboot on the device and set it up as a new phone and hopefully, the problem will vanish.
Install alternatives
There are a lot of alternatives to iPhone's caller ID of which, TrueCaller is definitely one of the most popular app alternatives. TrueCaller offers caller ID on calls you make or receive or you can search who's using the number by entering their numbers in the search field. There are plenty of other features such as spam messages are basically routed towards a different section and you might never know if you have received any spam messages or not. Other alternatives include Hiya, Caller ID, Mr. Number, etc although you need to verify their credibility before downloading it.
The ultimate method
If the built-in Caller ID doesn't work and neither does the TrueCaller or any other caller ID app which is highly unlikely, you can obviously take the major step to reset the phone to its original factory settings. Let's assume that the said method doesn't work as well which is also another instance of highly unlikely probability, you can report the issue to the Apple service center that shouldn't be much of a hassle. You can also visit a nearby service center which will be cheaper and effective although it will void the warranty on the device as well.