Apple CarPlay is a safer and reliable alternative to using your iPhone XS Max when you are driving. Also, different regions have different rules and regulations around using the phone while driving while some cities or even countries have strict fines against using phones. Thus, Apple CarPlay is a great option as it transports all the required apps and services to the dashboard on your car allowing you to access the large touchscreen to check messages or maps or ask Siri for navigation, etc.
Although installing Apple CarPlay in the cars that support CarPlay allows connection between the phone and the car while allowing the users to use their phones independently as well unlike Android Auto, it is still wiser to use CarPlay and not the phone. Well, most of the people interact with the touchscreen on the dashboard-mounted with Apple CarPlay for various activities but what if it is not working. What if the Apple CarPlay is finding it difficult to connect with your phone or if it is connected, it might find it difficult to sustain the connection or might not work at all.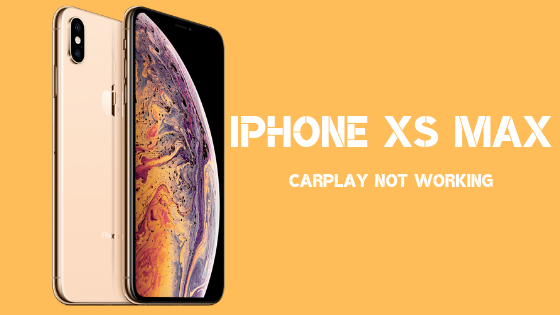 The Primary Scrutiny
Unlike the fancy subheading, this method is the simplest and lets you access a few parts of the CarPlay system to trace if there's something wrong either with the phone or the app or the dashboard and its connection.
First of all, you must know that in order for Apple CarPlay to work, your car must support it in the first place which goes the same for Android Auto. Next thing to do is that you need to connect the phone to the dashboard of your car using the USB cable for wired and Bluetooth for wireless connection between the two devices. The faulty USB cable can cause disruption or might not allow the user from connecting to the device at times while Bluetooth could end up sucked into the vertex of Bluetooth pairing issues which applies for anything that connects with Bluetooth so your iPhone XS Max is not something difficult.
How to fix CarPlay that is not working on your Apple iPhone XS?
Method #1 (Part 1): Restart the phone
This is the first part of the two where you need to restart the phone. This is because apps and services running on your system can take a lot of resources thus, rendering it difficult for the phone to connect with the dashboard's infotainment system. Restarting the phone will release all the hoarded resources while allowing the phone to process stuff faster than when clogged up.
To restart the iPhone XS Max, you need to press the Side button and any of the Volume rockers simultaneously and hold for a few seconds.
You can release the buttons when a slider with the caption 'Slide to Power Off' appears on the screen.
Simply drag the slider to the right and the phone will shut down right away.
Method #1 (Part 2): Restart the infotainment system
The infotainment system mounted on your car's dashboard can cause issues at times too. Thus, a quick restart must bump it up to work properly. To restart the system, you need to refer to the user manual that comes with the car since the methods can be vividly different from the make and model of the vehicle.
Method #2: Toggle OFF and ON Siri
Siri is the AI-based voice assistant from Apple that works in all Apple devices seamlessly. It also enables users to connect the phone to car's infotainment system and can take voice commands when enabled which is what makes distraction-free access to everything from iMessages to Spotify to Apple Maps and more. Here, random glitches and bugs accessing Siri could prevent CarPlay from working properly either partially i.e. only the voice commands might not work or either the system as a whole could just stop working i.e. CarPlay not working issue. Therefore, toggling Siri a number of times can prove instrumental in bringing the app back online although that depends if the problem was with Siri or not.
To do the same, go to the Settings app on your device and proceed towards 'Siri'.
Next up, you need to tap on the option "Allow Hey Siri" which is its wake up command.
Now, turn OFF "Siri" if it is enabled and turn it OFF and turn it back ON so that it jumpstarts.
If the Siri was disabled at the first place, you need to enable it and if you haven't set the wakeup command using your voice yet, it will not recognize your voice no matter you press the Siri button on your steering wheel or do whatever you want to train it and enable it.
Method #3: Turn OFF Bluetooth and turn it ON
Bluetooth is one of the ways to connect to the infotainment system mounted in your car wirelessly. Pairing is wireless as aforementioned but it does have its own sets of issues that might strike at times such as random issues pairing up for the first time or say the second time which is irritating if you connected the first time very well. Other issues include the inability to even detect the infotainment system when you try to discover BT devices on your iPhone XS Max and a tonne of other pairing issues can occur and a common solution has a tendency to fix some if not all.
You need to toggle Bluetooth and you'll find the shortcut icon at Control Center by tapping on 'Bluetooth' icon a number of times thereby disabling and enabling it repeatedly.
If you are unable to find it, go to Settings >> Bluetooth and you'll find the same switch to turn OFF the BT or turn it ON.
Do it a few times just to ensure that the phone recognizes and connects to the car's infotainment system right away.
Method #4: Forget the car and connect to it again
This is again something you can do within Settings >> Bluetooth. You can use this method if you had connected the phone with the car either as well. Since your phone will remember the car it was connected to aka a device, it will connect seamlessly when you discover it and pair it again. However, sometimes the process might not follow the right path and you might encounter issues connecting with a Bluetooth device possibly due to corrupted data, pairing or cache, or any other reasons.
This is where forgetting the device and reconnecting to it comes into play. Go to Settings and dive into Bluetooth and tap on the device you want to connect and tap on "í" information icon alongside the Bluetooth name.
This will give you the option "Forget this device" so click on it, confirm if prompted, and done.
Turn OFF Bluetooth and wait for a few seconds.
Tap and enable Bluetooth and connect to the device in question as you would normally connect and hopefully, the connection is established just like that.
Method #5: Reset all the network settings on your phone
Network issues can throw the phone's ability to connect with other devices either via Bluetooth or Wi-Fi or connect with the cellular services a bit difficult. Here, resetting the network settings can help come clean and stripe off any issues and errors causing the phone from connected to the car's infotainment system via Apple CarPlay so here's how you can fix it.
First of all, you need to direct towards the Settings app which contains everything you need.
Now, the next step is to go to General >> Reset where a list of options are available.
Locate and select 'Reset Network Settings'.
The system could ask you to enter a passcode which is when you enter it to confirm.
Once you are done with it, simply give it a reboot which is always good for a smartphone and you'll see the difference when the phone is back online.
Method #6: Turn OFF USB Restricted Mode on your iPhone XS Max
The feature was introduced with iOS 11.4.1 and it is present even today as we reach iOS 13 so far. The feature disables any USB device to connect with your phone and access and steal data when activated thus, this makes the phone bullet-proof against such practices which protect the users. However, when it is enabled, the phone will not allow connecting to a series of devices that use Lightning port such as CarPlay, USB chargers, video adapters, speakers, etc. Thus, here's the step to verify if it is enabled and how to disable it.
Firstly, go to Settings >> Face ID & Passcode (For users with iPhone 8 Plus and below, go to Touch ID & Passcode).
Enter the passcode and continue further.
Tap on Allow Access When Locked and then, proceed to USB Accessories.
The said option must be disabled which means USB Restricted Mode is enabled and vice versa.
Method #7: Update to the latest iOS firmware
The firmware is the backbone of any apps and hardware components at work. iOS is a sophisticated firmware and have a lot of features and functionalities at your disposal. Since it is a popular firmware, hackers and exploiters tend to find loopholes and exploit it to gain access to the user's device or data or do something worse. Although Apple keeps plugging these bugs and loopholes, hackers are working round the clock to find vulnerabilities that they can tweak and use it to their advantage. Thus, every time when an iOS update is available, you must do it since it strengthens the system against bugs and intruders while upgrading the UI and functionalities on the way.
To update the iOS firmware on iPhone XS Max, you'll need to proceed the Settings application on your phone.
Next is to navigate towards General and then, towards Software Update where you'll find listings if there's any update is available or not that you can Download and Install the same.
Once you finish the update, restart the device and it must start working just right.
If you still find it difficult to use CarPlay which is still not bug-free, follow other methods listed.