Facebook is undoubtedly the most popular social media site and app. Facebook has bifurcated its services into web-based for computers and smartphones while there is a rich userbase when it comes to Facebook app users on both iOS and Android operating systems as these are the two big OSes although there are dozen more. Anyways, the Facebook Messenger app particularly speeds up the process to call or text someone on Facebook while staying connecting to the friends and multitasking with other apps including high-end games and whatnot.
Although app developers behind Facebook Messenger and constantly monitoring the app performance, rectifying any technical issues and fixing any bugs while eliminating any outages across the globe, it is at the end, an app, and it is susceptible to sudden app crashes and snags here and there sprinkled in over indefinite duration although a mix of minor to major issues that could cause a plethora of issues par se. The app could suddenly crash or stop working when you open it or you have opened it once and tried retrieving it from the 'recent apps' section and it goes frozen.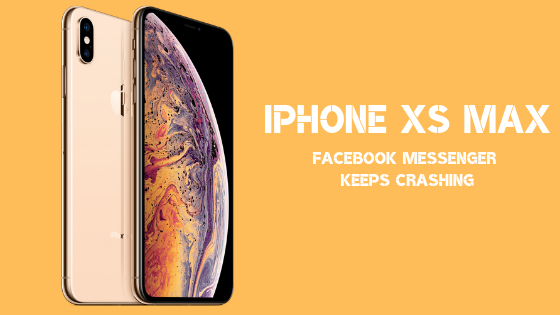 It could end up troubling loading itself or the app could crash when you click, press, tap, select or do any other activity which dictates an underlying bug or malware executing the abnormality exhibited by the Messenger app at the moment. Thus, you need to fix it asap as many people use Messenger and might never look on its website or download the standard or lite Facebook app for that matter. Thus, here is a plethora of methods that can come handy as your arsenal to fix Facebook Messenger keeps crashing issue.
How to fix Facebook Messenger keep crashing on iPhone XS Max?
Solution #1: Force Stop All The Apps
You as a user can launch and use multiple apps at once without any issue. Although multi-tasking works 99% of times, minimizing and toggling to a different app can cause either one or multiple of them to encounter issue or malware or corrupted data or cache or it could end up entangling with network issues and whatnot. This could throw the app in question off the rails such as Facebook Messenger for instance.
This is a primary method that you can use if any app(s) crashes or freezes abruptly or on accessing any particular API or feature of functionality, etc. You can always close these apps and relaunch when required as it reduces the burden on the processor and other components thereby optimizing the performance of your iPhone XS Max as well.
To force stop an app, navigate to the Home screen swipe up from the mid-bottom of the screen to the center of the screen.
This will produce app previews which are a card-like functionality that enables the user to switch between apps without any hassle.
Switch upon the apps that you want to close and relaunch then.
Hope this does make a change for you.
Solution #1: Force Reboot
Apps enable to do a billion of functions and can vary in functionalities to a great extent. Although apps like Facebook Messenger are backed by developers that look after the app and monitor and fix problems and issues if any. However, some errors might escape or it could be a minor software glitch from your phone's end triggered at the certain juncture or what you recalled that particular function or API thereby crashing the app at once.
Solution #2: Perform a soft reboot
If a force stop doesn't work, try soft or force reboot on the entire phone thereby reducing all the apps and services either running or not to NIL. This also ensures that all the resources that were allocated to these apps including Facebook Messenger are deallocated thereby creating a surge in performance once the phone is a reboot. A soft reboot is essentially a lifeboat even you go around looking for other methods on the internet, as a matter of fact, it works by solving and resolving minor issues and bugs and malware if not all.
On the flip side, if the app crashes too frequently or freezes the screen and turns the phone into a non-responsive brick of metal and plastic, try force reboot as it effectively reboots the phone while the screen is inactive and not responding, you can go for a force reboot.
A soft reboot is easy, just press the Side Button and hold it for a few seconds.
A 'Slide to Power Off' option will appear that you'll need to slide to the right and the phone is down.
Press the Side button again until the Apple logo comes alive and the process ends right here.
Force reboot can come handy when the device is frozen or unresponsive and here's how you can perform it on your iPhone XS Max.
Firstly, press Volume Up button once and then, press Volume Down button once.
Quickly press and hold Side Button for a few seconds until the Apple logo doesn't pop up.
Let go of the button and the phone will reboot itself.
Solution #3: Free Up Some Internal Memory
Next up, try freeing up some of the internal storage since the ROM in intangible on iPhone XS Max although you can move the images and videos to the cloud. Freeing up the internal memory will allow apps free to access more of the available resources and thus, it ends up improving the overall performance.
You can check out the internal memory and how it is being used via the Settings app >> General >> iPhone Storage. Uninstall apps that you don't want, move some images or files to the iCloud or Dropbox or simply delete if not needed and this must create a considerable amount of free space to cater to the apps on your device.
Solution #3: Try updating the Messenger app
What's the app version? You can check out if your Facebook Messenger app is updated or not simply by digging into the iPhone Storage within Settings >> General where you need to check the app version and cross-check it over the internet to see what version is being pushed out right now on iOS. Facebook Messenger keeps crashing issue should kick off if you have missed multiple app updates although it could happen that you didn't update once and this caused the some of the functionality(s) to come hurtling down causing the issue.
Also, updating an app had a tonne of benefits for both users and the phone itself. First up, it fixes any previously encountered bugs while grabbing new features and functionalities. On the flip side, it strengthens the app against any intruder thus preventing any malware or virus or loophole to cause problems either in the working of the app itself or the phone entirely.
To check for app updates, go to App Store >> Updates and scroll to find 'Facebook Messenger'.
Find the app and check if there are any pending updates, if yes then apply or else leave it.
You can set up auto-update via Settings >> iTunes & App Store >> Updates.
Solution #4: Get your iPhone XS Max updated with latest iOS
Your next move should organically be checking out the iOS version and updating it to the latest if it is outdated and out of sync. The reason why iOS firmware needs an update is to shield it against unwanted elements like bugs or malware or of the firmware or any particular app is breached or exploited due to bugs or any other abnormality. An update patches any broken code or bugs that might have escaped and here's you can do it.
Firstly, navigate to the Settings >> General >> Software Update.
The system will connect to the internet via Wi-Fi or mobile data to search for available updates (if any).
If available, hit the Download button and Install once done.
Keep a tab on the device's performance and if you encounter any abnormality, opt for the next method(s).
Solution #5: The traditional "Re-Installation"
If updating the Facebook Messenger app does not work on your device, you can follow a reinstallation method as it will clear any temporary files or cache files that are accumulated over time when you are using the app. Unlike Android smartphones which have dedicated option to clear cache and data under every app assuming that it could be corrupted or bugged, iOS doesn't have such privilege and thus, you will have to uninstall the app to remove any cache and temporary files and reinstall the app to continue using it under the impression that the issue is fixed.
To uninstall an app like Facebook Messenger, go to the Home screen.
Tap on the FB Messenger app icon until the screen starts to jiggle.
An 'X' will pop up on-screen that you can use to delete an app.
The system will prompt if you really wanna delete the app so confirm and it is done.
To reinstall the app, go to App Store and search 'Facebook Messenger'.
Hit the 'Install' button and set up your account and you are free to use it.
Solution #6: Get help from Facebook Help Desk
If there's any problem with the Facebook Messenger app itself such as it is facing outage or bugs, you can seek help from Facebook Help Desk. The various how-to guides on fixing issues occurring on the app can help find a way to restore the original functionalities of the app without crashing it. They might advise to download a previous app version or change certain settings within the app or on the device to fix particular issues.
Solution #7: Restore your iPhone XS Max
If neither of the solutions mentioned in this troubleshooting guide work which is somewhat higher in the majority of cases, you can call in the big gun. I would recommend you to go through with this method either if you rely on Facebook Messenger heavily and the fact that the app keeps crashing a lot is leading to compromises in some manner or if the problem is spread across all apps or a few of them and not just limited to Facebook Messenger app in which case, you can drop a bug report or go through with the last solution.
Solution #8: Seek professional's help
You have been trying to fix the Facebook Messenger keeps crashing issue, however, to no avail. What would you do? You can simply let go the Messenger app and use the website or Facebook app or Facebook Lite app or you can simply use any other alternative to stay connected such as Telegram or Instagram and so on.
The chances if there's a hardware issue and it is causing an issue with the Facebook Messenger are slim and why wouldn't it be. If there's indeed a hardware-related issue, it must affect all the apps installed and not just this app. However, to make sure that is not the chance, you can seek help from an authorized or third-party service center. The chances of discovering any potential hardware issues are higher if a professional diagnoses it rather than you take a screwdriver trying to find your way in which will definitely cause more damage than good so beware.