I know it is really heartbreaking the moment you realize that your phone could be one of the water damaged smartphone that you might have read off the internet the moment you accidentally spill water on it or say if it dunks or dives into the sink or pool, etc. Although it's guaranteed that most of the smartphone with water damage will succumb to their fate, there is still hope that you can cling to in order to try and fix the problem. This includes using a recommended procedure that we have been advising our readers to perform but there we have added more about what you must do if things go south and not according to your plan. Read and follow along to fix your Haier water damaged smartphone.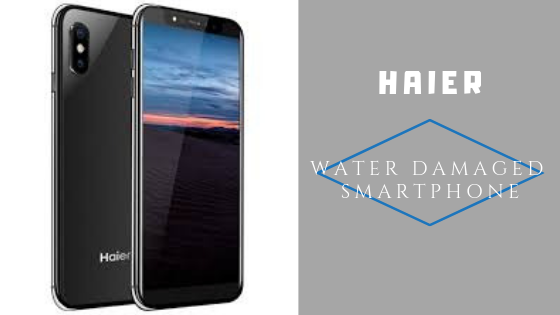 How to fix Haier Water Damaged Smartphone?
A Quick Analysis
You can always skip this part if you are panic that your phone is damaged a lot. For now, a water spill on your phone isn't much of a case that could render the phone useless, however, as the volume of water and its duration in contact increases, the case becomes severe. For now, you must know that the moment you see your phone mingling with water anywhere from beach, pool, sink, or even if you accidentally dropped a glass of water onto it, you must take it out in a jiffy.
What are the things you aren't supposed to do?
There are some things that you must avoid at all cost to prevent your water damaged smartphone from turning into a useless blob. Because you can proceed with what you must do to fix it, here's what you shouldn't do ever.
First up, do not ever attempt to turn on the device if it is turned off and neither connect it with a charger. Moving further, you mustn't panic as that would shoot up the reaction time and you never know if that time proves to be detrimental to your phone or not. Further, you mustn't shake or move the phone much because that will push or force the water to escape into the internal circuitry where it could damage hardware components if not all. The processor and other hardware components are housed within the internal assembly that makes it a hotspot for water to create more damage than it did when it dipped into the water.
Next is to avoid using a hair dryer or vacuum cleaner at this moment and you mustn't either press, dab, or touch on the touchscreen and other parts of the device trying to squeeze out the water because it isn't going to happen and instead, it will create more damage than ever so beware.
How to fix Haier Water Damaged Smartphone?
If you are familiar with what you "mustn't do", here's what you must do.
Step 01: Take the phone out of water
The first thing you do is to remove the phone out of water irrespective if it's in the pool, sink, on the table with a glass of water fell on it, etc. Just take the phone out and keep it on a dry surface.
Step 02: Wipe clean the exterior
Take a microfiber cloth or a tissue paper or paper towel to wipe off the exterior of the device without moving and shaking the phone. Use the tissue to dab on the exterior of the phone to soak off water droplets and then, proceed with the next step.
Step 03: Disassemble and wipe off
Next up is to disassemble the phone and not entirely but only those accessories that are removable. It includes SIM cards, memory cards, phone case or cover, battery and back panel (if removable). Use the same technique explain in the previous step to dab and clean off all these accessories along with dabbing on the ports, sockets, on the device trying to soak any traces of water at least visible on the exterior forefront.
Step 04: Soak off the water
Next up is to take a vacuum cleaner and use its hose to soak off water from orifices, ports, slots, etc where the tissue might not reach. Since the vacuum cleaner will actually reach deep inside the device, it might be able to soak more than ever.
Step 05: A: Use rubbing alcohol (Not recommended)
So, GetDroidTips doesn't advocate this method but since it is an available method and works in most cases under expert guidance, we have listed it here. You need rubbing alcohol that you can use to dab across the internal assembly to soak off the water, traces of moisture, signs of corrosions, and debris, etc. For that, you will have to disassemble the device to reveal its green motherboard and then, reassemble it back to its original shape in working order. You can take help from a nearby third-party technician to get it done and also ask if it will work or not.
Step 05: B: Use traditional ziplock and rice method
Now, this is a traditional all-can-do method that you can use to fix a water damaged smartphone. For this, you need to purchase a ziplock bag and a bag full of uncooked rice or take silica gel litter if available. Put the phone inside the bag and fill it up with the water-absorbent agent that you have (rice or silica) and keep the phone as it is for two to three days without any interference.
Step 06: Finalize the procedure to check if effectiveness
After the period of keeping the phone inside the bag ends, take it out and check if it boots or not. Here, the battery might have drained out completely and for that, simply plug in the charger to juice it up and then, boot up the phone again to check if it works or not. If not, the only resort is to report it to a technician.
What are you supposed to do if this procedure goes south?
Since we are tackling Haier water damaged smartphone, water usually renders electronic devices useless in most cases. Unless you were lucky or you did the above-prescribed procedure just right, you might not be able to fix every instance of water damaged smartphone. In such cases, you need to visit a nearby service center to claim the issue and get it fixed. Since without an official water resistance rating, your phone is already out of warranty which means, you can visit a third-party or an authorized one as well.
What are the precautions you can take to prevent it from happening again?
Call it fate or you are just clumsy, there is a chance that you will end up performing the method prescribed above to save your phone from water damage once again but there are things you can do to avoid it. First up, buy a phone with a decent water resistance rating like IP57 or so. If not, you can actually check out phones that are at least splash proof or waterproof but without any certification, since it will make the price tag go up.
If you aren't willing to pay for a new phone and just settle for the current fixed but previously water damaged the phone or buy a new phone in the same price category, you can always check out waterproof phone cases and covers. Although these accessories will make your phone look way too different, it is a chance you can take in case if you are not good handling your phone and its contact with water. Finally, stay away from anything that could cause any type of liquid damage to the device.