Gone are the days when people used SM and MMS to communicate with others with the rise of instant messenger apps and VoIP services. However, legacy systems aren't that easy to replace given that SMS is still one of the most reliable ways to communicate with others without any internet access. Plus, it is quick, efficient, and works even in a poor cellular network.
With that being said, even SMSes aren't full proof of any issues. Users have reported that they can't send text messages from Android smartphones which is a common occurrence. There are some reasons why it happens and we are here to fix it. There are some easy-to-understand and follow fixes that you should know if it ever happens. Here's what you need to do if you are unable to send a text message on your phone.
How To Fix If You Can't Send Text Messages From Android
Here are some of the possible reasons why you aren't able to send a text message from Android smartphone and their fixes. This also includes various ways to fix the issue as well.
The Usual Methods
One of the most sound fixes to any issues on any electronic device such as a smartphone is to simply reboot it. Yes, you read it right. It is one of the most recommended methods and so much so that we had to include it here. Simply power off your phone, wait for a few moments and turn it back on. Check if the issue is fixed or not.
Note that your smartphone is making millions of calculations and processing a tonne of data each second which means it might run into temporary glitches. Here, a quick reboot works wonders at least in most cases.
Another recommended troubleshooting method is to simply turn on airplane mode. This disconnects any and every network on your device until it is engaged. Wait for a few seconds and disable. Check if the issue related to can't send text messages from Android is fixed or not. If not, try enabling and disabling airplane mode several times in a quick succession that should render the issue out of the device.
Check Your SIM
Okay so here's the deal. It is highly unlikely that something's wrong with the physical SIM card if everything is working except the text message. But still, checking out if it is not inserted properly isn't a false move. Pop up the SIM tray, insert it properly and check.
While you are at it, check if the network strength is adequate to send a text message or not. It's possible that you were unable to send text message errors because of poor network strength.
Accumulation of app cache
There's no doubt cache helps speed up any processes on your Android smartphone but there are two sides of a coin. Any app that you use accumulates cache that builds up over time. It could rupture into causing issues with the working of an app and not being able to send a message is one of the many issues you might face.
But hey, clearing app cache is just a piece of cake. Here's how you can do it.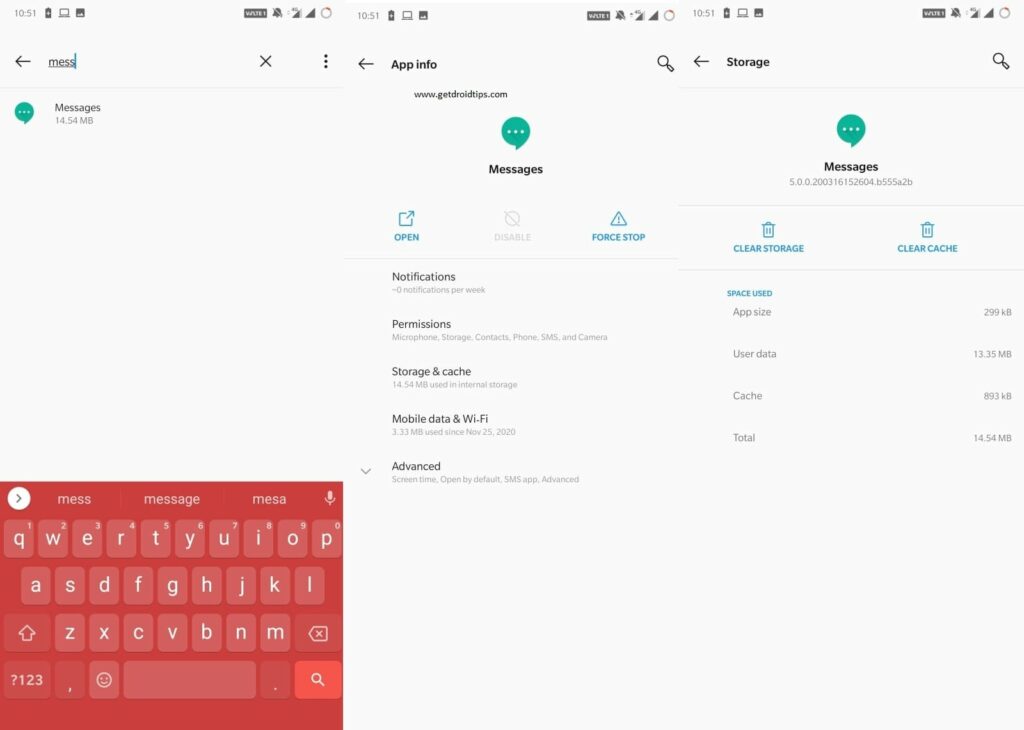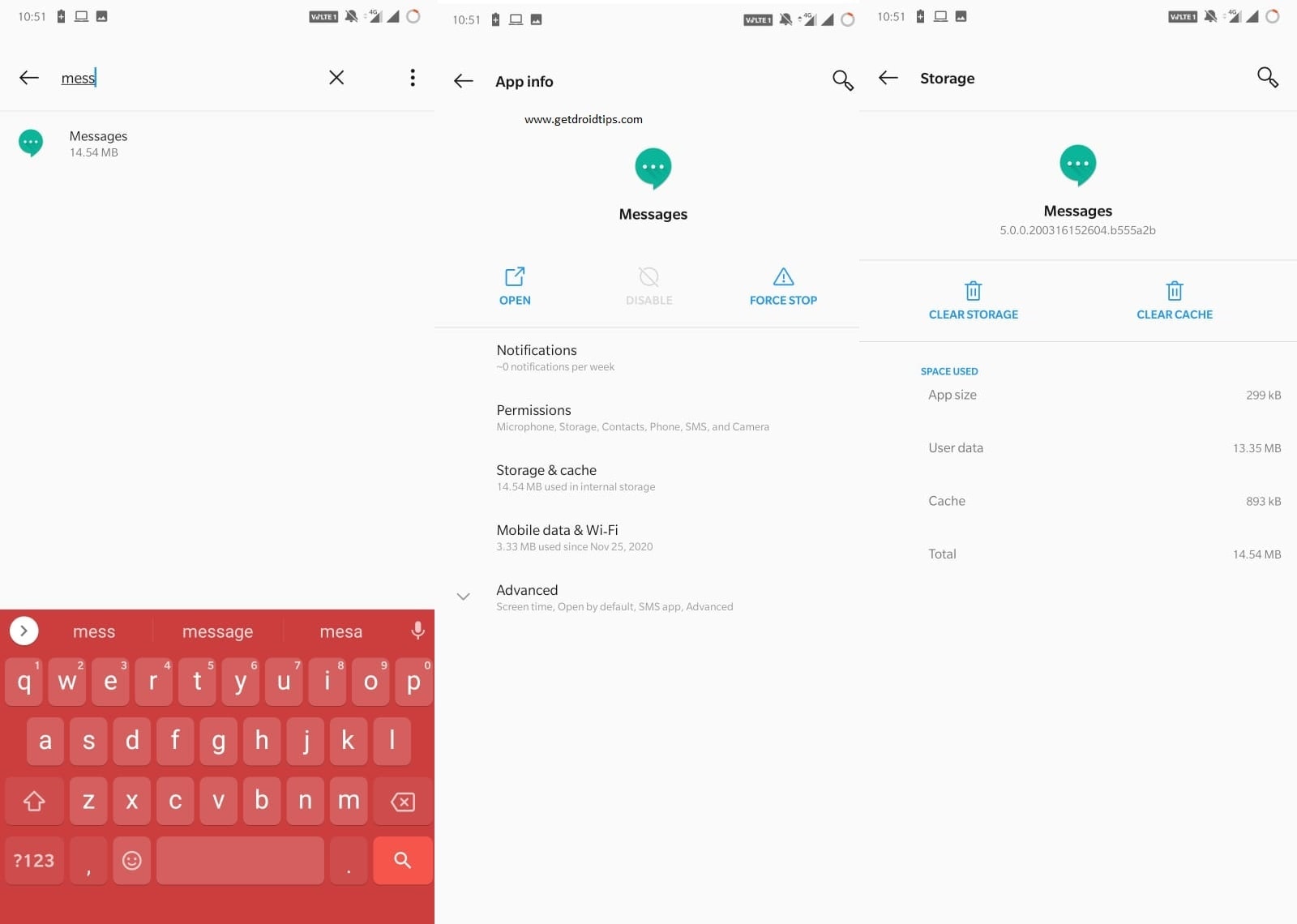 Step #1:
First up, go to
Settings.
Step #2:
Next, navigate to the
Apps
section or
Application Manager
depending upon which smartphone you are using.
Step #3:
Search and tap on the
"Messages"
app or any other messaging client that you use such as TrueCaller.
Step #4: Tap on
"Clear Storage"
and
"Clear Data"
and this should fix the problem if in case it was triggered due to cache.
Check for Software Updates
Your OEM rolls out firmware updates to fix issues with the existing/current firmware version. It is recommended to keep the software updated to ward off any potential issues and keeps the device in good shape. It's possible that something broke the phone's ability to send all or a few text messages and there can be hundreds of reasons why it could happen. A bug fix via a firmware update if in case your OEM recognizes and rolls out the update should work by fixing the issue once and for all.
Check if you have received any software update via Settings >> About Phone >> Software Updates. If not, check if the default "Messages" app that you use has a pending update on the Google Play Store. If yes, updating it should fix the problem as well.
Reset SMS Settings to Default Values
When you first insert your SIM card in your phone, it loads up all the necessary settings from the telecom carrier. Sometimes you get the notification while other times, it is loaded under the hood. This includes both SMS and MMS message settings and that is what allows you to freely send and receive SMSes/MMS. In case if the settings are altered or changed either manually or due to any 'n' number of issues, it needs to be fixed. Simply resetting them fixes most of the issues and here's how you can do it.
Step #1: Firstly, launch the "Messages" app.
Step #2: Next up, proceed to its Settings.
Step #3: Now, check for "Settings" or "Configurations" and "Reset" it to factory settings.
Step #4: Restart the phone and it is done.
Change Mobile Message Center Number
The SMS Message Center (SMSC) is responsible for all the SMS-related operations. When you send an SMS, it is routed via an SMSC and then, it is sent to the destination. If you aren't able to send SMSes, changing the Mobile Message Center Number can work wonders. Here's how you can do it.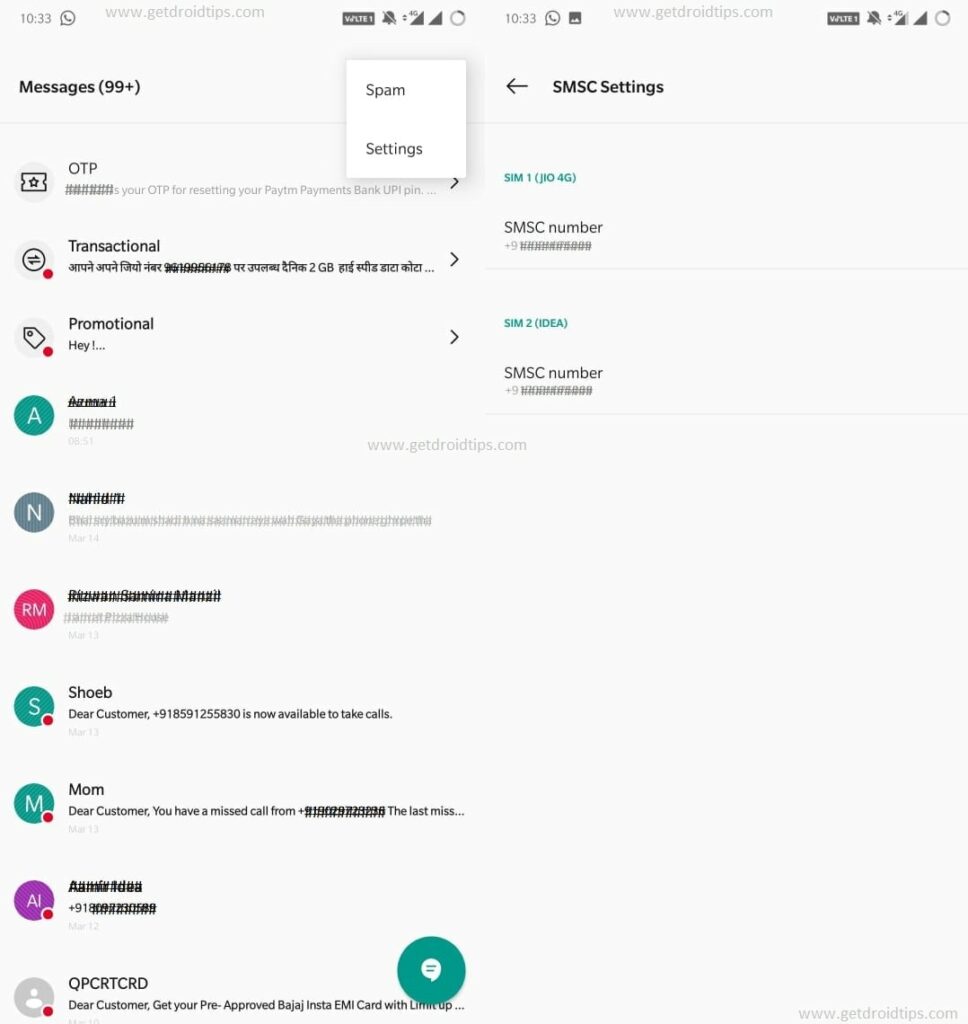 Step #1: Firstly, go to the Messaging app.
Step #2: Tap on the 3-dot or 3-line menu or tap on Settings since the interface could differ from maker to maker.
Step #3: Now you have access to the Message Center with the number provided. You can now change it and check if it works.
Note: Contact your service provider for the alternate number or values and change accordingly. You might even get a configuration message to install which, will automatically alter the SMSC or MMCN number.
Reset Network Settings
This is among the last methods where you require to reset settings to check if that works on your device or not. This particular method restores settings related to Wi-Fi, Mobile, & Bluetooth, and thus, it will probably render out the "can't send text messages from Android" issue as well.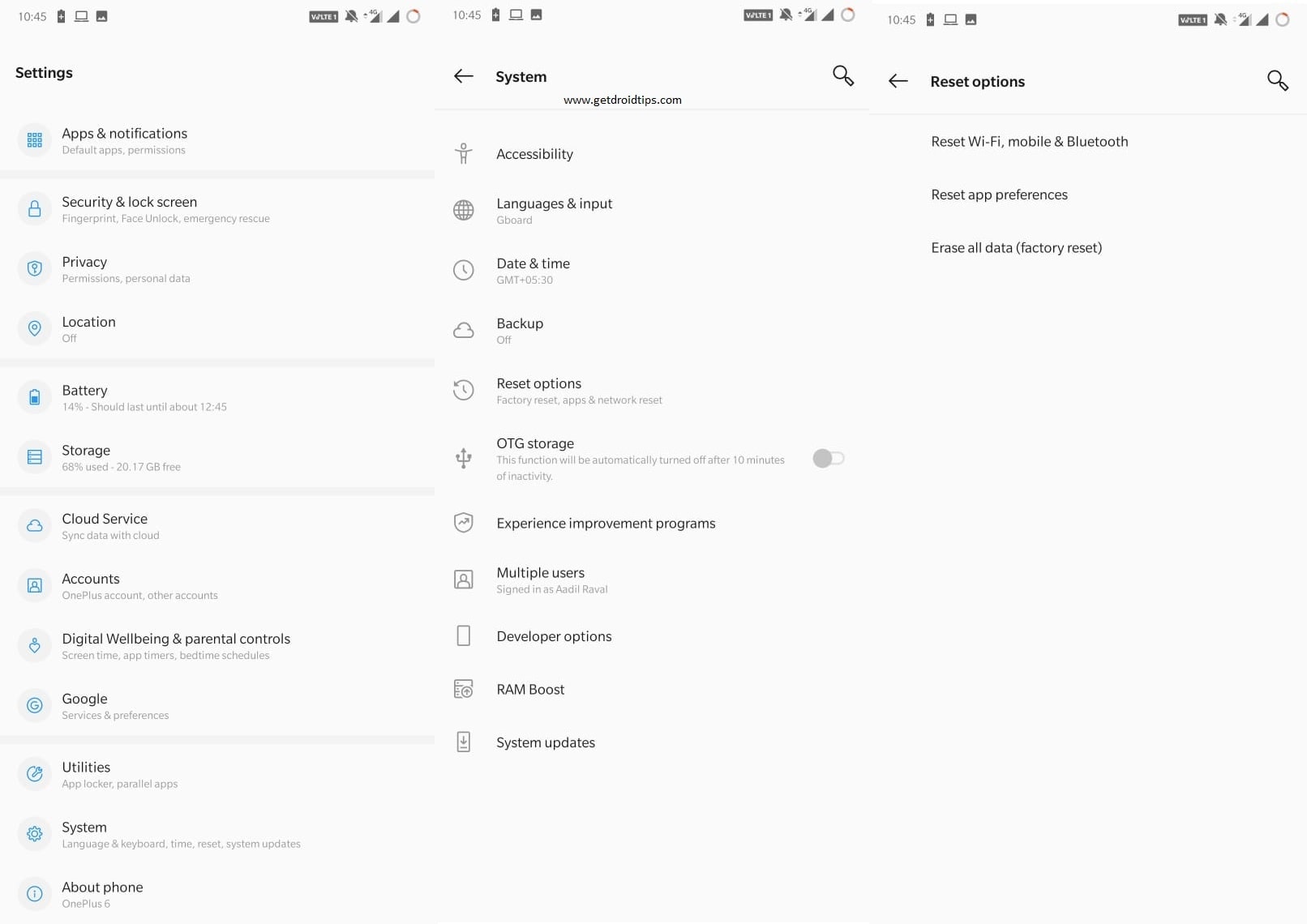 Step #1: Firstly, go towards the Settings on your device.
Step #2: Now, proceed to System.
Step #3: Choose Reset options from the following.
Step #4: Select "Reset Wi-Fi, mobile & Bluetooth" and finally, tap on "Reset Settings".
Note that this will restore all settings related to Wi-Fi, mobile & Bluetooth to the original factory values. All saved networks, passwords, and other data related to these three services will be lost.
Try any other messaging app
Assuming that you used all those methods listed above and yet the problem persists, trying out a third-party messaging app can work wonders. Since you are using an Android smartphone with plenty of messaging apps at your disposal, you are in for a treat. You can try Google Messages, TrueCaller, or any other solutions available for both rooted and non-rooted devices.
The Extreme Step
We don't recommend doing so just because text messages aren't working. This is because this method requires resetting the device once and for all. It will restore the device to its factory settings wiping all the data right away. This should fix most of the software-related issues irrespective if it's on part of the firmware or individual app triggering the issue. The method can differ based on the make and model of your Android smartphone. Once you do it, you need to set up the device and that's all.
This is the end of our guide on How To Fix If You Can't Send Text Messages From Android smartphone. Let us know which of the methods worked out for you.