Unlike messaging on cellular plans, iMessage is a built-in proprietary Apple service that allows Apple users to send text messages, contacts, contact details, videos, documents, photos, etc for free. It uses Wi-Fi or data network to connect and send messages to Apple devices via the Messages app. iMessage is way different from the usual traditional messages that you send via a cellular plan which costs a bit and has a 160 character limit while MMS messages have data limited. Thus, iMessage transcends both data and character limit allowing Apple users to talk freely.
The app requires an internet connection as aforementioned as well as a valid Apple ID and thus, only those using Apple iPhones and iPads among others will be able to chat with each other so it is impossible that an Android user can pick in and contribute. Although the app works excellent, it does have slight glitches here and there and sometimes, it might stop working either temporarily for a few seconds or a considerable duration until you as a user don't do something to fix it.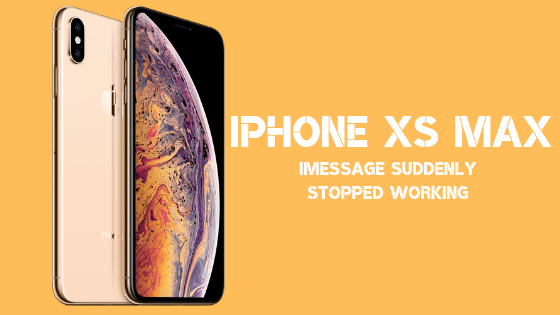 As a fellow iPhone XS Max user, I can tell how it feels when the iMessage app stops working all of a sudden. There could be several issues involved to trigger the issue in the first place so here's how you can fix iMessage that suddenly stopped working.
How to fix iMessage that suddenly stopped working on Apple iPhone XS Max?
Method #1: Make sure you have a working internet connection
Since iMessage works with the help of internet connection may it be mobile data or Wi-Fi, it requires stable internet access via an access point to convey the messages and receive 'em. If you send a message and it takes a century to finally get sent, you might be having issues with the internet.
If its mobile data, toggling Cellular Data by turning it ON and OFF several times might help. You can also turn on Airplane Mode for a few seconds and disable it to check if the mobile data is stable or not. Check out the network strength as well because it is possible that you are in a low network strength and thus, getting issues with iMessage app. If you are using Wi-Fi, the same rule applies to it where you toggle Wi-Fi for a few times and use the Airplane Mode which acts as a jumpstart for network-related issues by kicking it out.
Method #2: Turn off the iPhone XS Max
iMessage that stopped working on iPhone XS Max appears to be an issue on the app side which means it could have been triggered by an unknown, random bug or technical glitch causing the app to wobble and stop working all of a sudden. Follow the said procedure and check if it works in your favor or not.
First of all, retreat to the Settings application from the Home screen and tap on Messages.
You need to turn off iMessages so use the slider and disable it.
Next up, press Side button and any of the Volume rockers until the phone buzzes off and displays a slider captioned with 'Slide To Power Off' that you can slide to the right.
Once this is done, the phone will turn off.
Wait for 30 seconds, press the Side button and hold it until an Apple logo isn't displayed on the screen and then, release the button.
Once the iPhone XS Max is turned ON, go to Settings >> Messages and turn it back on.
Method #3: Sign Out & Sign In again on iMessage
When you sign In and stay on an app, you are registered on a session which ends either when you exit the app or sign out whichever is early. Although slim, but there is a probability that your iMessage app is facing issues due to account-related services which is why it stopped working abruptly. It could even show that the login session was invalid and so on and thus, re-login to the app can work in this case.
First of all, open the Settings app from the Home screen and direct to Messages >> Send & Receive.
Next up, tap on your Apple ID that you must remember and then tap on Sign Out to do the same.
A soft reset is recommended after taking this method that you can follow using 'Method #2'.
Once the phone is powered up, go to Settings >> Messages >> Send & Receive and tap on Apple ID to sign in again.
Method #4: Tweak 'Date & Time'
It might sound a little weird too many although it is a fact that incorrect date and time can affect an app or system in various ways. If you haven't set the time and date properly or the app is facing issues picking up the details regarding current date & time, it might stop working as well but it does happen due to several reasons.
Step 01: To make sure that the Date & Time are correct on your end, you need to open Settings and navigate to General >> Date & Time.
Step 02: Examine the actual time and compare it with the time and date mentioned here and tweak it a bit to fit the bill.
Step 03: There is an option to automatically set up Date & Time which is something you should enable as it will be set up accordingly without any human intervention.
Note that not only the Date & Time but Time Zone is crucial at times and thus, you need to set it up accurately and here's how you can do it.
Step 01: Launch Settings and proceed to Privacy → Location Services → System Services → Set Time Zone.
Step 02: Once the time zone is set, you can check it out within the Settings >> General >> Date & Time section to verify it.
Method #4: Upgrade to the new iOS
Apple pushes an iOS update now and then, unlike Android which means it stays ahead of the game when it comes to the introduction of new features and bug fixes that come along. Updating the iOS is crucial as it enables the phone to stay healthy and in good shape rather than fall prey to bugs and malware and other intruders that might spike the system and cause errors and issues either to any specific app or apps or the entire system. Since iMessage is an app and works with an internet connection, it might have received a bug or so and here's how you can patch up the bugs using iOS update.
Step 01: iOS updates are pushed OTA and users usually get notifications whenever the update is available. If not, go to the Settings app listed on the Home screen.
Step 02: Proceed to the General section and scroll & tap on 'Software Update'.
Step 03: This page will showcase if there's any update available or not that you can download and install on your device.
Step 04: Note that if there's no update available, don't worry because Apple usually releases iOS updates every month or so.
Method #5: Reset Network Settings on your device
Unstable network or glitches intercepting the network on your iPhone XS Max might be the reason behind the app stopping to work. This includes internet connection as well since failure to keep the internet access sturdy enough to keep the messages going can escalate the app and the underlying processes and might reach a breakpoint when it might eventually fail due to network issues.
Invalid network settings are a different set of issues that can affect iMessage so here's how you can use the same method to fix network-related glitches and issues.
Step 01: Go to the Home screen and launch Settings app listed there.
Step 02: Proceed to General >> Reset where a list of resetting functionalities is listed.
Step 03: You need to search for 'Reset Network Settings' and tap on it.
Step 04: Enter the passcode to verify the action taken and the process will be executed in a jiffy.
Step 05: I would recommend users to turn the phone to Airplane Mode and reboot it.
Step 06: Disable Airplane Mode, turn on Wi-Fi or mobile data and open iMessage app to send and test a message.
Method #6: Reset All Settings on your device
Unlike the previous method, this particular method will restore all types of settings stored on your iPhone XS Max to its default state. But remember, it won't affect any of your files so go through with it if the problem seems impossible to resolve even at this stage after you referred the previous method.
Step 01: Launch the Settings tool listed on the Home screen.
Step 02: Next up, navigate to the 'General' section and select 'Reset'.
Step 03: Search for 'Reset All Settings' on your device and click on the same.
Step 04: As homologous to the previous method, you will be asked to verify if it's you where you need to punch in the passcode to give the phone green signal to proceed.
Step 05: Finally, reboot the phone and test if the iMessage that stopped working issue is gone or not.
Take professional assistance
You tried a lot of things but seems like no troubleshooting method has worked citing the fact that you are still trying to figure out a way to fix the issue. Note that some users might find a solution to their issue right in any of the methods I have prescribed while some might not. For those who are still in peril, I would recommend calling in the Apple Customer Support or Tech Support for help or visit a nearby authorized or third-party service center to diagnose the issue and get it fixed. Since the iMessage app stops working, it is primarily a software issue.