Undoubtedly, iPhones are renowned for their power and the iPhone XS Max truly exemplifies a flawlessly calibrated design with its curved edges and high-end specifications that elevate its performance. Nevertheless, even the esteemed flagship iPhone XS Max is susceptible to issues arising from software or hardware malfunctions.
Resolving hardware issues can be challenging without professional assistance, especially if you're not familiar with the problem and unable to repair or replace it. It's best to seek professional help to tackle hardware issues. On the other hand, software issues can be easier to identify and fix, but they can still cause minor glitches or even system failure in some cases. There are various troubleshooting methods available to address software issues, but if they fail, it's recommended to visit an authorized service center to diagnose and fix the problem.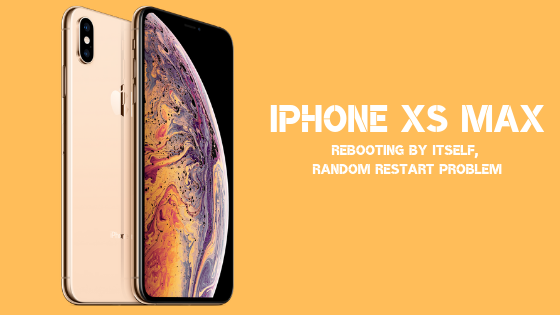 How to fix iPhone XS Max that keeps rebooting by itself, random restart problem?
Method #1: A quick Soft Reboot
Rebooting is a great option when you encounter problems like the phone keeps rebooting by itself or it enters into random restart problem abruptly and without your knowledge. Anyways, rebooting a device has been a proven technique to curb most of the software glitches and bugs or even failure at times since it abruptly shuts down all the processes and apps active either in the fore or background.
It frees the allocated and hoarded memory and storage which is now freely available at user's disposal and thus, a surge in performance is a byproduct of a soft reboot. There's no rocket science involved in the rebooting process as anybody with a phone knows it but just to keep this troubleshooting guide completely updated, here's how to reboot an iPhone XS Max.
Firstly, press the Side or Power button (which are the same) and press any of the Volume keys and hold it.
The slider with the command 'Slide To Power Off' will appear on the screen so release the key and slide the slider towards the right.
The phone will automatically shut down itself.
Wait for a few seconds before you can press the Side button again for a few seconds to turn it on.
Method #2: Try resetting all the settings on your iPhone XS Max
Now I wouldn't advocate that this method would work but I won't even eliminate that it could. It is quite possible that the said issue was caused due to invalid configurations and settings. Either you can look to find and fix the invalid entry or configuration or you can just reset all the settings to their default values. This will not endanger the user data stored so you don't have to worry about that too. Let's give it a try and if it doesn't work, you always move to the next method listed here.
Retreat to the Home screen and launch Settings app.
Select General and then Reset and you'll find the option titled "Reset All Settings".
The system will prompt you to provide authentication such as password or passcode upon which, it will retreat to the default settings.
Reboot the device and check if it had made any difference or not.
Method #3: The Ultimate Showdown – Factory Reset
Still wondering how to resolve the iPhone XS Max that keeps rebooting by itself caused due to unforeseen or unknown reasons (to you), you can use the ultimate troubleshooting checkmate that will fix the issue if indeed induced by software issues.
Before proceeding with it, ensure that you have reserved a backup of all user data that you want to secure because once you go through with it, the data is gone and nowhere to return. Once you have followed the tip of backup, here's how you can restore the phone. First of all, make sure that the battery is above 30% so that you don't have to worry phone getting discouraged due to inadequate battery life.
Next, walk into the Home screen and launch the Settings app.
Tap on General section and navigate to Reset.
The third item in the menu suggests that "Erase All User Data and Settings" so select that.
Your iPhone will seek authentication and will ask you to provide the passcode before proceeding.
Enter the required credentials and the system will restore itself automatically.
Once set up, you can reboot the phone and either go for "Quick Start" or "Set Up Manually".
Make sure to keep a tab on the phone's performance and register any behavioral change or if it is acting abnormally so that you can make minor changes by rebooting and using other methods in this guide to remove it fully out of the iPhone XS Max keeps rebooting by itself. If you are suspecting that the problem is still there, a more permanent solution is required (see next method).
Method #3: Update or delete apps
The firmware on your iPhone XS Max can handle a lot more. Apps enable users to do much more and since they are usually updated almost once a month or more, these apps ensure that you get the latest features while an app update ensures fixing, resolving, or curbing any potential symptoms or even bugs that can cause the particular function or the app as a whole to crash at times. Thus, it is crucial to carry the same function.
Updating an app is a piece of cake. A step-by-step procedure will help you into it.
First, launch the App Store.
Go to the Updates section.
Check which apps have received app updates which are signified with an 'Update' button that pops up against each individual app.
Click on the 'Update' button and its done.
You can click on 'Update All' to do the same for all the apps with an update awaiting.
This will primarily fix issues caused due to an outdated app. But there's a different section lurking at the corner and that's bad apps or updates.
You can go to Home Screen and tap on any app that you don't want and hold it.
The apps will jiggle on the screen along with an 'X' pops on the top-right of the icon.
Click on 'X' to uninstall the app and assert if there's any confirmation to go through.
Method #4: Upgrade to the latest iOS firmware
As you already went through why updating apps is imperative, the same applies for iOS firmware update as it is a piece of software that acts as an interacting medium for apps (software) and hardware components to interact and make things happen on a smartphone like iPhone XS Max. Also, iOS update can resolve any system error or even the complex and fatal errors as you will be reducing the phone to be using nothing and then apply a new update but there are various other reasons that deem it effective as well. Anywho, you can use the procedure describe below to do it.
The foremost step is launch Settings app on your device.
Next is to proceed to the General >> Software Update where if there's any update available, you can check it out, download it and install. Once you have installed, just reboot the phone and bingo.
If you are attentive towards the notifications that you receive, you might have seen an iOS update notification pushed through OTA as it is a usual practice. Simply update the firmware whenever you get the said updates and hopefully, it will shield you against a few bugs if not all.
Method #: The More Permanent Resolution
Irrespective of what issues you have with your iPhone XS Max such as the one "keeps rebooting by itself" or "random restart problem" you can walk through the above-mentioned methods trying to figure out a way to fix it. However, unless there's a resilient software issue or a hardware issue, you can do it on your own or visit an authorized or third-party service center. The thing is, the former is expensive while the latter is inexpensive and effective but will leave you out of the warranty on the device so good luck with that too.