Ever since iOS 12 steps into play, many iPhone users have encountered slow internet connection and this problem hasn't been spared the most powerful iPhone XS Max as well. Although Apple has rolled out a couple of iterations after the iOS 12 rolled out last September, the issue is prevalent in most of the iPhones. This is something that drives people crazy simply because people are getting closer to their phones more than ever.
People draw a snap on Snapchat or post of the photo on Instagram while updating their statuses on Facebook and WhatsApp while on a FaceTime call with their friends or relatives at any given time. This is why I explicitly mentioned that this particular issue is driving people crazy and why not if you have paid a hefty $1000+ on an iPhone, it would be annoying if it runs in any issues.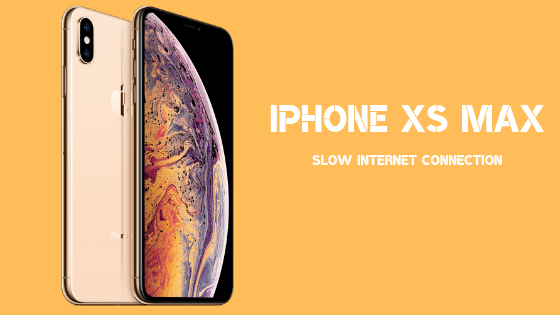 Countless reasons could have resulted in the iPhone XS Max slow internet connection such as it could be an outage at the carrier's end or the iPhone might have attracted any bugs or malware or some intruders might have accessed your iPhone or exploited any bug causing the Safari or any web browser app to tumble while apps that require internet access might have gone for a walk and so on. Don't worry as we won't leave you stranded. Here's an explicit guide on how to fix iPhone XS Max with slow internet connection using several troubleshooting methods that do work. Don't forget to verify if the internet connection has been restored or not simply by comparing the internet speed before and after the said troubleshooting methods.
How to fix iPhone XS Max with slow internet connection?
Here are a few troubleshooting methods to fix iPhone XS Max with slow internet connection that can yield results for sure.
Solution #1: Perform a power cycle on your iPhone XS Max
Even though iPhone XS Max is one of the fastest smartphones available in the market today, it is still an electronic device which has a lot of moving parts (figuratively) and thus, it could encounter a series of problems. It could be anything from a minor glitch or a firmware crash to a hardware issue. In case if the problem is software or network related, performing a full power cycle could help get the iPhone back on track.
The reason behind the fact that rebooting the device works is that it fixes any minor glitches or bugs that might have occurred whilst you were using the internet or any other time. It also releases all the apps that were running in fore and background thereby relieving the processor from excessive stress and resource crunch which enables enhancing the performance of the device further.
To reboot the phone, you need to press the Side button and any of the Volume rockers for a few seconds.
When you see a 'Slide to Power Off' feature on-screen, release the keys and slide the slider to turn off the phone.
Wait for a few seconds and press Side button to reboot it.
Solution #2: Perform a power cycle on the router/modem
Just like how your iPhone could encounter errors or crash abruptly, the router is also vulnerable to these issues. In most cases, the firmware or the system crashes due to prolong use since the router is something that no one cares to turn off when not in use. Similar to how you did reboot the iPhone, you need to reboot the router or the modem to restore the services as well.
Press the power button behind the router or modem that will turn it off.
Turn off the AC adapter and let the router rest for a few seconds or a minute before rebooting it.

Turn on the switch, press the power button and hopefully, this method will restore the slow internet connection issue that we are tackling here.
Solution #3: Verify if the issue is on ISP/carrier's end or not
You are facing slow internet connection on your iPhone XS Max or practically any other iPhone. What would you do? If you are using mobile data, you should call the telecom carrier you signed up with to know if there's an intermediate issue on their end or not. The representatives will be able to diagnose and resolve the problem if it is on their part.
Similarly, if you encountered the same issue while connecting to the Wi-Fi, you can call your ISP to know the reason behind it. The ISP can troubleshoot the connection or ask you to follow 'Solution #2' or send a technician to fix the issue right if they are accountable for the problem caused.
Solution #4: Everything you can do to jerk mobile data back on track
In case if you are facing slow internet connection when on mobile data, note that mobile data is comparatively slower than Wi-Fi. Anyways, in such cases, you can do these troubleshooting tricks that might help. Toggling mobile data can resort it back to its original state in some cases. Toggle the airplane or flight mode on your iPhone XS Max several times that must give it a jerk by rectifying in minor glitch with the mobile data. Switch between the network bands as your iPhone XS Max supports up to 4G. Check if the settings have changed to 3G or 2G which is obviously much slower than 4G but you can always revert to 4G in the SIM settings on your iPhone. If you aren't able to access the internet or if it is too slow, try going near the window as it might help.
Solution #5: Everything you can do to jerk WI-Fi back on track
In case if you are facing iPhone XS Max with slow internet connection on Wi-Fi here are a few troubleshooting tips and tricks to improve your browsing experience. You need to be as close to the router as possible and that doesn't mean you need to stay next to it. Assuming that you have a home router, you can always stay in clear sight of the router that must work in your favor. Alternating the antennas in different directions if you have more than one antenna can increase the area it broadcasts signals to and thus, you would end up getting far richer browsing experience if you have set the antennas just right.
Solution #6: Force Stop all the apps running
Nowadays, almost every app required an internet connection to work unless you are using an offline app. In both the types of apps, keeping it open in the background even though you are done with work on that apps could allow it to keep chugging on the resources such as RAM, storage, processor, etc. Since these apps are in the background and could stay active for hours if not intervened, these apps could go rogue or get corrupted or could drain the battery while internet connection issues are also possible. To fix the iPhone XS Max with slow internet connection, you can simply force stop all these apps to put an end to it.
To force stop apps on iPhone XS Max, go to the home screen and swipe up from the bottom and pause in the middle of the screen for a moment.

This will trigger the apps that are open in the background to pop-up which is a feature you can use to switch between different apps.

You need to close all the apps here that will clear the junk and free the hoarded resources.
Solution #7: Clear cache memory on Safari
Generally, iPhone users rely on Safari rather than using any other web browser although many people do use it. Issues with browsing the internet could be a result of browser cache or cookies or temporary data that these applications store to reduce overseas. This reduces the performance of Safari or any other browser that you are using and that is where cache these temporary files comes into play.
Firstly, to delete app data, you need to go to Settings >> Safari >> Advanced.
Select 'Website Data' and finally, tap on 'Remove All Website Data' from the said options and feed the passcode to conclude the procedure.
If you are using any other web browser than Safari, deleting it could make a lot of sense.
Open the Settings app on your device and proceed to General >> iPhone Storage.
Scroll down the page to find 'Documents & Data' on your iPhone XS Max and select the browser.
Tap on 'Delete App' and it is over.
Re-download the app from the App Store and check if it makes any difference or not.
Solution #8: Reset network systems on your iPhone
Network issues can throw your phone off the rails because they might cause trouble while you are on a call or could hinder with the browsing speed which is something we are discussing here. Thus, resetting network settings on your iPhone can make a great difference and here's how you can accomplish it.
Firstly, open the Settings app from the Home screen and proceed to General.
Next step is to search and tap on 'Reset >> Reset network settings'.

Enter the passcode if prompted to confirm deleting the same and that concludes this particular troubleshooting method.
Solution #9: Update all the apps on your iPhones
Apps allow users to do whatever they wish and since App Store comes with millions of apps for anything you can think of, you can complete any task simply by downloading the required app and it's done. However, developers regularly detect for any bugs and vulnerability that hackers could exploit and thereby push updates for all the apps so that the security is fortified. Since you are facing slow internet connection, there is a possibility that the failure to update browsers like Safari resulted in it although other outdated apps could have caused the issue too. Therefore, the solution here is to simply update all the apps at once.
Solution #10: Update the device's firmware
Updating the software can make a lot of difference on your iPhone. This is because Apple regularly detects the latest update for bugs and releases patches for it along with new features or so. This eliminates the probability of hackers or intruders exploiting your phone to gain access to the data or do any other tasks that could yield benefits for them. Updating the firmware is crucial and thus, you must do it whenever you get the update notification.
Firstly, go to the Settings app from the Home screen.
Next up is to navigate to General >> Software Updates section within the app.
Apple sends notifications to all eligible devices whenever it rolls out a new iOS update so you will find the update right within the Software Updates page if there's any.

You need to download it and install on your iPhone and reboot the device to complete the procedure.
Solution #11: Reporting the problem
If there's even a small number of people still facing issues with the internet connection even after adhering to the troubleshooting methods mentioned above, you need to take a drastic step. Now, you can either walk into your carrier and check if the problem is on their end or you can simply switch to a different carrier by porting so that you can keep the same number but with a different service provider if you are using mobile data. The same goes for ISPs when it comes to slow internet connection on Wi-Fi where you can easily switch to a different ISP.
Next thing you can do is to report the iPhone XS Max with slow internet connection to Apple Care either by calling and making an appointment for pick-up or visit but there's a catch. Apple is known for its expensive repairs and fixes so if you can afford it, you can get through with it or report the issue to a well-known third-party service center that might be able to help but it is totally up to you to decide.