Syncing iPhones with iTunes with a Windows or Mac is a simple easy-to-go method that requires users to connect the iPhone with the computer via lightning cable. Although the process is pretty straight-forward, it does run into problems such as the iTunes error 54 which I will be talking about here in this post. Note that iTunes has its directory of error codes that dictates errors that are occurring in the background. For instance, the error code 54 pops up with the alert message "The iPhone [device name] cannot be synced. An unknown error occurred (-54)" and this could occur if there's any file saved on the iOS device or the computer which is restricted or locked and it could be a temporary glitch as well.
Note that when you see this alert message aka error, it means that your iPhone hasn't synced yet and until you can go around the error, the phone will not be synced and no data will be backed up with that. Common issues that trigger iTunes error 54 on iPhone XS Max could be temporary glitch or bugs occurred when you connected the phone to the computer or it could be after the connection is established, the device finds an error when it starts syncing the device and so on. As said, there could be a plethora of issues that could trigger your iPhone XS Max to spiral with the ongoing iTunes error 54 and here's a list of a few methods and workarounds that you can use to fix the issue once and for all.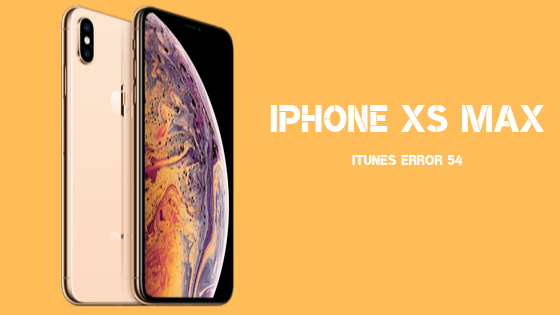 How to fix iTunes error 54 on Apple iPhone XS Max?
Method #1: Reboot the system
This is the first thing you should do in case if the iTunes error 54 on iPhone XS Max kicks in. It is possible that the issue that you are facing is because of a temporary glitch either with the phone or the computer or Mac that you are using since both are running on pieces of respective software and it is okay for this software to crash at some time either due to any singular or multiple stimuli or triggers.
Here, a quick reboot will resolve the minor glitch issue as it tends to abruptly shut everything down without saving any unsaved work. This puts the device either iPhone or the computer you are using to restart everything from scratch where all the resources are available for use now. This has often been one of the most versatile methods to resolve any issues including the iTunes error 54 so this isn't something of a surprise. You can try shutting down the iPhone only but if it doesn't work, try shutting down the PC or the Mac for a few seconds and restart it to check if this method actually worked or not. As with any other method listed under "iTunes error 54", not every method will work for you, so if that's the case, don't panic and proceed to the next methods listed here until you find the solution.
Method #2: Turn on iTunes with Administrative Mode
Your computer has multiple modes that you log into such as the normal as well as the administrative mode where the latter gets the administrative role. Based on what role you logged in with, access to services, programs, and files could be limited that might spark issues with iTunes on your iPhone XS Max.
To login on your computer in as Administrator to gain access to more than what a normal user won't get, restart the phone.
Log in as Administrator.
Next up, check out the iTunes icon on the desktop and right-click on it and select 'Properties' from the dropdown menu.
Proceed to 'Compatibility' and hit the option that says 'Run as administrator'.
This method is sufficient to allow you to act as the administrator and this should allow syncing the iPhone XS Max to the computer or Mac seamlessly. If that doesn't work or it doesn't work properly, you need to proceed to the iTunes software on your computer and tap on 'Store' and follow the instructions mentioned to get the syncing started.
Method #3: Update the iTunes
As easy as it gets, you need to keep the iTunes app on your PC or Mac updated to the latest version of it might go under the hammer with various bugs and problems over time. Updating a program gives it new features, UI changes, performance boost, and more and also renders out any issues and bugs that developers and users might have reported over time.
Method #4: Consolidate the content
It is possible that your content which includes audio, video, and photos are stored in different locations causing the sync process to report an error. Thus, consolidating the content in a single place can help combat these issues as well. To do this, open the iTunes app on your computer and proceed to File >> Library >> Organize Library >> Consolidate Files and the problem must be sorted by now.
Method #5: Update the iOS firmware on your iPhone XS Max
The thing is, your iPhone XS Max gets frequent iOS updates that allow it to patch up any previous issues, bugs, and whatnot. This makes it imperative to update to the latest available iOS version so that any of the issues including the iTunes error 54 will be washed off with the new update. Since iOS tends to push updates almost every month or so, you aren't needed to wait for a long time to get their hands on the latest version. Here's how you can update to the latest OS.
First up, you need to direct to the Home screen.
Tap and launch the Settings app.
Proceed to the General section and hit the 'Software Updates'.
The system will automatically search for any updates, if available.
Once you have an update, you can download it and install it.
Restart the iPhone XS Max and check if it makes any changes or not and hope it does.
Method #6: Change iTunes folder permissions (on your Mac or computer)
If you are using Windows (a similar option might be accessible with Mac as well), check out the folder permissions of the iTunes app if you are getting iTunes error 54 constantly. Called as permissions, if the said app or software has only Read-Only permissions, it will not be able to sync and write new data but allow to read existing data such as when the iPhone connects to iTunes. Changer permission can help allow copy, delete, paste, move, rename and other functionalities and thus, you must follow the given method to do so.
On your Windows PC, go to Windows Explorer >> Music.
Next up, check out the iTunes icon or if that's placed on the desktop, right-click on it.
A dropdown menu will appear on the screen so select 'Properties' which as said, contains all the information you need about the size, date of creation, and others.
If you look at the end of the dialog box, you would find Permissions and 'Read Only' will be checked which won't allow anyone to make changes in the concerned folder, software, or files.
Unselect or uncheck 'Read Only' and apply the changes and hopefully, you will be able to sync the data to and fro the iPhone to the computer.
Method #7: Sync in chunks
The entire content can easily sync with the PC or Mac via iTunes but it is not the case everything as issues could occur and iTunes error 54 is not an exception. Try syncing in small chunks and not everything at once. You can start with syncing contacts first and then move towards the photos, videos, and audio files by distributing it in chunks so that everything goes through without hassle.
Method #8: Remove PDF files
iTunes error 54 can occur if something is purchased as it cannot be synced with the computer. Similarly, file, folder, or app such as Apple Books purchased will be stored on the iPhone XS Max but it wouldn't sync with iTunes on your computer. Thus, you need to remove those files to initiate the process. Similarly, PDF files have a similar tendency that will prevent users from syncing the data to the computer or Mac and therefore, it is imperative to remove it so that all other data is synced properly. Here's one of the methods that you can try.
First up, go to Apple Books app and tap on Share button under any books that you want to access.
Download the PDF file and share it with your email address so that you can access it directly on your PC.
Also, delete any PDFs is causing proper in sync. You can check out the file manager to find any PDFs, email it to your email address and delete from the device so that you have access to all the PDFs while all other data and content is backed up without any hitch.
Method #9: Disable Anti-Virus / Security Software
This goes on both the ends as your iPhone XS Max can too have security software and the same goes with the PC or Mac that you are using. Here, you can go to the concerned software's settings and disable it fully or allow iTunes to run without any glitch. If you don't have anything security software in place in Windows, the Windows Defender program can be blamed where it can prevent the iTunes to run.
Method #10: Check out for Windows updates and patches if available
Outdated Windows OS can act as a hurdle between your phone and the PC while you are trying to sync data over iTunes. Although not every Windows computer or tablets will get the ease of frequent updates, if you are subscribed to the latest Windows 10, there is a greater chance that you will receive constant service updates or packs for sure. You can check out the Updates center within the Control Panel on your PC to get things straightened. On the other hand, Mac OS receive constant updates as well and thus, if you find any issues with any of the app or software, you can simply check out for the latest update, if available, and install it.
Method #11: Use a third-party alternative
Apps like EaseUS MobiSaver can enable users to take a backup of all the data stored on your iPhone XS Max. The program is available for both Windows and Mac OS and can completely bypass the need to use iTunes since it is facing problems.