Almost everyone with a smartphone is dependent on GPS for his/her daily tasks may it be ordering a cab or placing a burger on order or tracking the shortest route to a destination and so on. This makes the Realme GPS problem an irritating and redundant issue since it can strike at any time and numerous times a day based on the cause of the issue. Most importantly, this disables a person to track his/her location or enjoy any location-based services because either the GPS isn't turning on or if it is showing an incorrect or inaccurate location, etc. There could be a number of reasons behind it and thus, we have quoted a list of methods that work in a majority of GPS problems so stick to it.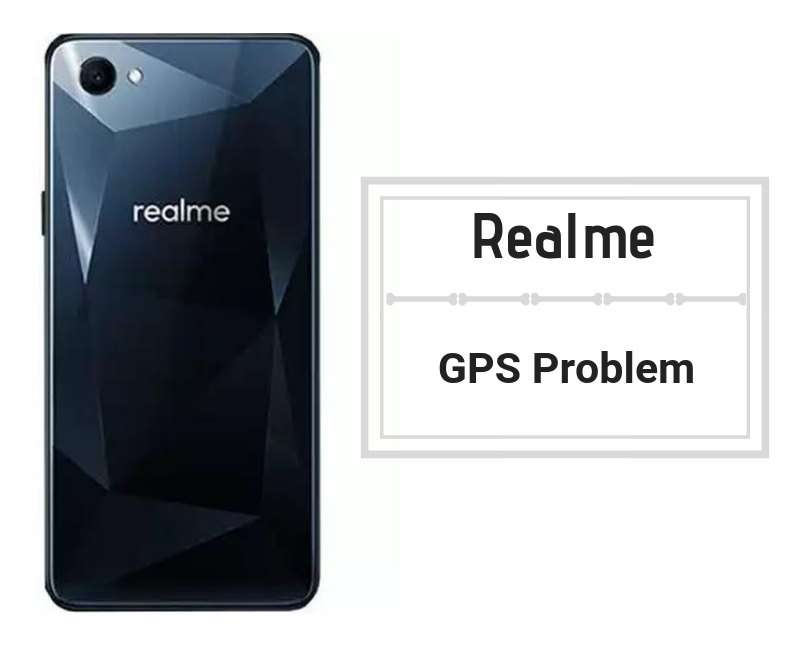 How To Fix the Realme GPS Problem?
Toggle GPS
Turning on GPS isn't that difficult since you barely have to move away from the home screen and simply tap on location or GPS icon from the notification tray and that's all. But similar to how Wifi sometimes doesn't turn on upon pressing the icon, the GPS on your phone could have gone through a bug or glitch causing it to remain turned off even if the button is enabled. To fix this problem, simply turn it off, wait for few seconds, and turn it back on and that's all.
Toggle Airplane Mode
Airplane mode inhibits phone's networking capability by disabling all incoming and outgoing network. It is also known to fix numbers of software and network related issue of which, the GPS problem is one and easy to resolve. Simply toggle it few times similar to how you toggled GPS in the previous method and this must fix the problem right away.
Reboot the device
This is particularly a popular method to fix any and every problem that you might see or notice on a smartphone. Although it has a bad reputation for being summoned for any problem a user might discover, rebooting the device can literally fix GPS problem that you are searching to fix. Why? It is because rebooting the phone will actually shut down all apps and processes, clear memory and cache files etc thereby fixing any technical glitch that your phone might have encountered when you toggled on the location services on your phone.
Turn on the high-accuracy mode
If your phone is unable to detect an accurate location or say it shows an inaccurate location, it is possible that the high-accuracy mode on your phone is disabled. You can check out if it is so simply by navigating to Settings > Location > High-Accuracy mode and that must resolve the issue although it will consume a higher battery power but you can always turn off GPS when not needed.
Refresh GPS/A-GPS
GPS isn't working properly or the location-based details aren't accurate. All these issues can be fixed by refreshing GPS or A-GPS on your phone. You can either walk into Settings >> Apps >> All >>A-GPS to clear data and cache to fix the issue. You can also download GPS Essentials or a likewise app to refresh GPS services too.
Remove phone case/cover
It is quite possible that something is obstructing the GPS radio signals sent from cell towers and satellites towards phone's GPS receiver. Since radio signals are easily obstructed, even the phone case or cover made up of objectionable material or something which can cause radio waves to attenuate or cause a disturbance in transmission can cause bad signal reception. This is probably the reason why your phone is facing a GPS Problem and therefore, removing it will automatically solve the problem.
Calibrate the compass
It happens a lot of times that you are checking out your location on Google Maps or any other service that you use and the location is inaccurate. Although it is possible that a poor internet connection could cause the problem, a non-calibrated compass can introduce the same problem as well. To fix it, install GPS Essentials or GPS Status and Toolbox app from the play store that will provide an on-screen compass to calibrate phone's orientation properly.
Clear cache data
These are temporarily created and stored files that enables a phone to retrieve an app or service or process faster. Further, these cache files make a lot of things quickly but also make a system perform poorly and in many cases, bugs can cause the system to freeze, flicker, wifi not working problem and what not. Thus, it is ideal to get rid of cache files at least on alternate days.
To clear cache files, you can download an app called CCleaner or check out for its alternatives on Google Play Store. The app is simple, it will detect the amount of cache stored and allow the user to delete it altogether. Further, to manually delete cache files, check out Settings > Storage > Cache Memory. An alternative method is to navigate yourself to Settings > Apps > Downloaded. Here, you need to check out apps that you can freely clear cache files for which, you need to tap on the given app and press on 'Clear Data' and 'Clear Cache'.
Update Google Maps
Irrespective of using Google Maps or any other mapping service, an outdated app could introduce a host of errors and issues. This is probably the reason why tech experts recommend updating every app installed on your phone once the updates are available which are frequent (around once a month). You can check out if the updates are available or not simply by navigating to the Google Play Store > Google Maps (or alternative) > Update if available. You can also let the app update itself simply by toggling the 'auto-update' feature on Google Play Store.
Update the apps/firmware
Similar to how you already updating the particular mapping service you use, you must stick to updating all the apps and the firmware (most importantly) to stay away from any potential problems. To check out if you have received any app updates or not, visit Play Store > My apps and games > Update all. Whilst the firmware updates can be checked via Settings > About Phone > Software updates > Check for updates. Note that Android isn't too consistent with updates and if you feel that your phone hasn't received an update for a long time you can always switch to a custom ROM with frequent updates.
Check via GPS Essentials
The app 'GPS Essentials' will enable the user to verify if the Realme GPS problem is because of a hardware issue or a software issue. Once you install it, check for 'Satellites' feature within the app where the application will check out how many satellites are visible on-screen. At least four satellites are required for location tracking but if you see less than four or no satellite at all, it is possible that the receiver has gone haywire. On the other hand, a software glitch or bug could occur when accessing GPS on your phone which will be denoted by showing all the satellites on-screen within the app.
Grab an external GPS receiver
I would recommend using an external GPS receiver in several scenarios. The thing that you must know is that you need to purchase an external receiver for this. Post-purchase, you can use an external GPS receiver either when the GPS signal is too weak in your home or office or if the receiver mounted on your phone is damaged, faulty, or cannot perform optimally. This is something you can via GPS Essentials explained in the previous method and decide.
Restore factory
If you checked the GPS Essentials app and found out that all the satellites are visible on-screen meaning there's no hardware issue, a software-related issue can be fixed simply with restore factory. Yes, this method is extreme but helpful and thus, take a backup before attempting it.
You need to turn off the phone beforehand.
Now, press volume down and power button simultaneously for 10 to 15 seconds until an Android logo isn't displayed on-screen.
Release the keys after spotting the logo and allow the phone to enter in recovery mode.
Select 'clear data/factory reset' using power button while toggling through the menu is possible with volume rocker only.
To confirm, tap on 'Yes — delete all user data' among the menu of "NO's" and its done.
Seek help from the service provider
If all said and done but you can't get the problem fixed, it's high time to report the issue to an actual service center. GetDroidTips recommends reporting to an authorized service center as the warranty on the phone will remain intact and might even allow the user to get the phone replaced or repaired free of charge. On the other hand, the third-party service center would provide a cheaper repair, however, it would nullify warranty period which isn't something you should go for.