Unlike slow internet connection on iPhone XS Max which is universally slow no matter what app you use, slow internet browsing issue is mainly an isolated issue with the Safari browser. The obvious reasons that come to my mind are network congestion or Safari application failure although there could be a fault at the system's end as well.
Many iPhone XS Max have reported this issue at large on GetDroidTips and many other forums which is why I devised a troubleshooting guide on how to fix this issue using various troubleshooting methods that'll first concentrate on the network and the browser installed on your device and it will only proceed to potential app or firmware crashes and other system-related issues if the former two aren't responsible for it. We are also discussing the issue with Safari loading pages very slow which is also a sub-problem when it comes to internet issues so here's everything you can do about it.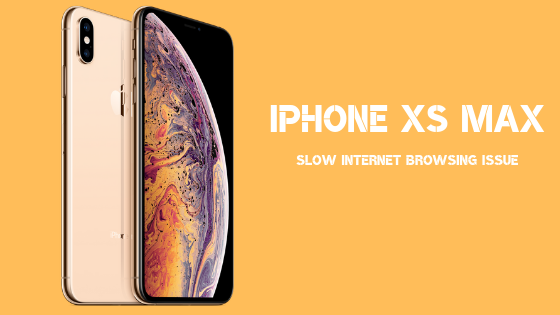 How to fix slow Internet browsing issue on your Apple iPhone XS Max, Safari loading pages very slow?
Method #1: Restart the browser
As we will be going through with the pretext that Safari app or the network is at fault, you need to restart the browser. Many factors could cause a web browser to slow down such as excess usage or if attracts bugs whilst browsing on websites. There could be a minor glitch causing the app to perform slowly, which is the reason why restarting the browser can make a difference.
Resort to the Home screen.
Tap and slide the finger from the bottom of the screen to middle and pause a second.
This will trigger a list of apps running where you need to close the browser app.
Wait for a few seconds before restarting the app and check for any changes.
Note that closing all the apps will free up the phone's internal memory from junk while relieving the chipset from excessive stress handling too many apps at once. This will enable smoother performance right away.
Method #2: Reboot the phone
If rebooting the Safari app doesn't work, what about rebooting the phone. The same logic that I explained how rebooting an app makes a difference applies for the phone as well which is constantly handling apps and services at all times. You can give the phone a rest for a second and this must prepare it to work flawlessly while fixing any unidentified bug or glitch that might have occurred whilst you were using Safari or any other web browser.
To give your iPhone XS Max a power cycle, simply press the Side button and either of the volume buttons.
A 'Slide to Power Off' slider will appear on the screen that you need to slide to turn off the phone and bingo.
Method #3: Give your router/modem a reboot
There's no rocket science here. If you are using Wi-Fi with a modem or router, the slow internet browsing issue could be because of a system failure or the router's firmware has failed or a minor bug or glitch threw the router off the rails. One of the most common issues with the router is that these devices are active and working for days without getting a rest. Since it is an electronic device, it could end up getting overloaded or overworked that would disconnect you from the internet entirely or the system could slow down the internet speed drastically. Thus, it needs a fix and again, it is not rocket science either.
You need to press the 'Power Button' lying behind the router or modem to turn it off.
Make sure you turn off the AC adapter and give the router a rest for a few minutes.
Turn on the router and examine if there's any difference or not.
Method #4: Examine the issue on carrier's or ISP's end
Since we are talking about slow internet browsing issue, it means that either you are connecting to the internet via mobile data or Wi-Fi. It is possible that you are facing slow internet due to complications or outage or disruption on the carrier's or ISP's end which is something you can confirm simply by calling them.
Method #5: Toggle Airplane mode
It is a magical method as it helps rectify any network-based issue which is why you will find it anywhere we are talking about issues with the internet or Wi-Fi or cellular connectivity and so on. To pull off this method, you need to turn on the airplane mode that will disconnect you from all cellular network which is only active when the airplane mode is disabled. On the other hand, Wi-Fi will turn off as well but you can turn it on even in the flight mode. You can use this feature to your favor by toggling the flight mode several times to check if it makes any change in the internet browsing issue or not.
Method #6: Update the Safari and all other apps
You reported about Safari loading pages very slow issue as well. Could it be possible that the Safari or say any other web browser you are using has gone outdated and there's a new version waiting but you haven't updated it? It is possible that could end up being a problem for you and that is why you need to update Safari app right now.
Note that updating all the applications only strengthens the system's security against intrusion while availing new features and whatnot. This is why you should keep your iPhone apps updated at all time.
Method #7: Install the latest iOS update
The applications are just one layer of a system whereas the firmware or the operating system is the backbone of any phone or device as it enables interaction between both hardware and software parties. Since you have an iPhone XS Max and Apple usually releases incremental updates every month, you are in for a treat as you can fortified wall against any cyber attacks that could have occurred if Apple hasn't filled the loophole in the last update. Don't forget the string of features and functionalities that come with each new update which is what makes it imperative to update to the latest iOS version and here's how you can do it.
Firstly, you need to dive into the Settings >> open General >> scroll and tap on Software Updates.
You will see if there's any update available that you download and install.
Reboot the iPhone to conclude the said procedure.
Method #8: Reset network settings on your phone
This method will reset only the network settings on your device without touching any content or apps. You can at least and see this makes any improvement in the slow internet browsing issue or not.
Go to the Home screen and tap on Settings app.
Now, open General and proceed to Reset.
You are required to tap on 'Reset All Settings' and enter the passcode if prompted to complete this procedure.
Method #9: Use other web browsers
As simple as that. If the Safari is problematic and is loading pages very slow, why don't you try a different web browser for a chance to see if there's any difference between the two? Hopefully, this method should work in the majority of the cases.
Method #9: Reset All Settings on your iPhone XS Max
No matter what kind of problem it is, resetting the phone to its default factory settings could fix any issues. Note that hardware issues are out of its scope so don't try it if you know that slow internet browsing issue or practically any issue has occurred due to hardware damage.
To reset the phone, you need to open the Settings app from the Home screen.
Proceed to General >> Reset >> Erase All Content & Settings that's the end.
You would need to restart the phone to allow the changes to take place and there you have it.
Method #10: The Ultimate Step
Despite several methods listed above, if nothing works for you, maybe it is time to get the iPhone diagnosed for a potential hardware issue although this could be highly unlikely. Anyways, you can choose between Apple Care or a third-party service center to get the phone diagnosed and rectified if there's any hardware or even a software issue that snuck away when you did restore the iPhone to its original factory settings.