Our notification panels are filled with notifications and constant pings from various groups on WhatsApp and emails and snaps from Snapchat and whatnot. The iPhone XS Max produces even the lightest beat to a groovy and sometimes irritating caller tune and sounds while you are listening to music or watching any video or a movie, etc. But what would you do if the 'iPhone XS Max has no audio' issue? Here, I am not saying that the phone isn't producing any sound but the thing is, the speakers are unable to produce the sound due to a hardware or software issue.
Note that software issues are particularly less complicated as there are a handful of remedies and troubleshooting methods that you can employ towards fixing it but the problem commences when there's a hardware issue since it will either need replacement or repair. When we are talking about "iPhone XS has no audio" problem, it means that the phone is finding it difficult to use its speakers to produce the required sound or there's some kind of issues disrupting the process and thus, there's no sound. In fact, you might not be able to hear any notification even if your phone rings or while watching a movie at times and this is why you need a troubleshooting guide like this to fix the issue.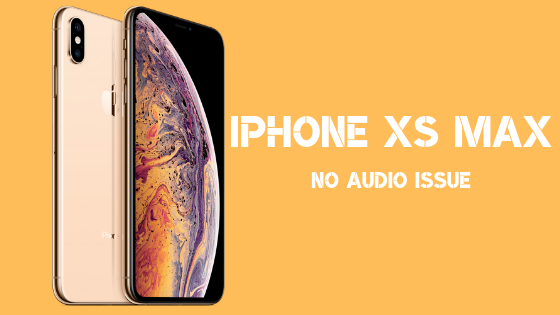 How to Fix the 'iPhone XS Max has no audio' issue?
Method #1: The preliminary method
Before proceeding with the said issue, check if indeed it is legit or not. The one thing that many people skip and stress that their phone has no audio is that they have muted the phone by applying a 'mute/silent' sound profile. On iPhone XS Max, you will find a switch that dictates if you want the ringer to off i.e. 'Ring' and 'Silent' where the latter will not produce any sound or vibrations.
It is possible that you switched it to 'Silent' and then forgot to turn it back to 'Ring' and started panicking over the no audio issue. The slider goes either towards the display or towards the rear panel where the front is for 'Ring' and the position towards the rear is for 'Silent' profile. If the alert slider is on 'Silent', retreat it to 'Ring' position and check if it makes any difference. However, if the slider is on 'Ring' profile, try flipping it several times to see if it makes a difference or not.
Method #2: Restart your iPhone XS Max
This is where a powerful method comes into play. Your iPhone XS Max has run into a problem causing the speakers from producing any sound. Most of the cases are software-related which are easy to resolve using one or another method that I have curated here in this troubleshooting guide although there are chances that it could be a hardware issue. For that, you need to eliminate that it isn't a software issue so follow this and further methods that should assess if the problem was induced by a software issue or not before proceeding with a professional method.
To reboot the iPhone XS Max, press the Side button for a few seconds until a slider appears on the display.
Release the Side button and swipe the 'Slide to Power Off' slider to the right that will turn off the phone.
Please wait for a few seconds before long-pressing the Side Button that will power it up.
Play any audio and verify if this issue is fixed or not.
Also, verify the issue by calling or receiving a call from someone that must enable examining the in-ear speakers that you use while talking on the phone.
Method #3: Stop DND
Nah, I am not talking about the Do Not Disturb service that telecom carriers provides but rather a built-in DND feature that comes with all iPhones. The feature as the name implies works by muting the notifications for calls, messages, and other notifications although might not include audio for music or while watching a video, etc. There are certain settings that you can set within the DND feature so that it works accordingly. Check it out via Control Center where you need to find an icon showcasing a crescent-moon tapping which, a load of settings will appear in case if you want to tweak it.
Method #4: Adjust the 'Ringer' volume controls
Adjusting the volume of ringer which is what buzzes when you have a call or text messages or when notifications go off, is not a big deal. You can simply toggle the volume using the two hardware volume rockers where one reduces the volume while other increases it. However, some applications might need a software volume tweak as well which means you might end up facing issues with that particular app (s) if you stick to using hardware volume rockers as opposed to their needs.
For that, launch the Settings application on your device.
Scroll through the page to find and tap on 'Sounds & Haptics'.
Now, you'll spot 'Ringer and Alerts' that you should grab to the extreme right to increase the volume.
Method #5: Verify if there's any Bluetooth device connected to the phone
If you usually connect to Bluetooth devices which can include speakers to headphones to other devices, this could actually explain why you aren't able to hear any audio from your phone. Once connected, the phone bypasses the audio output to the Bluetooth device connected to it. Here, it could be either a headphone or a speaker as said. Now, if the Bluetooth is active, you can spot the icon on the status bar and turn it off in case if it is causing the problem.
On the other hand, if you paired your phone to any Bluetooth device and forgot to unpair it although there may or may not be Bluetooth icon visible on the status bar, you need to unpair it in case if there's an issue with it. Visit the Bluetooth section within Settings app and click on 'i' against any device that you want to forget and select 'Forget this Device' and bingo, it is done.
Method #6: Recall if there was any physical or liquid damage to the phone or not
Physical or liquid damage can prove fatal for a smartphone like the iPhone XS Max. Although the phone has an official IP68 certification which allows it to be water-resistance, it doesn't mean that you will keep it in water for hours and still use it. There are certain limitations with phones even with the IP68 rating. On the other hand, physical damage is not a good call anytime. Yes, the phone is sturdy enough to take a few feet of fall but depending upon the collision, it could shatter the back or front glass which will definitely burn a hole in your pockets since fixing a shattered rear glass could cost almost 1/4th of the price that you paid to buy the phone in the first place.
Recall if there was any physical or liquid damage for that matter. Also, if you were somewhere out and it was showering or raining, it is possible that water seeped into the speaker vent although it won't make it through the vent due to water-resisting mesh that covers it. For that, you can shake the phone a bit to remove any droplets of water dampening the sound produced by the speaker itself which is a common issue and would last a few hours at max until the droplets of water either evaporates or slips out of the vent.
Method #7: Reset all the settings on your iPhone XS Max
Either it could be your fault or it could be the system's fault to register invalid settings that can cause issues. Also, other possible reasons include the fact that bugs can cause issues, as well as someone else tweaking the settings, can impair it as well. This could cause problems such as "iPhone XS Max has no audio" issue that we are discussing right here.
The process to clear all the settings on iPhone XS Max is pretty simple. Dive into the Settings app on your device and navigate towards General >> Reset. This page contains plenty of options to reset stuff where you need to search, and click on 'Reset All Settings'. The next page will ask for a passcode to authenticate the actions being taken and once you are done with it, I would say quickly reboot the device so that the changes take place seamlessly.
Method #8: Take professional assistance
At the end of the day, audio produced by iPhone XS Max either towards alerting of any calls or if that audio out of the loudspeaker, it is crucial to get it resolved if it's not working. The thing is, muted audio can be problematic as you would never know when you receive a call or text unless the phone vibrates powerfully to alert you. On the other hand, you might not be able to watch any video or listen to music as the speaker is not allowing it to and thus, professional assistance can come handy.
It could be a complex software issue that you aren't able to resolve or it could be a hardware issue i.e. the speaker isn't is either damaged or impaired. This calls for help from Apple authorized service center although you can visit a third-party service center as well depending upon your preference.