Started as a suitcase-like phone, now we have smartphones slimmer than our fingers and far more advanced and sophisticated and capable of looking lot more than just calls and messages. Nowadays, smartphones are used extensively for playing games, browsing the internet, watching videos, reading news, calling, messages, updating social networks, and much more. In a long run, this puts a lot of stress on the battery and it soon starts showing signs of battery draining especially but not limited to Vivo smartphones. Although Vivo has literally hit the right spot in the smartphone sales in India, China and other major markets with its affordable but sophisticated configuration smartphones, these phones like any other devices are prone to issues.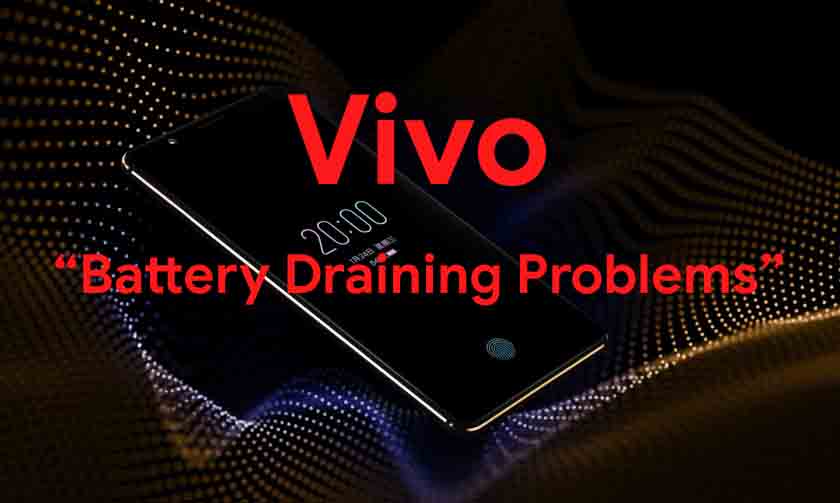 Battery draining is comparatively severe since it totally restricts users from doing what he wants to do as the battery would drain faster than it should. It could happen due to numerous reasons and that is why, we decided to make you aware of the agents that consume more battery power and also, how to troubleshoot it to prevent the problem from getting severe. Here are few troubleshooting tips and fixes to curb Vivo battery draining problem.
How to Fix Vivo Battery Draining Problems?
Troubleshooting and Fixes
Tip 1 – Toggle Brightness Settings
This might seem weird but toggling brightness settings can make a difference in the battery consumption. Smartphones use LEDs to brighten up the screen and thus, consumes power. When you decrease the brightness of the screen when not required such as during daytime, it uses less battery power and thus, saves the power consumption that would otherwise be invested in brightly lighting up the screen. Modern smartphones have a bunch of brightness settings to fit your requirements. You can manually set the lowest level available and instruct the phone to do so.
Pull down the notification tray and switch to the screen where all the shortcuts are available.
Next to tap on 'Brightness' icon and then, toggle the level to low.
If your phones allow to choose different brightness settings, use it.
Tip 2 – Switch ON Power Saving Mode
All modern smartphones have battery saving mode when enabled, it can save a lot of battery life by restricting most of the unwanted and recurring background processes and toggling OFF most of the features not in use. Unless your phone has the wakelock bug, it will work pretty awesome. Setting up the mode is comparatively simple since most of the smartphones have it pre-installed.
First, go to Settings and then, tap on Battery Saving Mode.
Now, toggle the overhead switch to turn it ON.
If your phone allows tweaking the settings, check for it and untick those and services that you frequently.
Another way around to get an effective battery saver is to install a third-party app that you will find in the 'Google Play Store'. Trust me, there are a bunch of apps available that promises to save battery and thus, you can check out their reviews and install it to extend battery life.
Tip 3 – Disable features
If I am using Wifi on my phone, I'll have to turn it ON everything I access it. That is what triggers many people and infuriates them and therefore, they tend to leave it turned ON even when not in use. The feature even if not in use is still sucking the juice from the battery since it will search for the available networks in the background. Another example is the GPS which went left turned ON, can consume a chunk of battery life and thus, drain the battery quickly. It is very important to remember and toggle OFF such apps to prevent excessive draining battery.
Tip 4 – Maintaining the battery life
Okay so now this is important. This is not how you can extend battery but particularly how you can maintain it to run a long run. Smartphones have Lithium Ion batteries that give the phone its ability to run high-graphics games, browse the internet and watch HD videos and more without succumbing due to the increase in battery consumption. If draining battery is not an apparent issue on your phone, it is possible that your battery has started depleting in performance after one or two years of usage.
When charging the phone, charge it to its maximum level i.e. 100% a do not charge it until it reaches the maximum low of 10%. Keeping the battery over 40% to 50% at all time is beneficial for your battery as it will extend its life further. Know that lithium-ion batteries have memory cells that would remember its last capacity to which it was a charge. So if you belong to the large group of people who charge their phone when and where available which is not uniform, its performance will deplete much faster which will give rise to rapid battery draining issue.
Tip 5 – Install apps that can help save battery
It's ironic, isn't it? Apps consume battery power than how it would save it. Well, I am talking about apps that are classified as battery savers which can identify apps and services that leeching battery as well as memory and other resources. Apps that Greenify and Doze are created for Android users. These apps will evaluate the battery usage and show the apps and services which are leeching the most power which you can force stop or uninstall if necessary.
Tip 6 – Uninstall unused apps
You have a plethora of apps installed on your system and that is what Android is famous for. It lets you use multiple apps at once but believes me, there are a bunch of unused that you must get rid of as it can cause issues with the battery. Apps use resources even if not in use which consumes battery power. So, go to 'Settings > Apps' and select apps that you want to get rid of. Tap on 'Uninstall' button and it's over.
Tip 7 – Always use updated apps
The logic behind keeping the apps updated is simple. Updated apps are free from bugs and are optimized by the developers to use received battery power more efficiently. On the other hand, outdated apps might develop bugs resulting is excess power consumption which is one of the biggest reason for rapid battery draining problem. Keeping the apps updated to prevent such bizarre behavior of apps with battery and thus, extends the battery life further.
To update the apps, open the Google Play Store on your device.
Then, proceed to 'My Apps and Games' within the app and check for all the apps for which, updates are available.
Here, you can tap on several buttons to update multiple apps at once.
Tip 8 – Force Stop unwanted apps
There are a bunch of apps that would run in the background as well as on the main thread even when not in use. The best example is Whats App which stays active even when not in use. Since it is active in the background, it consumes battery and when similar apps start using resources in the background, it contributes to excess battery draining problem.
Open 'Settings' and go to 'Apps'.
Scroll towards 'Running' apps and select the apps that you want to stop.
Tap on 'Force Stop' button to stop its use entirely.
Tip 9 – Update the firmware on-time
This is important too. Keeping your firmware updated gives you additional features that are new to your phone as well as it eradicates earlier reported bugs and problems faced by users which are rectified in this latest patch. Android OS receives patches and security updates too often and using an outdated firmware or custom ROM is a no-go since it can lead to complications with the performance of the device.
To update the firmware, go to Settings.
Then, tap onto the option 'About Phone' and press on 'Software Updates'.
Check for updates and if available, download and install it.
Tip 10 – Clear cache partition
This method involves going into the recovery mode to clear the cache memory on the phone.
To enter into the recovery mode, press Power button to switch off the phone at the first place.
Now, press power button and volume up button together and hold it firmly until the phone vibrates.
When it does, release the button and proceed towards the recovery mode.
Locate and tap on the option 'Wipe cache partition' and accept it.
Restart the phone and use it to check if the battery draining problem has sorted or not.
Tip 11 – Reset the device
Well, a pretty radical step that can eradicate bugs in your phone which are consumption hell lot of battery power such as 'Wakelock'. Resetting the device using Factory Data Reset (FDR) will bring your phone to its original condition when you bought it. This will delete all the apps, data, and other files stored in the system and hopefully, erase bugs causing draining issues. There are two methods that you can use to reset the phone which is as followed.
Reset using recovery mode
Switch off the device before proceeding with this procedure.
Press the Power button and Volume Up button until the phone starts and vibrates.
Now, release the buttons and enter into the recovery mode when asked.
Scroll down the menu using Volume Up/down button and use the power button to select any particular option or as otherwise stated.
Scroll towards 'Wipe data/factory reset' and then, hit on 'wipe all data' to completely wipe off the user data and app data from the phone.
Now, tap on 'Reboot Device Now' to restart and configure the device as new.
Reset using backup and reset feature
This is a comparatively easy method and doesn't require the users to go to recovery mode.
Here, you need to go to Settings and then, Backup and Reset.
Assuming that you already took the backup of the data, press the button 'reset'.
Enter the password when asked and finally click on 'Erase Everything' to perform FDR.
Reboot the device and hopefully, it has rectified the issue on your phone.
Tip 12 – Get a power bank
Assume that your smartphone has a 4,000 mAh battery that gives a backup of 10 hours on heavy usage. In case of rapid battery draining issue, the phone's performance will deplete considerably since the battery is draining rapidly. There could be 'n' number of reasons why your phone is sucking in most of the juice unnecessarily, however, if you think nothing in this guide worked, you can still buy power banks. These are extensions that counteract with the depleting battery. When charged and connected to the phone, your battery will charge based on the capacity of your power bank. I recommend more than 10,000 mAh power bank or battery pack if you are an avid phone user.
Tip 13 – Take it to the specialist
Do you hate walking into the service center, stand in the queue and wait for the technician to attend you? Well, if nothing works in your favor after referring to the tips mentioned above, there is a strong chance that your battery is damaged or there is any hardware-related problem with it and believe unless if you are a technician or who knows how to repair smartphones, you won't be able to fix it. Taking it to the technician gives you benefits such as he/she will fix the problem after searching for its root cause. Then, it will be a little bit expensive if it isn't covered by insurance or warranty but you can sit back and relax that it will be worth it.
When you take your phone to a third-party technician, the second he unscrews the back panel to reach to the internal circuit, your warranty is void and thus, you won't be getting any warranty cover for the phone. On the other hand, when an authorized service center opens up the phone, the warranty stays intact even after several incisions.
Bunch of Other Tips
Still reading for more? There are a bunch of other tips and tricks that you can do to fix battery draining issue such as you can disable the device from backing up the data that consumes battery power to a certain extent. This will discontinue the access background process and thus, limit the battery usage. Another problem with Android OS is the bug called 'wakelock' that prevents the phone from saving power even after the battery saver is enabled. It will still consume a large amount of data necessarily. Another trick is to disable haptics on your phone. Haptics is a feature that vibrates the phone when you are receiving any call or messages or anything that requires the phone to vibrate. Disabling it will prevent excessive usage of battery life thereby extending it a bit which is always better than nothing.
Continue Reading & GetDroidTips