With increasing dependency on the tech gadgets like smartphone, we have become leaner towards these devices in all of our daily work. It wouldn't take much time to trace my location on my phone or to check out the route to a nearest McDonalds or Starbucks or any destination because we have GPS. Despite being off of the most used smartphone brand in China and India, it has its own GPS problems ranging from no signal at all to incorrect location, inaccurate details on routes and more. This is annoying especially when you are trying to reach somewhere and such GPS problems come in a way wasting your valuable time.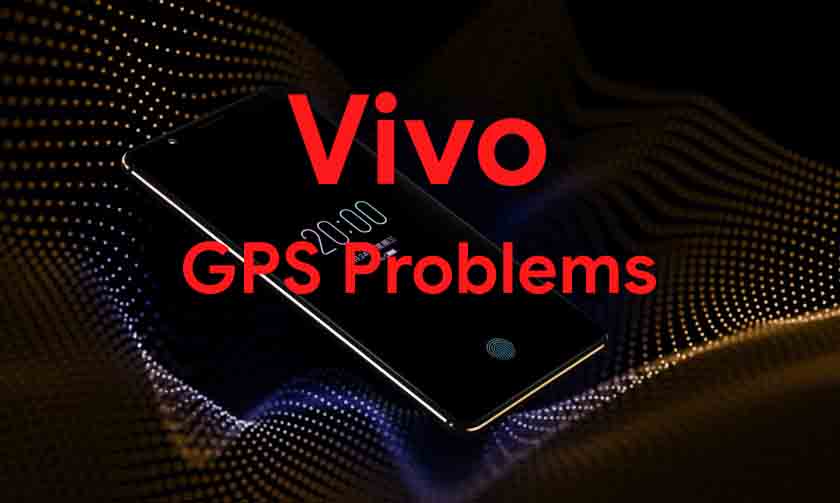 Smartphone users have started reporting even the minor issues with their phones that helps other users know about it, provide a fix for it as well as the smartphone manufacturer which would provide a patch that fixes such issues. What we have done here as we prepared a list of problems faced by users w.r.t. GPS. Then, we dig in some research and found out that these minor issues can be fixed pretty easily assuming that these are software related issues and hardware-related ones for which you will have to go through the last two methods. For rest of all the users having a software glitch, they can troubleshoot their devices to be accurate and efficient in searching for GPS location properly.
How To Fix Vivo GPS Problem?
Solution 01: Check your location
GPS tracks your location based on triangulation method where at least three satellites pinpoint your location after which, the point where these two satellites point is your location. Assuming that you are using Google Maps or any other major map services, open it and track your own location. Note that unclear sky with clouds as well as your location is crucial to track the exact GPS location of your phone. Check out for the internet network provided and then, click on the blue location button to track your location. If it is clear, walk out of the house or office and check out for the GPS location again.
Although Google Maps is a versatile app that detects your location promptly, it can wobble when the network is not too strong. It will be displayed on the screen when you check the location, there will be a light blue colored circle around a small dark blue color circle. You can increase the accuracy by stepping out of the building or office.
Solution 02: Toggle the GPS
The easiest way to get the GPS to work is to toggle it and it won't even much effort to do. Toggling seems an effective solution to get things on your phone to start working. It can be Wifi or it can be GPS but toggling can kickstart it if in case you are observing that it isn't working properly. To toggle the GPS on your phone, pull down the notification tray by sliding the screen top to bottom and then, tap on the GPS or Location icon which is usually the same in all smartphones irrespective of make and model. Now, simply tap on it to turn it off and then, wait for few seconds. Tap on the icon again and kickstart it and then, check if it is working or not. Most of the GPS-enabled devices will start working by then but if your phone belongs to the minority that doesn't, there are many other tips included in this list.
Solution 03: Switch to high accuracy mode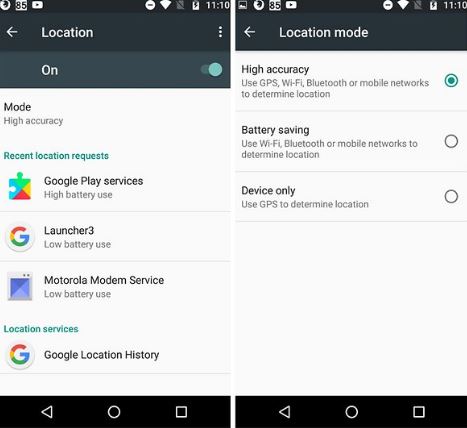 If your GPS is working but it isn't showing accurate location on the phone, it may be because of the default GPS settings since Android smartphones set moderate mode by default. By switching to high accuracy mode, you are actually providing more battery power to your system that will gauge more precise location. You can try it out with the following procedure as mentioned.
Firstly, go to the Settings app on your phone or you can pull down the notification tray and click on its shortcut.
Search for the 'Location' feature, tap on it.
Now, click on Options and proceed to 'Location Mode'.
Here, you will find that the mode selected id device only, click on it and select 'High Accuracy Mode'.
Once you have done it, try to track your location on Google Maps or any other services.
Solution 04: Toggle Airplane Mode
Okay, this was brought to light when users started prescribing this method as a fix to repair GPS on your phone in case if it isn't working properly or so. Toggling Airplane Mode is a quick method as a redressal to any and all GPS problems and it won't take much time to do it.
Simply pull down the notification tray and tap on the Airplane Mode icon and enable it.
Let it be active for 15 to 20 seconds which is ideal to solve minor glitches.
Now, tap on it again and turn it OFF.
Enable the GPS on your phone and try if the issue has been sorted or not.
Solution 05: Remove Case & Cover
Any type of interference between the GPS receiver and the satellites will undoubtedly result if some disturbance in the received location. At times, cases and covers that we use to protect the phone from any physical damage can become a hurdle in gauging the accurate location and therefore, you must take it off. Similarly, excess cloud cover or if you are in basements or any place with a lot of interference in between can pose a disturbance in the received signal. If you want to improve GPS reception to your phone and sort out inaccurate GPS location, put off your case cover and get in a place with less disturbance like an open space which must be enough for improved signal.
Solution 06: Reset AGPS
AGPS or Assisted GPS boosts the signal and provide a more precise location of your device with the help of Google Maps or other GPS-enabled services. Since it is an app on your phone, it must have a cache which is something problematic and must be cleared. If you are unable to track your location, resetting AGPS is simply worth it. It won't take a while to do it though.
Visit Settings apps on your phone and next, hit 'Apps'.
Scroll right to the 'All' section and then, scroll through the list to find AGPS which must have a satellite as its image.
Click on it and then, press the 'Clear Data' and 'Clear Cache' buttons to delete the corresponding data and restart.
If there was any problem with this app, it must have fixed by now. And if not, then there are plenty of other options available to try to relax.
Solution 07: Calibrate GPS on your phone
Issues like GPS bounce or GPS drift is often occurs due to inaccurate GPS compass which can possibly point towards a different direction. Note that even a degree of change if direction will give improper results.
Go to the Google Play Store to search for any compass if not available built-in.
You can download apps like 'Compass 360 Pro',' GPS Status & Toolbox', etc and install it.
Once it is installed, you can proceed to calibrate the compass with the device as per the instructions mentioned on the screen.
Orient the phone towards North as marked on the screen as well as check for roll, pitch, and calibrate it properly.
This will solve minor GPS-based issues on your phone.
Solution 08: Check out the power saving mode
Power saving mode is an essential feature nowadays as it lets the user save battery life for when needed. The battery saving mode when enabled managed the battery power expenditure and throttles its usage. It restricts various services that can suck all the juice fast and that includes GPS, Wi-Fi and even sometimes cellular network. This can pose a potential problem when you are trying to access GPS location for any task. Thus, keeping the power saver off at least until the work is finished will surely give it an edge.
To enable or disable Power saving mode, go to the Settings.
Here, either tap on 'Battery Saving Mode' or if not available, tap on 'Battery' and then proceed to the saving mode.
Then, toggle the switch on the top left corner to either enable or disable it.
In this case, you'll have to disable it until your location is pinpointed by the GPS system.
Solution 09: Reboot the device
A lot of websites would recommend you to do this and that when GPS is not working or when any other feature is not working but at GetDroidTips, you get a 360-degrees guide on what to do exactly. Since your smartphone has an OS that handles all the software, apps and services on your phone, it is prone to develop minor glitches that can hinder the performance but for a short time only. This is one of the quickest technique available in this guide where you need to reboot the device to get it unwired and work perfectly.
Press the 'Power button' for few seconds.
Then, a dialog box will appear on the screen.
Select 'Phone Off' and the phone will switch off.
Wait for few seconds and then, turn it on.
Solution 10: Update Google Maps
If your location is not proper or the Google Maps which is the most popular map tool used on almost every Android and the majority of iPhone smartphones. Outdated apps may show unwanted or inaccurate results. Also, developers update the app to fix any reported bugs and to include more features and optimize its performance while outdated apps perform its opposite. If you are finding it difficult to locate your spot on the map or if it is showing issues like the wrong location, zigzag or anything as such, try updating the app for a change.
To update the Google Maps, visit 'Play Store' and then, located the app.
If there is an update available, the phone will prompt you to click on 'Update' button to download and install it.
Another way around to get apps updated automatically is to opt for 'Auto-update' for which, the option is available at 'Play Store > Settings > Auto-update apps'.
Solution 11: Clear Google Maps Cache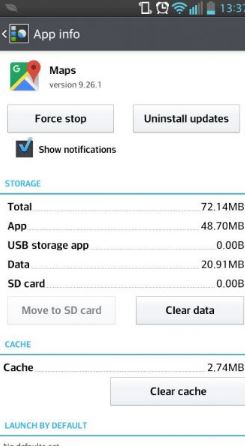 Already, so if you have gone through the list of to-dos in the guide, this solution is very similar to how you can reset AGPS. What you need to know that cache is a memory storage that spaces bits of data of the pages or sites you visit so that when you do it again later, it can be accessed quicker. However, the cache is one of the biggest problems with Android phones since it usually causes performance issues. Moreover, it also plays as a hurdle in rectifying an error since the app will show results similar to its last results and if the last results were faulty or erroneous, that's a problem. To clearing cache is a healthy option for which, the procedure is as followed.
Visit 'Settings' on your device and jump to 'Apps'.
Scroll down the window and located 'Google Maps' or any other map service that you use.
Tap on 'Clear Cache' to delete the cache.
Also, tap on 'Clear Data' for added performance.
Solution 12: Search root cause using GPS Status & Toolbox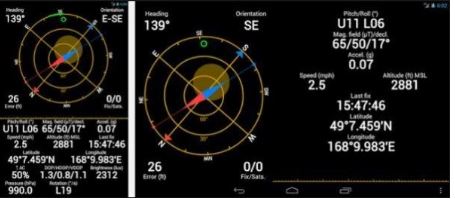 GPS Status & Toolbox is a helpful app that you use to curb various GPS related glitches. The app measures aspects such as bearing, pitch, roll, altitude, acceleration, speed, accuracy, and signal strength of satellites. It also provides information on available satellites in the radar by which, you can know if the issues that you are observing is due to any physical damage or due to non-availability of sufficient signal from satellites, etc. It also calibrates the AGPS on your phone and optimizes it to perform faster than earlier.
Solution 13: Update the firmware
Issues like GPS not picking up a location i.e. not locking or GPS drift, bounce etc can occur if the firmware present currently has become old or defunct. If you have custom ROM installed, it is prone to errors and issues and that is what updates are for since it literally fixes these issues right. To search for updates available for built-in ROM, go to 'Settings > About Phone > Software Update'. On the other hand, to check for updates for custom ROMs, you will have to search for it. Guess what? Searching for updates for custom ROM is easy with GetDroidTips as here, you can find plenty of information and guide on how to do.
Solution 14: Wipe cache partition
Similar to how you would wipe cache storage on your phone, this method involves around a powerful tool 'wipe cache partition' which is located in the recovery mode. Press power button and then press Volume up button to enter into the recovery mode. Scroll down the menu with volume down button and select using Volume Up or power key depending on your model and make. After you do as said, reboot the device and the GPS will start working properly unless it is too stubborn that it requires an FDR.
Solution 15: Do a Factory data reset
If you haven't found the solution to fix the GPS problems on your phone as of now, you can do a factory data reset on your phone that will completely erase all the data. It is also one of the common technique that many users use across the globe to curb software glitches, however, it is insufficient if the issue is in the hardware system. You can reset your phone using built-in reset feature that is by going to 'Settings > Backup and Reset > Reset' and then click on 'Reset the phone' and then 'Erase Everything' and it's done. Another way around is to go into recovery mode by pressing power key and volume up button and then, select 'wipe data/factory reset'. Once you do it, reboot the device and hopefully, the gps on your phone will start working properly.