Speech-to-text or voice-to-text is a great functionality you can use on your iPhone XS Max as it lets the user dictate a message or command without touching the phone. Simply tap on the "mic" option on the keyboard when you need to type something and the keyboard pops up and you are good to go. Tapping the mic icon will unleash the microphone and enable dictation or speech-to-text feature where the microphone will take the input that is what you speak and convert it into text and post it in the text field in real-time
Depending upon the pronunciation and speed at which you speak, the dictation feature can grab what you say and post it directly into the text field while mentioning even full stops and commas and other punctuation marks subjected that you know how to do it without using your fingers to type it. Anyways, the feature is great no doubt and can do a lot more when combined with Siri, Apple's AI-powered voice assistant which is among the most advanced.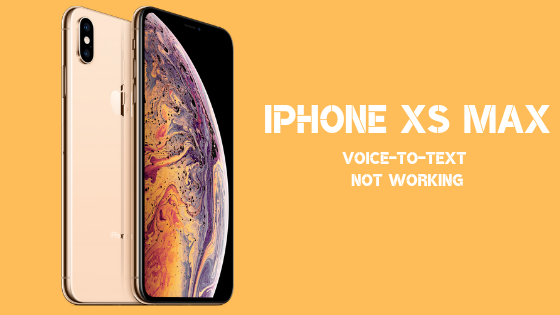 But at times, call it a minor error or a software glitch or a hardware issue with the microphone or any other components involved and whatnot, the voice-to-text feature could stop working either partially i.e. it could take some commands and inputs but not all or it could end up not taking any input at all. This could be a major issue since many people use the dictation feature on their smartphone as it lets the user become hands-free while enabling them to write stuff and give commands when needed. If the voice-to-text is not working on your iPhone XS Max, what can you do to fix it? Here's what you need to do.
How to fix Voice-to-Text not working problem on iPhone XS Max?
Depending upon the nature of the problem and its severity you are facing, try going through this troubleshooting guide in ascending order so that you can at least eliminate a few things that might have gone wrong on the way before ending up fixing the issue so read along.
Method #1: Make sure you have a working internet connection
Although it is not a golden rule that internet is the prerequisite to use a voice-to-text feature on your iPhone XS Max such as while typing a message or typing a query, etc although Siri will need an internet connection if you are using it. Just give it a try. Make sure that you have a working internet connection either cellular or Wi-Fi depending upon your preference. You can toggle mobile data or Wi-Fi from the Control Center itself or walk into the Settings for more unified features.
Method #2: Toggle 'Siri'
In case if the voice-to-text feature is not working within Siri, you can toggle it ON and OFF several times so that it jumpstarts if there's any problem with it. For that, you need to navigate to the Settings application and proceed to General >> Siri and toggle it 'OFF' as it will be enabled by default. Wait for a few seconds before turning it 'ON' and verify if this particular piece works or not.
Method #3: Toggle 'Dictation'
The Dictation feature embedded within the Keyboard offers an easy way to toggle to voice-to-text simply by tapping the 'mic' icon and feature is enabled until you turn it off or obstruct it by typing something. If the voice-to-text feature is not working when you are on WhatsApp or any messaging app or Microsoft Word or any other app, try the following method that might help jiggle the problem a bit. should jumpstart it.
Navigate to Settings >> General >> Keyboards >> 'Enable Dictation'.
If it is 'ON', turn it 'OFF' and turn it back 'ON'.
Method #4: Restart the iPhone XS Max
Next stop if toggling both Siri and Dictation doesn't help is to simply reboot the system. It is quite common for smartphones to attract bugs or minor software glitches here and there as always too many processes happening around it. A quick reboot will resolve any glitch or technical snag while relieving the phone from lack of resources which happens when too many apps consume too many resources thereby dragging the performance of the phone to a downhill.
To restart iPhone XS Max, press the Side Button for a few seconds until a slider appears titled 'Slide to Power Off'.
Slide it to the right and there you go.
Next thing you can do is to wait for a few seconds before pressing and holding the Side Button until an Apple logo doesn't appear on the screen.
This will conclude the method and note that this method is universal across all iPhones.
Method #5: Update the iOS software
A lot of times, the issue could be as feeble as an outdated iOS firmware which is practically the backbone of any apps and hardware components that interact with each other. It is quite considerable that the outdated iOS firmware has caused issues such as voice-to-text not working. Although having such an isolated issue due to an outdated firmware might not be a case of all the iPhone XS Max users since many of them will have a few other issues spread across different junctures as well.
This is why if you believe that the voice-to-text not working issue and any other issue is occurring at the same time, do check out the iOS firmware version that you are using and proceed by updating it to the latest one.
You can update the iOS firmware of your iPhone XS Max by digging into the Settings application.
Go through General >> Software Update.
Here, a thorough page will showcase if your iPhone XS Max has any pending update or not.
If there's an update, kindly download it and install it and hopefully, the error will be sorted or else you can always move to the next methods prescribed here.
Method #6: Reset All Settings on your device
Well, this could be a probability as the issue with dictation and voice-to-text feature on your iPhone XS Max could be pure because of outdated iOS software which is the foundation and an interactive medium where hardware and software interact and so on. You might have skipped a few iOS updates or the current update has encountered issues keeping up with the voice-to-text feature on iPhones or it could be targeted to specific region or place or model among other verticals.
Thus, an iOS update can bring changes if what I said above was true in your case and anyways, this method takes a few minutes and thus, even if this particular method doesn't solve your problem, it will relieve you from many bugs waiting in the pipeline to burst out when favorable conditions are available.
To check out if there's an update available or not, go to the Settings application on your device and proceed to General >> Software Update section.
If you have received any update, it will be displayed here that you can download and install.
If there's no update, wait for some time since iOS updates are pretty fast-paced.
Method #7: Is the mic working?
Unlike the internet which isn't compulsory in this case, the mic is at the epitome of requirements since it will pick up the input and allow the system to transcribe it in text. Make sure that the mic is working. Call someone or record short audio holding the phone at different distances to gauge the sound clarity and quality among other metrics. If the mic is faulty, it mustn't record anything or if it is partially impaired, it will keep on producing noise and other unwanted interruptions.
If the mic is faulty, you can always use your headphone which has a mic installed or buy a standalone mic for that matter. On the flip side, you can visit a nearby service center to get it tested.
Method #8: Take it to the nearby service center
If the mic is impaired or facing any problem related to hardware and of course, if you still can't fix the problem using any of the methods aforementioned even if its a software issue, you can report it to an Apple-authorized service center or you have an option to take it to a third-party service station which will be a cheaper and at times, effective, although you will lose the warranty on the device to think before you do.