Although it was not so dependable earlier but with apps and services molding across it, GPS has become one of the important aspects of a smartphone. It lets the user track his/her location on a map, find out route to a given destination or find ATMs, hotels, restaurants, public parks, transit methods, and there are a lot of other applications. Open Google Maps and you got your location or try searching for the shortest route to point B or get inputs on sightseeing and places of attraction nearby and you got it. Want to book a cab? Open Uber or any other app and you'll get the option to turn on location so that the app can track your accurate location and that's all because GPS is active on your phone but what if it isn't? What if your phone is facing some kind of GPS problem that needs to be ascertained and fixed?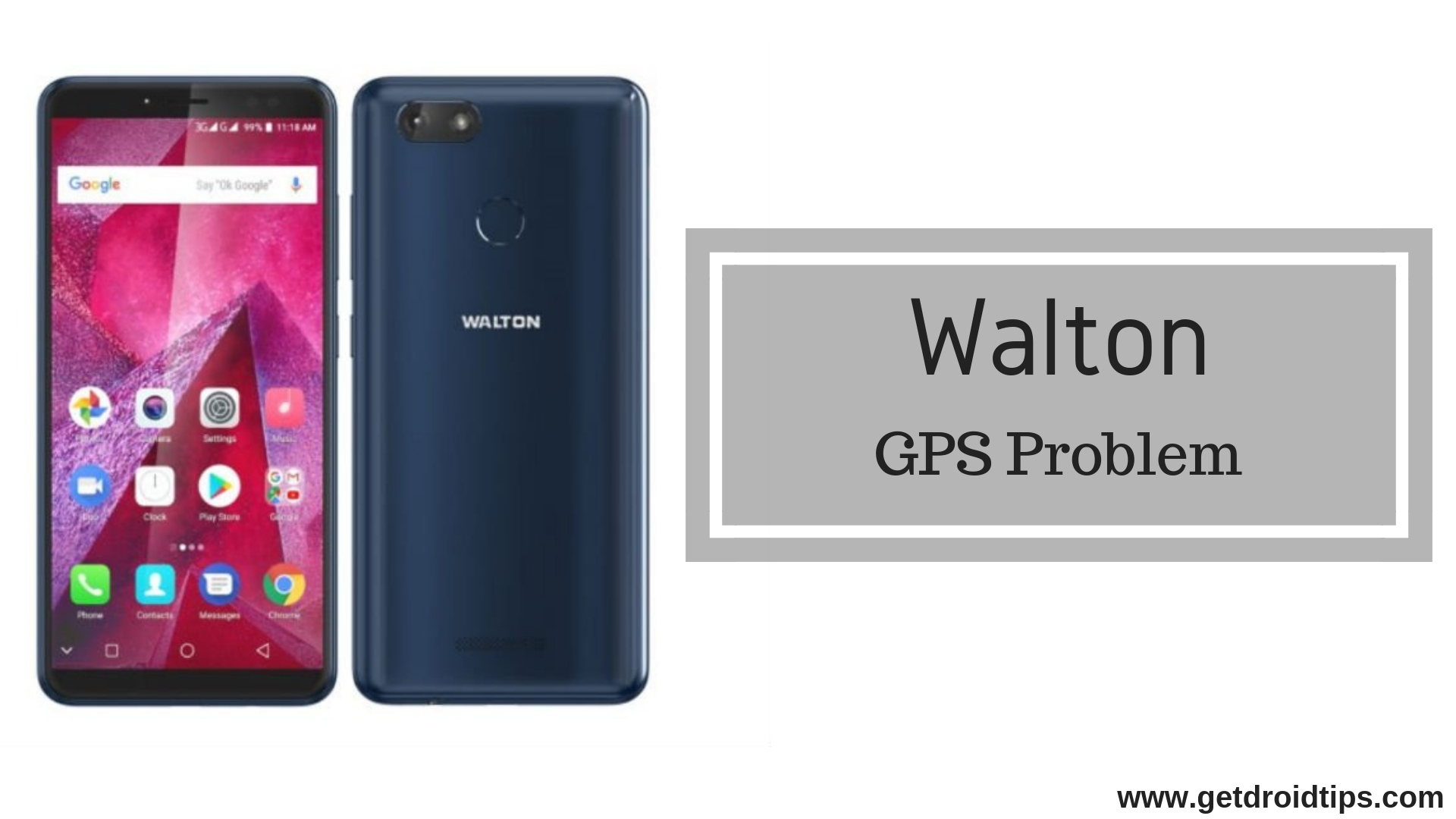 How To Fix Walton GPS Problem?
Before getting to know how to actually 'fix' potential GPS problem, you must know how the GPS actually works. To summarize, your phone acts as a GPS receiver that intercepts signals from the GPS satellites which are orbiting the Earth in geostationary orbit. These satellites send out signals to all the GPS receivers and when the phone intercepts it, the location on a map is carved out. When it comes to smartphones, it uses A-GPS or Assisted GPS which literally means the phone uses satellites and the nearby cell towers to track the accurate and precise location of the user which improves accuracy. Now let's see what are sort of GPS problem you could face and how to fix it.
"GPS isn't turning ON"
It is a common problem where you tried turning on GPS but it doesn't even after the icon on the notification panel is illuminated. What could you possibly do to fix it? Well, it is simply because you simply need to tap on the Location or GPS icon on the notification panel and toggle it repeatedly for twice to thrice. This action must force the feature to kickstart but even if it doesn't, doing the same with Airplane mode could do the magic for you. You can also reboot the phone as it is possible that an error caused hurdle starting up the said feature aka GPS in this case. Rebooting the system must resolve the temporary software error right away.
"GPS is showing inaccurate or out-of-sight location"
You are standing at a Point A and want to go to Point B but you don't know how to go about. So what you do is take out your phone, turn on GPS and open Google Maps or any alternative and start feeding the location and you get the results. But hey, your location isn't accurate on the map. It could be slightly away from your actual location or it could be 5m or 10m or even a few kilometers away from your actual location. So, how do you fix it?
The first thing you should look for is to check if anything is interfering with the GPS signals or not. For example, radio waves from satellites and nearby cell towers suffer attenuation when passing through walls and that's why you are recommended to stay as close to the windows as possible to get a good network reception. If there's no walls or building ahead, what could possibly interfere with the signals? The answer is the phone case or covers that you are using. It is possible that the phone case which is now available in many materials where some type of materials could possibly choose interference thereby leaving you with inaccurate incorrect location-based data.
Walton smartphones use is an A-GPS which needs reception from both satellites and the cell towers in order to render the location of the user on the map. But there is a mode on your phone that enables accurate location-based results by raising the accuracy of the GPS receiver mounted on the device. You can go to the Settings on your phone and proceed to Location >> Mode. Here, search for the option called 'High-Accuracy mode' which although takes a lot of power comparatively, but it is known to increase the efficiency and accuracy of the location-based results.
Police around the apps installed
Basically, your phone has pre-installed apps and downloaded apps. Although apps can be great to do a lot of tasks, downloading too many apps or using all at one can have an adverse impact on the system as a whole. First of all, you mustn't installed untrusted third-party apps that you won't ever use. It is a healthy practice to uninstall unnecessary apps that you no longer require.
Further, apps can cause app conflict wherein either the accused can cause victim app problems while starting up or it could be the system crash or failure as a whole. You can boot into the safe mode which differs from brand to brand, in order to scrutinize the section of apps causing the error and act accordingly. Further, you must get rid of power-hungry apps or those which are graphics-intensive or need a lot of resources since these apps can either cause power deficiency or resource deficiency both of which is needed by the GPS on your smartphone to work properly.
Upgrade or roll back the system OS
Updating the apps and the operating system firmware may not sound too important but indeed it is because if you keep the apps outdated, you will be shunned away from any new features or UI changes that the developers have attained while also, you will be away from finding bug fixes for any error that occurred when you tried the app previously. Thus, updating the apps installed in the phone is crucial and so is the operating system which can either be upgraded if available, rolled back to a previous version or download and install a custom ROM to get rid of the related issues.
Get rid of the cache files
No doubt cache files are great for a smartphone as it reduces the retrieval time taken by the phone to access a file or app or service but it surely adds burden when it becomes too large in size or when it is affected by bugs or errors or get corrupted. Therefore, it remains a much-advised method to get rid of cache files to escape the clutches of any software-related problem. There are basically three methods that you can employ to get rid of all the cache files on your Walton phone and here's how you are going to go about.
Open Settings >> Apps >> Downloaded and open an app, click on 'Clear Cache' and 'Clear Data' and you are done with the first method. The second method revolves around opening the Settings tool on the phone, proceed to Storage >> Cache Memory and delete the same. The third method is little invasive since it includes booting into the recovery mode which you can access using the method prescribed in the 'Perform a factory reset'. Once you are in the recovery mode, you can tap on 'wipe cache partition' and 'yes' to finish it.
Scrutinize the cause using GPS Essentials
This app is great since it lets the user know if the GPS problem that he/she has been facing is due to a hardware or software error. You can simply download it from the Google Play Store and turn it on. Once it is started, you need to tap on Satellites to view the satellites on the screen. Note that the GPS works with the help of GPS satellites and there must be at least 4 satellites in sight with the device to capture its accurate location. If you can spot the satellites on the screen, the error must be software-borne but in case if you can't see it, it is undoubtedly a hardware problem such as damaged or inefficient GPS receiver or any other component related to it.
Perform a factory reset
This is the final frontier since it could be the point of no return. Performing a factory reset will reset the phone to its original factory settings thus resolving all the issues including the GPS problem but before commencing with it, you need to take a backup of the data that you need to save since it will be deleted forever. Here's how you can perform a factory reset.
Turn off the phone.
Proceed by tapping the Power button plus volume up button together.
Hold the keys for a few seconds until an Android logo doesn't appear on the screen.
Release the keys and wait for the system to boot itself.
You need to select 'wipe data/factory reset' from the menu using volume buttons as toggle keys and power button as the selection button.
Select 'yes — delete all user data' to confirm the actions and it's done.
Get an external GPS receiver
If you live in a place with more buildings or interference and less network coverage and thus less GPS coverage, using an external GPS receiver could be a great option. This device will amplify the signals received and transmit it to your device which is far better than the GPS antenna mounted on your phone. You can either use the external GPS receiver if the built-in one is broken or damaged or you can use both together.
Talk to the smartphone manufacturer
You did a scan on the GPS Essentials app and came to a conclusion either by performing a hard reset or by buying a GPS receiver but it didn't work? The last resort is to turn to the smartphone manufacturer to get the phone fixed. You can check on Google to find nearby authorized service center and get the help from there.