Accidental deletion is one of the most common reasons behind data loss. While the accidental deletion of large folders can be avoided by canceling them, comparatively small size Word documents get easily deleted. If they are permanently deleted, you have no choice but to look for a Word document recovery software.
Finding a data recovery tool isn't the issue, as a simple Google search will reveal many paid and free data recovery software. To find which data recovery tool is the best, continue to read the article.
Part 1: Why Word Files Get Deleted or Lost?
When looking at the reasons behind Word files getting lost, you will find many causes and scenarios. Here are a few common reasons behind the loss of Word documents:
Accidental Deletion:

Deleting your Word files when trying to delete something else is probably the most common cause. A single wrong use of the "Shift + Del" key can permanently delete your Word files.

Hard Disk Failure:

Hard disks, internal or external, are sensitive hardware parts that can easily get damaged. If the hard disk where your Word documents were located gets damaged, they can be lost.

Water or Liquid Spillage:

A common mistake when using laptops is the spillage of water or other liquids on them which results in a system failure. This can damage and delete your data inside the system.

Cyber Attacks:

Rampant cyberattacks like viruses and worms can affect data inside your system. These types of attacks can delete all the data inside your device or can corrupt your Windows as well.
Part 2: Best Data Recovery Tool for Recovering Deleted Word Files
Answering the question of which tool is the best data recovery tool is hard. Most of the time, the answer depends on the lost data and the scenario in which it was lost. As a general rule of thumb, a great data recovery tool should have wide data type support, a quick and easy process, be cost-effective and maintain the recovered files quality.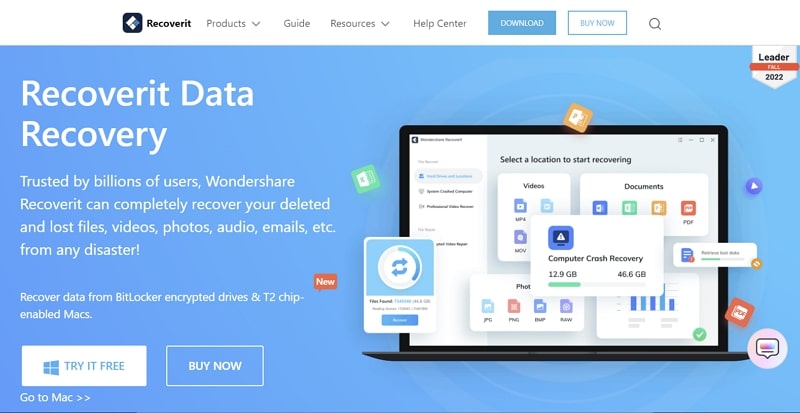 When following these rules, Wondershare Recoverit is the best data recovery tool. It provides data recovery support for over 1000 data types. You can recover your deleted word documents regardless of the device you lost them on, as it supports over 2000 devices. It has also simplified the data recovery process to make it easier for people with no tech knowledge to use.
Tap Here to Download Wondershare Recoverit for Recovering Word Files from 500+ Scenarios >>
Part 3: Quickest Method for Recovering Your Deleted Word Documents
The recovery process of your deleted Word documents is not complicated when using Wondershare Recoverit. All it requires is a few simple steps and a couple of minutes to recover and restore your files. These are the steps for the process that you need to follow:
Step 1: Select the Location of Deleted Word Documents
To start the Word documents recovery process, you will need to select the drive or folder where they get deleted in the Wondershare Recoverit app. The location can be selected by accessing the "Hard Drives and Locations" tab.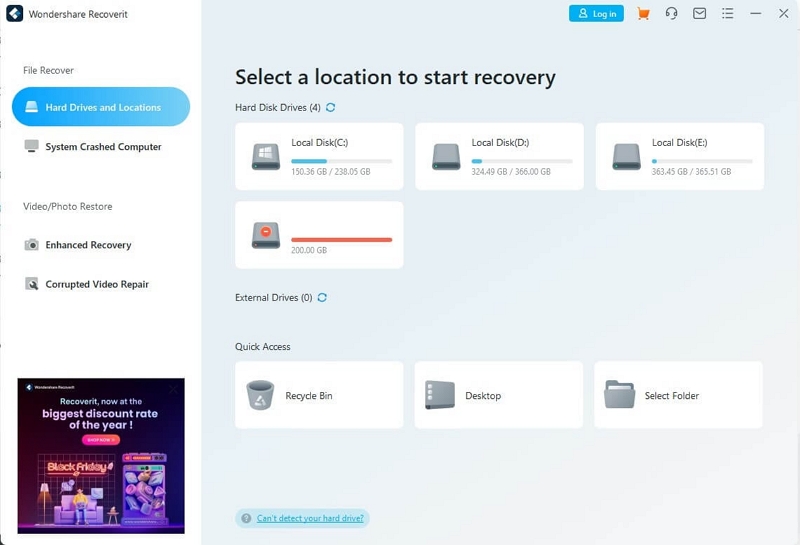 Step 2: Start the Word Documents Recovery Process
With the location selected, press "Start" to run the program scan. You will see the different recovered files starting to appear on the program screen as the scanning progresses. Use filters like "File Type," "Time," "File Size," and "All Files" to locate your Word files. The search bar can also be used for finding the files.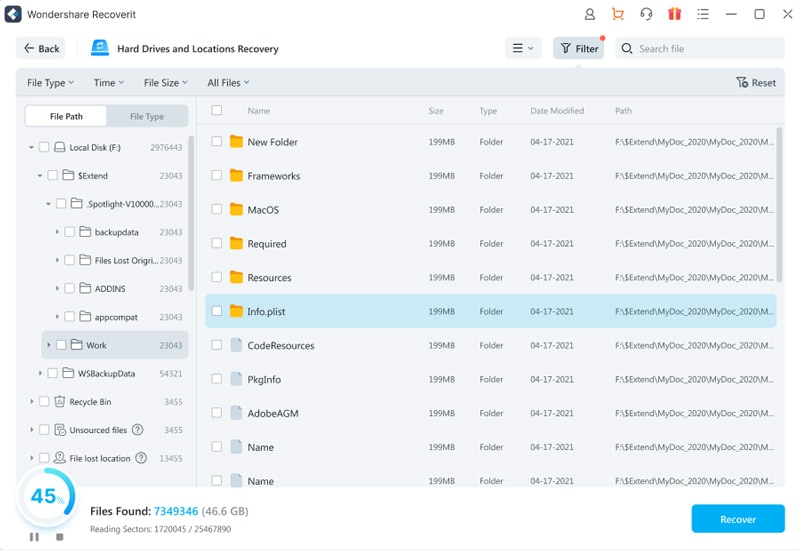 Step 3: Complete the Word Documents Recovery Process
When the scanning process is completed or you have located your files, you can select them for preview. The Preview feature allows you to ensure the recovered files' authenticity and quality. To restore your deleted Word files, press "Recover" and provide the new location.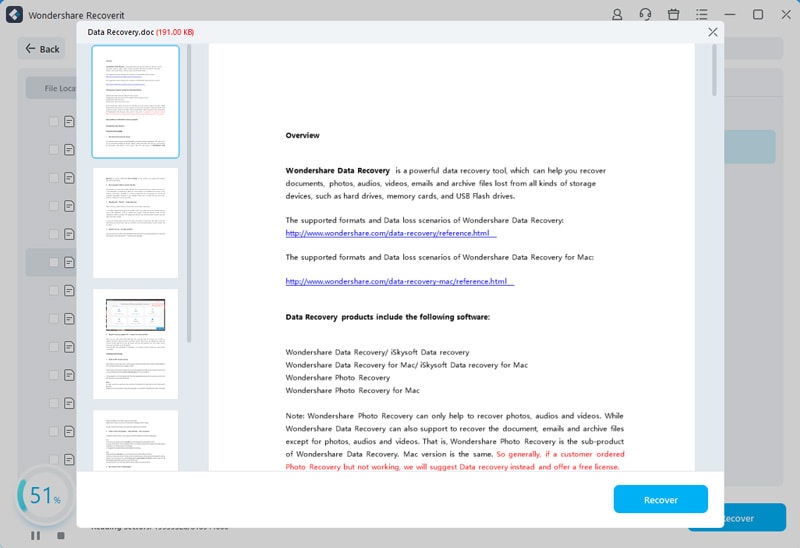 Part 4: Why Our Recommended Data Recovery Tool is the Best
There are many reasons why Wondershare Recoverit is the best tool in the market. It has been helping users in recovering their data for about 20 years. Being a leader in the data recovery market, it has around 35 patent technologies. With it, you can recover your lost data in over 500 scenarios with a 95% success rate.
You can use it to recover your lost data without any limitations. Due to its wide support for devices to recover data from, you can recover data from external hard drives, USBs, digital cameras, etc.
Part 5: Two Amazing Features of Our Recommended Data Recovery Tool
Corrupted Video Repair:

If some of your important videos are damaged or corrupted due to hardware issues or malware attacks, Recoverit can repair them for you. It can repair videos regardless of the damage.

Advanced Video and Photo Recovery:

Aside from documents, if you have lost your media files like videos or photos, Recoverit can easily retrieve them. Its Advanced Video and Photo Recovery mode can quickly recover high-quality and large videos and pictures.
Conclusion
Like many other mistakes in life, accidentally deleting your data like Word files is always going to be there to haunt you. It is not possible to always keep your guard up, and even with that, many things can lead to data loss. So having a world-class data recovery tool Wondershare Recoverit at your disposal is a great way to retrieve your deleted Word documents.