Have you ever pondered on how to stay up to date with social media and the alterations that seem to happen instantaneously? We have all done it. You check your social media when you wake up and find that the whole shebang has changed. The new terrain can be perplexing and you may not know where to start navigating. Then you think, "It would be so easy if I could keep up with the constant changes taking place in the social media domain and make all these pages work for me?"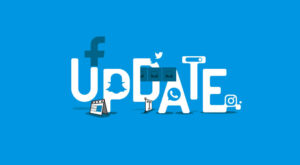 What if I tell you that there are some simple ways to stay on top of the trends? The first thing, however, is to ensure a good internet connection that does not fail you! You can pick from some leading internet service providers (ISPs) to get the best of the lot. Cox, for example, is a reliable ISP, considered among the best phone, TV, internet, and home security providers. The variety of Cox plans and customizable packages have contributed to industry standards, due to their advanced services. So now that your internet is set, let us get down to the chase.
Social media is a constantly growing and evolving environment with new platforms being launched and new features released regularly. Reaching your audience, as an influencer, blogger, or even an online business, on the accurate platform with the appropriate feature or location is critical. Staying on top of ever-changing social media trends without spending a lot of time can be tricky but these tips will help you stay on top of things without spending too much time.
Tip 1: Read the right news
Industry analysts encapsulate and make observations on various updates from sites such as LinkedIn, Twitter Facebook, etc. These specialists are usually the original people who come to know about these modifications. Therefore, by visiting their websites, you will be notified when updates are released.
However, browsing websites and selecting the right articles can be time-consuming. Using an "RSS feed aggregator" (also known as a reader) to visit weekly or once-a-month social media news pages will keep you up to date.
Tip 2: Listen to podcasts
Podcasts are video or audio recordings that you can subscribe to via an RSS feed, view in your browser, or transfer to your digital device. Searching for "social media podcasts" is a good place to start. They are mostly free and filled with information on niche topics, and the best part is, that you can hear them on the go, making them the most suitable way to keep up with industry news. Hooray for podcasts!
Tip 3: Subscribe to YouTube channels
Many companies and social media experts post instructive videos on YouTube about what's new on their turf. Use the keyword 'social media,' then click on the 'Filter' drop-down menu and select 'Channel'. Click "Subscribe" on the desired channel and stay tuned!
Tip 4: Join LinkedIn Groups
LinkedIn groups are a good way to connect with other business owners and social media fans. You can ask questions from your peers there to learn from their experiences and learn about new social media trends.
Tip 4: TikTok is the new place to be
TikTok operates differently than other social media platforms in terms of content type and algorithms. Here are some tips to help you stay on top of the trends:
The "For You," page on this site is a great place to look for trends and viral videos, but it should not be the only place to look for trends.

Hashtags help people find applicable content (like #mentalhealth, #BTS, etc.). The most quoted hashtags in video captions help determine what is trending on TikTok. Many users, in addition to one or two trending hashtags, often use hashtags related to their niche to organically promote their content.

Watch out for issues on the platform. Users actively create and participate in challenges that end up becoming viral. Many of these involve lip-syncing or dances.

See what bloggers or influencers are posting on TikTok. The posts of influencers and celebrities on the platform will be popular and tell you what's trending.
Go over your friends in your contact list. Do they eat your head off about the latest Facebook feature or what's new on Twitter? If that is the case, then you are in for some luck! They can be a great tool for staying up to date. If not, contemplate connecting with a local club, attend social media meetings or events, and make new friends!
When you attend the meetings or join the club, you will meet people who are aware of social media and have the knowledge on how to stay relevant. Get their email, befriend them on Facebook, follow them on Twitter, or connect with them on LinkedIn. This way you can ask for advice and stay up to date with their social media posts.
Tip 6: Follow the "gurus" on Twitter
As you can imagine, these experts observe their thoughts on social media news via Twitter. Once you find an expert you like, just click Follow and check their tweets regularly.
Every social media expert has experience generating ads, improving campaigns, and using online contests. Based on their experience in the market, they tell you what works for you and what does not. You cannot learn something from Google every time because many things require a lot of experience and social media experts present that to you on a platter.
Using the accurate hashtag in the right post can increase search visibility by displaying it in search results. Hashtags go a long way in building your brand awareness and these social media gurus know which hashtag to use and when.
Conclusion
The realm of social media is constantly developing and shifting. Daily or weekly communication with social media platforms and news will help you accurately understand trends and changes. Staying on top of social media trends can be a daunting task. These 10 tips will help you manage your time effectively and keep up to date with the latest events.