Here in this guide, we will provide you some possible steps How to troubleshoot 4G connection issues on the OnePlus 7/7 Pro. OnePlus recently announced two new flagship killer smartphones called the OnePlus 7 and OnePlus 7 Pro. If you're planning to buy the latest OnePlus 7/7 Pro handset to run as your daily driver, you need to know some of the common issues which may arise on your OnePlus device. Network connectivity issue is one of them. Check out the brief and detailed reasons and fixes as well.
Steps to troubleshoot 4G connection issues on OnePlus 7/7 Pro
It's not necessary at all every OnePlus devices gets these types of issues. But as a smartphone owner, you need to know about the possible issues which may arise on your OnePlus device. As previously, so many OnePlus device users have reported about the same kind of issues, it's quite obvious that a user will get slightly afraid. There is no doubt about the performance of OnePlus devices. They're simply one of the best and affordable flagship killer devices available in the market. Mostly, the problem arises after some of the software updates. But that will be fixed by the company soon if any.
1. Enable Right Network Mode
This is one of the common and simplest mistakes we do. If your device or mobile data pack doesn't support 4G connection, you need to change that option from the Settings > Mobile data > Network mode easily. Choose the preferred network mode like 2G/3G/4G whichever your device and data pack eligible for. Otherwise, you may get a network connection issue all the time.
2. Re-Insert SIM Card
By simply re-inserting your device SIM card may solve the issue completely. You can try to swap the SIM card on a different slot to check out the issue properly. Otherwise, try to check a different SIM card whether it's working or not in 4G.
3. Activate or Deactivate Flight Mode
Sometimes, we forget to deactivate the Airplane/Flight mode on our device and that causes the issue to the network. If the flight mode is not activated, then activate it and restart your device. Now, you can deactivate again the flight mode. That may help you in most cases.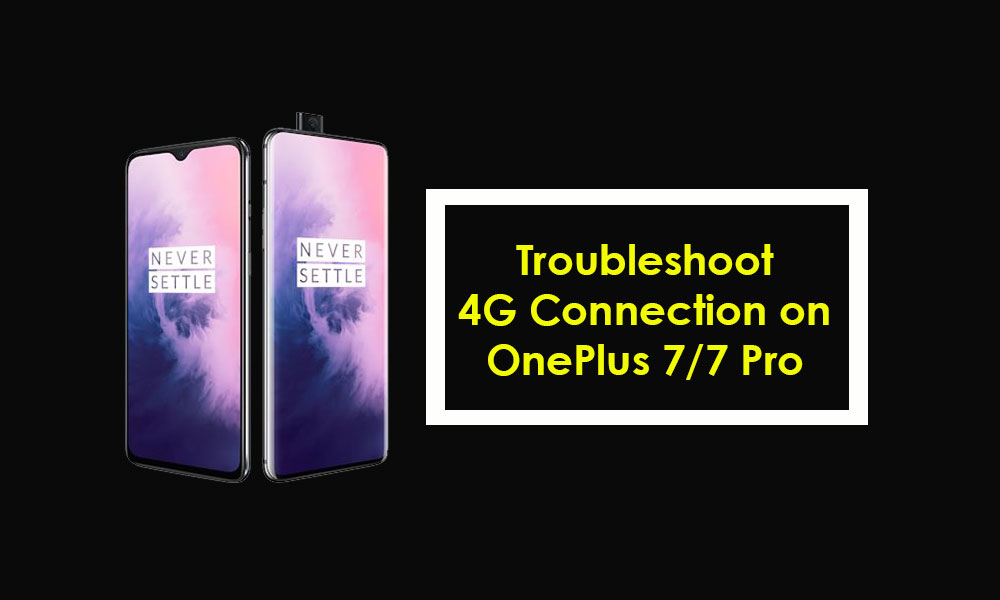 4. Turn Off Data Saver Mode
If you're using Data Saver mode every time, it may cause issues with the 4G network. Try to turn it off for a few minutes and restart your device for once and check.
Must Read: Common OnePlus 7 Problems and Fixes – Wi-Fi, Bluetooth, Camera, SIM, and More
5. Turn Off Other Wireless Connections
In most cases, we prefer to use Wi-Fi for internet connection and Bluetooth for our connected smart devices. But after long use, the Bluetooth and Wi-Fi connection can cause conflict with each other. Try to turn off all other wireless connections and check your 4G network properly.
6. Reset APN to troubleshoot 4G connection issues on OnePlus 7/7 Pro
Via Access Point Names (APN) the mobile network provider connects your phone to the mobile internet. It sets your phone with IP addresses and gateways to get you connected. You can reset the APN settings to default one for optimal use.
Go to Settings > Mobile Data.
Tap on Mobile Networks > Access Point Names.
Tap on the top-right menu icon and then select 'Reset to default' settings.
7. Set APN Protocol to IPv4/IPv6 (Recommended)
You can't find this APN setting in all phones, but some devices (i,e OnePlus) will give you the option to leave the APN Protocol field blank. In that case, check the IPv4/IPv6 APN Protocol to run things better.
8. Check Mobile Data Limit
Each and every Android smartphone lets you set your own mobile data limit. you can set a threshold limit as well to get notified or being blocked by the system automatically whenever you reached that limit. Basically, advanced users or Wi-Fi users turn this option off. But if you're don't know how to turn it off, follow the steps:
Go to device Settings > Mobile Data > Data Usage. (depends on your device)
You'll see a graph/chart showing your data usage. Therefore, you can simply know how much data you've used date wise. And how much you have set your limit. That's simple. Let's assume that you're using a 2GB/day 4G data. That means after using 2GB data in a day, either you can't access 4G connection or gets a slower bandwidth.
Otherwise, just turn off Limit mobile data usage option. As this won't track your data anymore.
9. Other Possible Reasons and Fixes
Make sure to check whether the Roaming Mode is active or not. By turning off the mobile data in Roaming mode, you can save both the data leakage and connectivity issues on your OnePlus devices.
There is something blocking the network signal that's why your device can't run smoother 4G connection or internet.
Finally, if anything won't fix the problem then perform a full factory Reset of your device to troubleshoot 4G connection issues on OnePlus 7/7 Pro. But make sure to take a backup at first.
Maybe your phone is having something wrong with the signal antenna internally. If that's true, fix it from the company service center.
These are the most common and possible reasons and fixes which you can try by yourself before asking for a replacement or repair to the company. Write down your comments below about your thoughts or issues regarding this.