Have you ever found it difficult to admit that you know what's "recovery mode" in iPhones? Is you phone performing below its optimal level or is it facing any software issues or damages or the phone is stuck or the screen is frozen? Well, this is where the recovery mode on your iPhone XS Max kicks in as it is the most imperative and powerful failsafe on iBoot that allows the user to restore to the original state of the device when it ends up getting into any problem.
If you read any of the troubleshooting guides about iPhone XS Max on GetDroidTips or practically any website, you will see that the recovery mode is particularly common across a tonne of software-related issues because it is effective.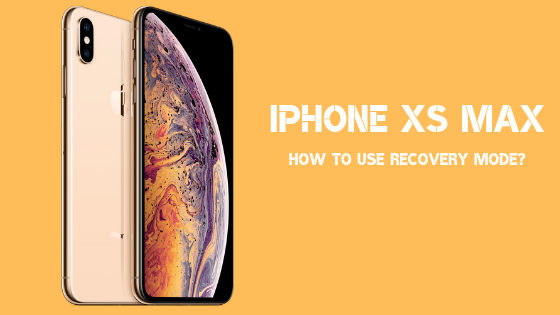 What is Recovery Mode in iPhone XS Max?
For those who don't know about it, recovery mode is accessible on all the smartphones and it is a bootable partition which can be accessed via a special set of instructions that you need to follow. Recovery mode is essentially a failsafe mechanism in case if you ever end up with an iPhone which is facing issues running properly or if it's performance is degrading or the screen is freezing, flickering. It can also come in handy if any of the apps including both bloatware or pre-installed apps as well as downloaded apps cause any problem and you aren't able to fix it.
Recovery mode essentially gives you two major options that are whether you want to restore the iOS on your iPhone XS Max or update to the latest available firmware that would essentially fix any minor glitch or issues if not taken care by any other methods depending upon which type of issues you are facing. It can help repair any specific part of the software or the firmware as a whole in case of any bad updates or corrupted cache or memory have caused issues with the phone and thus, it is an all-powerful mechanism that needs a specific set of instructions.
Note that you must take a backup of all the data you want to secure a restoring the device to its original factory settings which is one of the two major functionalities of the recovery mode means that you will no longer retrieve that data if deleted. Since iOS updates all the user content, it means you might be able to retrieve some of the data if not all even if you haven't backed it up.
You should also know that there are two ways of invoking similar but slightly different functions i.e. the recovery mode and the DFU mode. The recovery mode invokes iBoot process thereby signaling the system that the user is trying to install either the equal or greater version of iOS already installed on the system and thus, it requires to connect to the iTunes to enable it. On the flip side, DFU or Device Firmware Update mode bypasses the iBoot process and connects to the iTunes on a PC or Mac while allowing the user to either upgrade or downgrade the iOS, reboot a connected jailbroken device and so on.
How to enter the Recovery Mode on iPhone XS Max?
First, you need an updated version of iTunes on your PC or Mac so start with and then, follow the said methods to enter the recovery mode.
Step #1: First, you need to connect to the iTunes upon which, the phone will prompt a dialog box asking whether to trust a computer or not.
Step #2: Select Trust and boom, the phone is connected to iTunes.
Step #3: On the PC, a dialog box will appear asking whether to allow the computer to access information from your iPhone or not so select 'Continue'.
Step #4: Back to your phone, you need to press the Volume UP button once and Volume DOWN button once and quickly press and hold the Side/power button.
Step #5: Continue holding the device even when a Slider pops up and fades and then, the system will reboot and show an Apple logo but continue to hold the side button until an iTunes dialog isn't disabled where you are connected to iTunes and you can let go of the button.
How to Use Recovery Mode in Apple iPhone XS Max?
When you are in recovery mode, you can either select whether to restore the phone to its original factory settings or you can update the iOS firmware to the latest available one.
If you click on Restore, iTunes will prompt a dialog box to confirm to 'Erase & Restore' and will guide you through a series of dialog boxes that you need to agree with. Furthermore, iTunes will download the latest iOS firmware that could take a few minutes depending upon the file size and the download speed. Once the firmware is downloaded, iTunes will automatically guide the iPhone to extract the new firmware update, restore the phone to factory settings and everything on its own so you just need to sit back and relax. Once the process is over, you can reboot the phone and either select to 'Quick Start' or 'Set Up Manually' and there you have it.
The process is pretty much the same for an 'Update' although all your data will stay intact but do take a backup before going through. Once you are in recovery mode and connect to iTunes, click on 'Update' and follow through the multiple dialog boxes and iTunes will automatically update the firmware to the latest available version so you can just relax. The process could take a few minutes since iTunes will have to download the new firmware update and extract and then install it so be patient with it.
How to Exit the Recovery Mode in Apple iPhone XS Max?
This is super easy as you just need to long-press on the Side Button for a few seconds and you'll notice that the device will disconnect from iTunes installed on your PC or Mac. It works similar to how you would power on your iPhone after shutting it down and must take a few seconds to boot up.