The new game in the block from Ubisoft is Hyper Scape. This free-to-play battle royal game has garnered pretty rave reviews thanks to its new futuristic take on battle royal games. The game is in its early days and one of the early errors that several Hyper Scape players have come across is the driver error. This error pops-up with error code, Vulkan (VK), and prevents the users to play or even start the game at all. Users are also not able to play the game from UPlay client as well.
This error, although small, but has been reported by quite a few gamers while streaming the game via Twitch who have received the Twitch Drop Codes to play Hyper Scape technical test. If you are also one such user who has come across VK (Vulkan) error while starting Hyper Scape game, then you are not alone. And luckily, we have some probable workarounds which you can try out to fix this issue and get back into the game. So, with that being said, let us take a look at the article and the steps to fix this error explained in this post.
Hyper Scape VK Error Initialization Failed – How to Fix?
Well, there are several streamers who have reported this issue. One such user took to Reddit and explained that he is experiencing this issue, even after having verified game files and running the game as administrator. Here is what the complete post reads:
Hi, i just installed Hyperscape but as i click play this error comes up. I have verified the game files and tried to run it as administrator but with no luck. Anyone know how to resolve this? I imagine as the game literally came out there might not be many responses but might aswell try

(Source)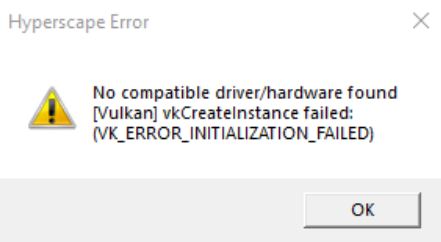 This error typically arises when users are trying to enter their Twitch drop code and launch their games via UPlay client. Moreover, going through the comments in the above Reddit post, several other players have advised making sure to update the graphics card and other drivers and see if that helps. Once you have updated all the drivers, try to relaunch the game and make sure that no other application is running in the background. For example, if you an Nvidia graphics card then you should head over to its official website and update the graphics driver with the latest version. The same goes for AMD graphic cards as well.
Well, at the moment this is the only potential fix that is available which the users, facing Vulkan (VK error) need to do in order to resolve it. We will keep you posted if any permanent fix or an update is scheduled for this error in the Hyper Scape game. Let us know in the comments below if you have also come across such issues with Hyper Scape or not. Until the next post… Cheers!