As the title suggests, here we're gonna provide you an in-depth review of the Imilab smart Watch W12: Explore A Bigger World! When it comes to using a smartwatch, people are crazy about a good-looking watch bezel, nice comfortable straps, build quality of the watch, customized watch faces, multiple sports modes, and obviously inbuilt health tracking functionalities.
Well, there is a huge list of known and no so known smartwatches available in the offline as well as online market. But not every smartwatch has the capability of keeping your daily needs along with other aspects.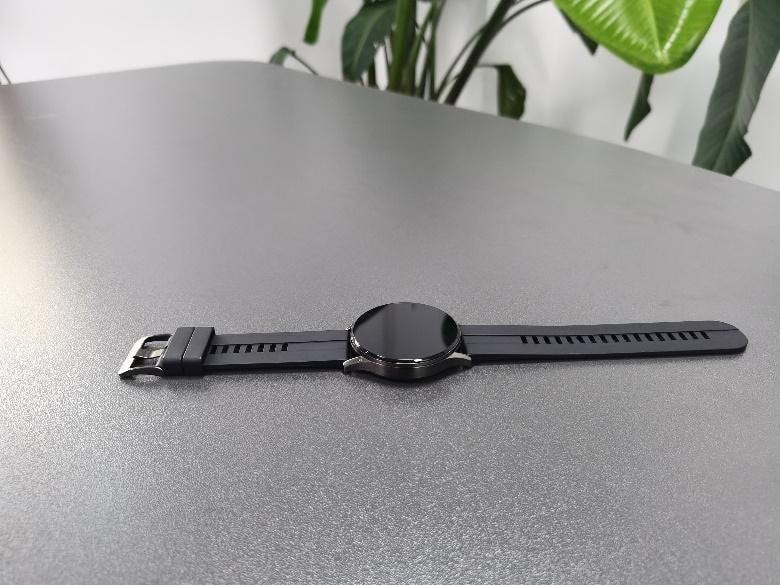 The first look of this particular smartwatch is an eye-grabber due to its overall form factor, metallic dial case, soft silicon type wrist strap, two side-mounted crowns, and more. Talking about its highlighted features, the Imilab Smart Watch W12 comes with a stunning 1.32-inches 3D HD screen, up to 30 days battery standby, IP68 waterproof rating, etc.
Additionally, it features Blood Oxygen (SpO2) monitoring, customizable watch faces, 13 different sports modes, 24 hours continuous heart rate monitoring, sports data analysis using the application, etc.
So, without wasting any more time, let's jump into the in-depth review.
Imilab Smart Watch W12 Review
IMILAB W12 is one of the versatile smartwatches that offers a cool and fetish design with a tinner, lightweight form factor. Although there are a couple of head-to-head competitors available in the market that interested people may get confused about which one to buy, here we've shared all the necessary info about this W12 smartwatch that should gonna help you to make up your mind.
1. Form Factor
The IMILAB W12 (Explore A Bigger World!) smartwatch is quite slimmer and lighter than ever before that offers an all-in-one look on your wrist. According to the manufacturer, it has a 10.8mm thinner Zinc alloy metal case that feels rugged for daily usage.
Whereas the case back has an IML process finish that offers a matte-finish look along with a smoother surface for a comfortable using experience. In terms of the dimensions, it has 260mm x 22mm x 11mm of the form factor that weighs 57 grams.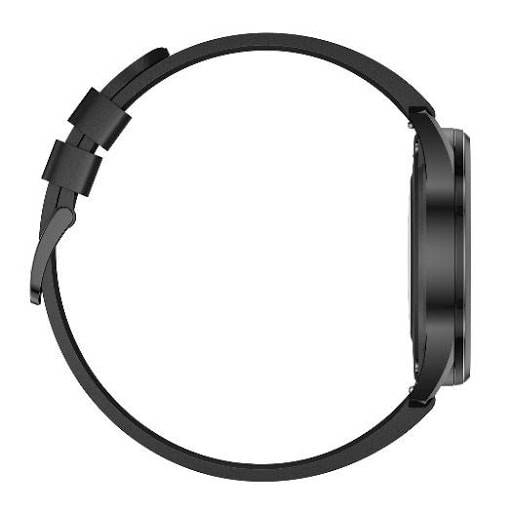 2. Display
Talking about the display of this smartwatch, you'll get a 1.32-inches 3D HD TFT screen that really stands out in the crowd. It has the universal 360 x 360 pixels display resolution that we can find in some other smartwatches.
The display color contrast and visibility are well-maintained, vibrant enough so that you won't find any visibility issues even in the bright outdoors. Due to the 46mm overall dial size, the watch and its display feel big enough which looks bold too.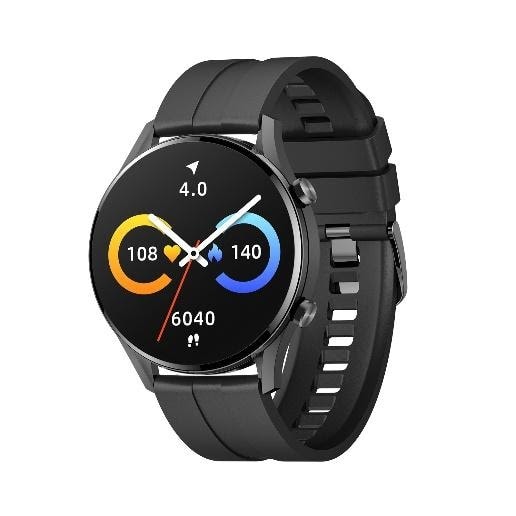 However, it depends on the wrist size of the user and personal preferences. The capacitive touchscreen is quite responsive and the touch sampling rate also feels good enough in day-to-day usage. If you're eager to know more about the sensitivity of the touchscreen, the company has mentioned that the IMILAB W12 has 4.0V/lux-sec sensitivity.
3. Blood Oxygen Measurement
It seems that most of the smartwatches come with multiple health tracking features such as breathing exercises, sleep monitoring, fitness activity tracker, heart rate & blood oxygen monitoring, etc.
In this pandemic situation when inner health is more important than anything else in our life, smartwatches are playing a huge role to keep updated users about their health conditions in most scenarios.
Although we can't compare any kind of smartwatch health tracking or measurement features with the proper medical equipment by any means, smartwatches are basically guiding or showing information of the users periodically. IMILAB W12 can also be considered one of those smartwatches due to its useful health tracking functionalities.
It offers the blood oxygen count on your body using the reflective pulse oximetry rather than using the transmittance pulse oximetry function via the red light. That means it doesn't pass through your body parts especially when you're wearing the smartwatch on your wrist.
Therefore, the projected light reflects the infrared & red light to the body surface to the sensor on the smartwatch which counts the difference between the emitted light and reflected one to determine the SpO2 level.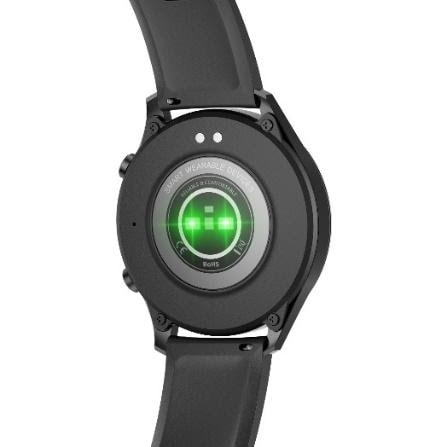 To be very precise, if your body lacks enough oxygen and hemoglobin in the blood then you may start feeling sick or other possible health issues may appear in the long-term such as brain or heart attacks, etc. So, using a smartwatch having the continuous SpO2 measuring feature will definitely gonna help you to keep tracking the blood oxygen level in your body.
IMILAB W12 has the all-day all-weather blood oxygen level measurement feature that can easily monitor the saturation and notifies you whenever it falls short. Additionally, the dedicated blood oxygen measurement data on the application will also help you to compare time to time health changes.
4. Heart Rate Monitoring
Well, the 24-hours continuous heart rate monitoring can easily detect and take further actions if you're going through cardiovascular health issues quite often. It's not easy to maintain or observe your daily heart rate count or even ups & downs periodically if you're going through cardiac problems for a while.
So, using a smartwatch like IMILAB W12 can lift you up to keep tracking your heartbeats and up-to-date yourself in every situation all day long. IMILAB W12 has a bigger sensor that keeps an eye on your cardiovascular health 24×7.
The inbuilt optical heart rate sensor works really well with the advanced algorithm that ensures your full-day heart rate tracking whether you're sleeping or working or during workout sessions, etc.
5. Multiple Sports Modes
There are 13 sports or activity modes included in the IMILAB W12 smartwatch that can cover most of the workouts or activities whatsoever. It includes running, swimming, walking, cycling, climbing, spinning bike, gymnastic, boating, skipping, yoga, badminton, ping-pong, and sit-ups.
However, we can expect that IMILAB will introduce few more modes in W12 via software updates in the near future.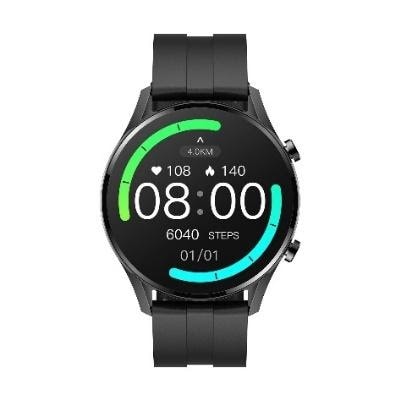 The best part is that you can easily customize tracking and coaching for daily activities which is really good for some of the specialized users who prefer heavy workouts. Additionally, with the help of a sports data poster, you can easily keep tracking all of your activity records in real-time. A special thanks to the built-in low consumption sensors and accurate workout statistics.
6. Notifications Reminder
Well, the notification reminder feature is something that we want on each and every smartwatch. It includes incoming calls, SMS, application notifications like weather info, alarm clock, stopwatch, reciprocal, activity reminder, find my phone alert, etc. All of these reminder notifications will come in handy in our daily life and work.
Thankfully, the IMILAB W12 smartwatch has the notifications reminder feature which will let your life and work balance almost perfect.
7. Battery Usage and Life
The IMILAB W12 smartwatch comes with a decent capacity of a 330mAh Polymer Li-ion battery that's slightly smaller as compared to some other well-known smartwatches. But it's worth mentioning that those smartwatches almost priced double than the W12 which is a big advantage for its users. The company has claimed around 30 days of standby timing for this particular smartwatch which seems good enough.
However, it fully depends on your usage pattern and all the background running tasks on the smartwatch that how many days you can run the IMILAB W12 smartwatch on a single full charge. You'll require a 5V 1A charging adapter to charge this smartwatch. Make sure not to use a high voltage charger to keep the battery of your IMILAB W12 smartwatch running longer. Otherwise, charging with a fast charging adapter may damage the battery faster.
The company has also mentioned that if you even use it daily on your wrist, it can go up to 14 days which is really appreciable. It'll take around 2 hours to completely charge this smartwatch using a magnetic charging cable. Another thing we need to mention that this smartwatch doesn't heat up that much whether you put it on the charger or use it heavily.
8. Water Proof IP68
Next thing we should talk about the IP68 Waterproof rating because it's something that a smart device user always wants in some specific scenarios to easily protect the gadget from water splashes, diving into the water, during rainy times, etc.
Well, the IMILAB W12 smartwatch also has an IP68 waterproof rating that will gonna help you to easily protect it from accidental water splashes or even if you're going swimming.
According to the brand, this smartwatch has a fully sealed construction that makes it waterproof in terms of handwashing, corrosion from daily chemical products or sweats, while diving into the pool, etc. However, there is a big question on the waterproof rating capacity because the company hasn't mentioned anything that up to how much depth it can survive for how long.
9. Customizable Watch Faces
Watch faces and especially customizable watch faces are one of the biggest advantages or attraction points on smartwatches because these can easily grab your attention at a first look. Similarly, the stunning or cool unique-looking watch face on a smartwatch can also attract others directly to your wrist in the crowd.
There is plenty of customizable watch faces available for the IMILAB W12 smartwatch that you can find on the device itself as well as on the mobile application. So, you can easily choose a wide range of watch faces from the app and download them accordingly. You can also set the preferred watch face and customize it uniquely on your smartwatch directly from the application depending on your mood or special occasions.
10. Other Features or Functions
Let's take a quick look at some of the additional or other features/functions of this smartwatch that you will find handy in day-to-day usage.
10.1. Bluetooth Connectivity
This smartwatch has Bluetooth v5.0 connectivity that will help your smartphone to easily connect on the go without any kind of pairing or unstable connectivity issues. It seems that the connectivity range is within 10 meters and the connection stays stable enough in most scenarios.
10.2. Device Compatibility
The smartwatch can easily connect with Android 5.1 or higher and iOS 9.0 or higher versions running smartphones without any issue. There is a dedicated mobile app to connect with this smartwatch on a mobile device that you can easily download.
11. Data Syncing with app
As mentioned above, IMILAB W12 (Explore A Bigger World!) smartwatch users can easily download and install the 'GloryFit' mobile application on their Android or iOS devices directly from the Google Play Store or Apple App Store without any issue. There is a QR code available on the box package as well as inside the user manual guide booklet where you can scan the particular QR code to search for the GloryFit app.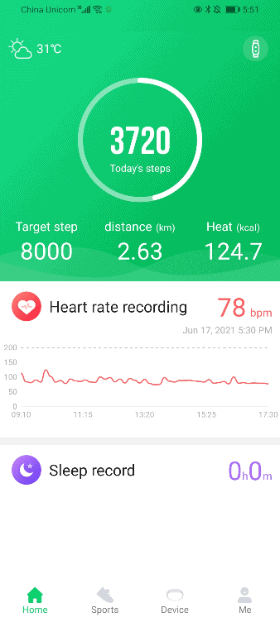 Simply long-press the power button of the smartwatch to turn it on > Open the Settings menu > Select App QR code > use the mobile phone to scan the QR code > Download and open the application as well as the Bluetooth > Search for the specific smartwatch on the app. You'll find out all the necessary details on the W12 User Manual file.
12. Warranty Info
You'll get one year of manufacturer's warranty on the hardware defects and 6 months warranty on the battery/charging cable. Additionally, you'll get the Warranty Certificate page on the user manual guide which will come in handy.
13. Product Comparison
Talking about the IMILAB W12 smartwatch, in terms of the price range, it's by far one of the best-in-class smartwatches that you can get right now. Here we've shared an overview product comparison with some other well-known smartwatches such as Amazfit GTR Lite, Mi Watch, and Huawei GT2.
Therefore, you can easily differentiate why you should go for the IMILAB W12 smartwatch with such an affordable and competitive price tag.
| | | | | |
| --- | --- | --- | --- | --- |
| Product | IMILAB W12 | Amazfit GTR Lite | Mi Watch | Huawei GT2 |
| Appearance | | | | |
| Retail Price | 335 RMB | 800 RMB | 1399 RMB | 1076 RMB |
| Display | 1.32" | 1.39" | 1.39" | 1.39" |
| Full Touch Fluency | Super | Super | Super | Super |
| Resolution | 360 x 360 | 454 x 454 | 454 x 454 | 454 x 454 |
| Battery | 330 mAh | 410 mAh | 420 mAh | 455 mAh |
| Battery Life | 30 days standby | 24 days standby | 22 days standby | 30 days standby |
| SpO2 | Yes | No | Yes | No |
| Dial Size | 47mm | 47mm | 47mm | 47mm |
| Sports Modes | 13 modes | 8 modes | 117 modes | 6 modes |
| Waterproof | IP68 rating | 5 ATM | 5 ATM | 5 ATM |
| Built-in GPS | No | No | Yes | Yes |
| Build Quality | Glass front, plastic/metal back, steel frame | Glass front, Plastic back | Metal frame, glass front, plastic back | Glass front, ceramic back, stainless steel frame |
| Anti-damage and anti-scratch coating | Yes | Yes | Yes | Yes |
| Watch Faces | Customizable watch faces | 100+ watch faces | 100+ watch faces | 30 watch faces |
| Watch Strap | Comfortable Soft Silicon | Comfortable Soft Silicon | Comfortable Soft Silicon | Comfortable Soft Silicon |
| Language Support | French, English, Spanish, Russian, German, Portuguese (Brazil), Arabic, more to be added as required. | Arabic, English, French, German, Italian, Portuguese (Brazil), Russian, Spanish, Traditional Chinese, Turkish. | English, Spanish, Russian, Italian, French, German, Portuguese, Ukrainian, Polish, Turkish, Czech, Thai, Indonesian, Greek, Vietnamese, Romanian, Dutch, Korean, Japanese | Hungarian, Vietnamese, American English, Slovak, Indonesian, European Spanish, Polish, Arabic, European Portuguese, Romanian, Persian, French, Greek, Dutch, German, Serbian, Malaysian, Russian, Bosnian, Catalan, Italian, Macedonian, Czech, British English, Bulgarian, Hebrew, Latin American, Spanish, Finnish, Galician, Brazilian Portuguese, Estonian, Basque, Swedish, Latvian, Azerbaijani, Norwegian, Lithuanian, Uzbek, Danish, Slovenia, Urdu, Ukrainian, Croatian, Turkish. |
Conclusion
Now, coming to the conclusion, we can say that this is one of the affordable smartwatches that you can find out online with such a good-looking design and build quality. Additionally, you'll get SpO2 and Heart Rate monitoring features, multiple sports modes, dedicated mobile app support for tracking records, IP68 waterproof rating, decent battery life, and more.
If you're looking for an all-rounder smartwatch with all the necessary features and options under the 350 RMB that can work with both Android or iOS devices then the IMILAB W12 smartwatch might be the right choice as of now.
There should be no second alternative in that price segment for sure. For further details and buy links, you can visit either visit to MiShop or TiendaAnyway.