Having a smartwatch is the new technological trend as a lot of people are shifting from digital watches instead of analogue ones. Smartwatch comes with an extended set of features that people love and enjoy, including notification capabilities, RC capabilities and health tracking benefits, etc. Although most smartwatches are either made for male or come with a Unisex design which is suitable for both men and women. However there is no specially designed smartwatch made for modern women and ladies, and that's changing now. The latest Xiaomi Imilab W11L Smartwatch is specially designed for the modern lady who wants to shine bright and taste success like never before.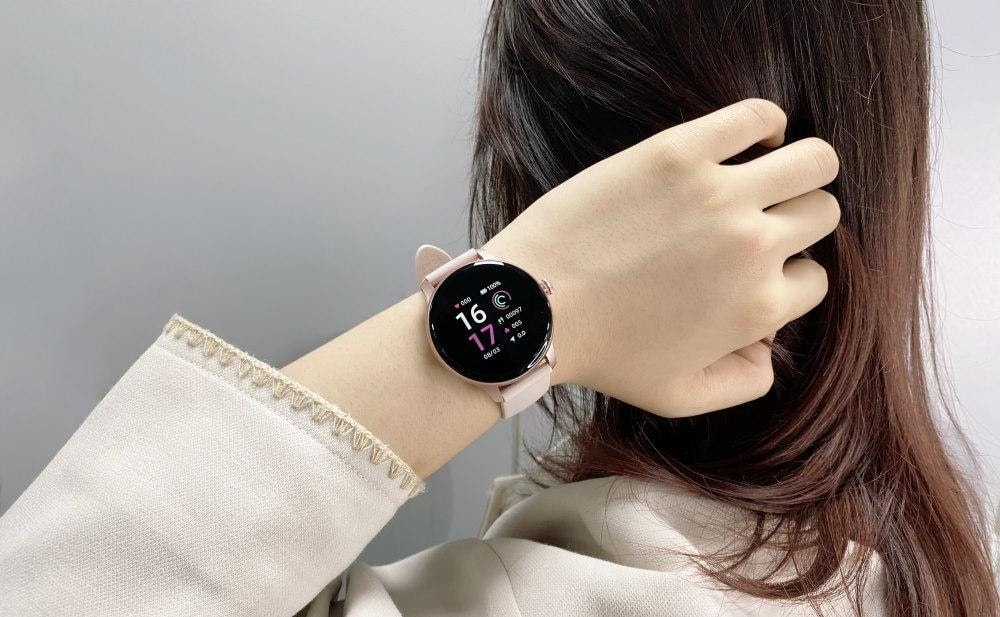 Xiaomi Imilab is an ecological chain company specializing in IoT enterprise and smart home products. The company was founded in April 2014. Now the company has introduced a smartwatch especially for women that have some special features. Apart from the design and feel, there are other features that could fit right to the market segment they are currently targetting. So in this article, let's see a review of this smartwatch. So let's see what all the features that this smartwatch offers are.
Xiaomi Imilab W11L Smartwatch Specialities and Features
While the watch has a stunning look and feel, it doesn't compromise in the features department. There are very useful features and functionalities in the smartwatch.
For example, the watch has the ability to track 9 sports modes like running, Skipping, or cycling so that you can accurately track your workouts with the appropriate modes. After all, fitness tracking is also the important factor that weighs in the features list for a smartwatch nowadays. The smartwatch has an IP68 waterproof rating. This means that there is no need to panic about splashes of water. However, this doesn't mean that you can go deep diving and swim with this watch. But IP68 rating denotes that the watch can sustain submersion of up to 1m for 30 mins, which is okay for a smartwatch.
Additionally, the smartwatch also features SpO2 monitoring. This allows you to monitor the oxygen level in your blood. Sometimes the SpO2 trackers are also known as Pulse oxymeters, which are very helpful devices. Especially there is a demand for pulse oxymeters in the current pandemic situations. So these smartwatches could also be a viable option.
Design and Look: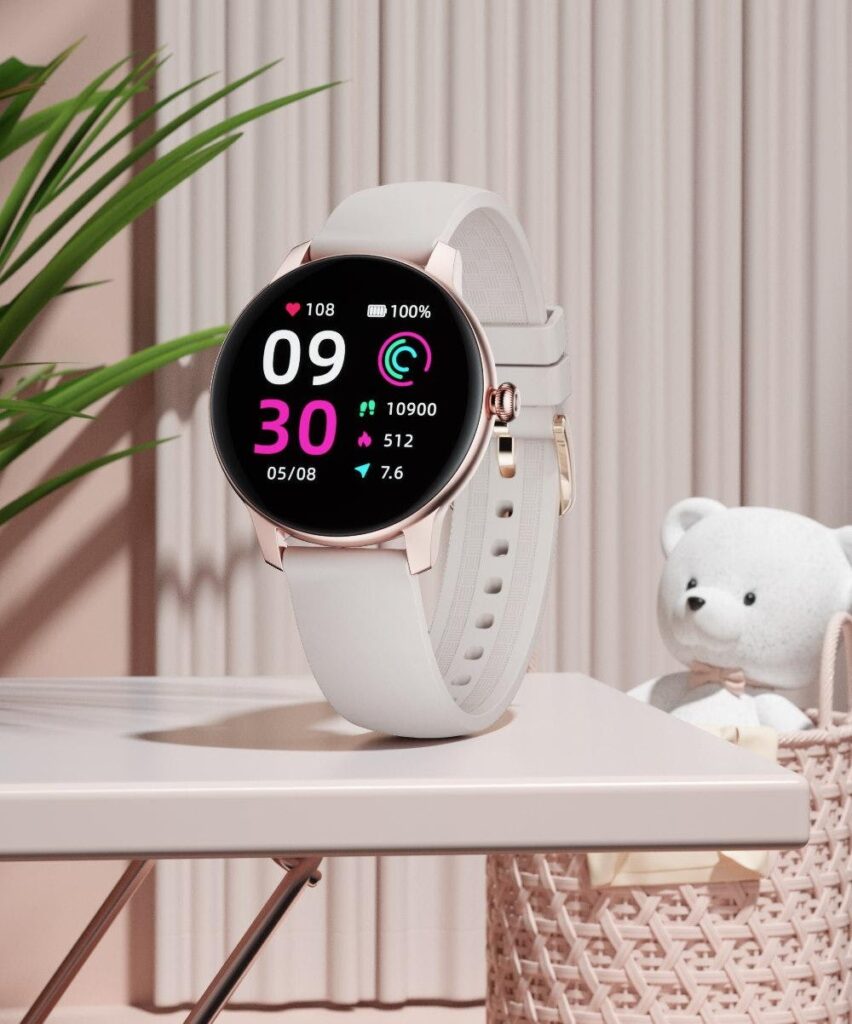 Actually, the design of the watch is quite pleasing. This should tick every aspect in the style department. For beginners, it has an Ultra-thin body which most people prefer. Hence it only weighs 37 grams making it both slim as well as lightweight. So the watch doesn't cause any fatigue or discomfort on wearing for a long time. Since you might not even feel that you are currently wearing a smartwatch, it also features a 2.5D curved glass which adds more appeal to the slim form factor of the smartwatch. The edges of the top glass are perfectly curved to provide that extra layer of comfortless and protection for the device.
The watch supports more than 50 watch faces and more coming down the line. So that you could choose the one that suits your dress or workplace and try some other faces if you feel like changing it, this is one of the cool features of most smartwatches. Apart from watch faces, the smartwatch also supports new straps. The straps are changeable so that you can get the one that suits your dressing preferences.
A smartwatch for women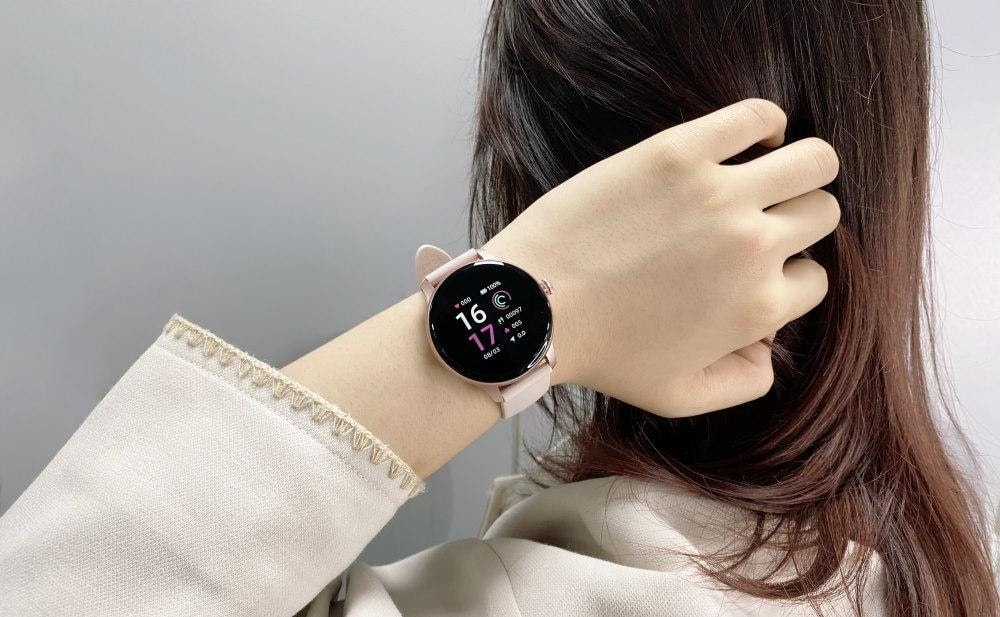 So apart from the visuals that suit women, the watch also has an additional capabilities. The smartwatch can track the Menstruation cycle. This could help out in planning and acting accordingly to avoid unnecessary situations.
One of the major features of any smartwatch will be the battery life that it offers because you can't be charging your device that frequently likes your smartphone or tablet. For this purpose, the smartwatch features a good battery life. On a full charge, the battery can last up to 15 days without needing another charge, depending on your use case.
Other features:
Apart from this, the smartwatch also features a sleep tracker that can help you to achieve your sleep goals, as having a good amount of sleep is also a factor for good health. So you can track your sleep and act accordingly. The smartwatch also has a sedentary reminder. Basically, you can set up time intervals in which you can get up and flex a bit to avoid fatigue. This can help those who work in office environments sitting in the same position for a longer period of time.
Conclusion
So this was a quick review of the Xiaomi Imilab smartwatch for lady. You can check out more about Imilab W11 Smart Watch on their Facebook and Linkedin page. This smartwatch sure does have some unique features that set it apart from its competition. Well, we have seen fitness bands from Mi in the past which become hugely popular. But a product targeting only women might also become a huge success for the company.