After Galaxy S4, Xperia Device and Galaxy Tab S, you can install AOSP Android 7.0 Nougat For Asus Transformer. Download and Follow the guide to install Android 7.0 Nougat for Asus Transformer. This is a complete guide on Installing AOSP Android 7.0 Nougat for Asus Transformer. As we all know, Android 7.0 Nougat is officially released by Google recently. But now you can install the Unofficial Nougat ROM for Asus Transformer. Developers are preparing to release Android 7.0 for their devices by building Custom ROM based on Android 7.0 Nougat Source code. Even last time we saw Cyanogenmod started merging the Android 7.0 Source code to their CM GitHub with the code name CM14 aka Cyanogenmod 14. Today we will guide you on to Install AOSP Android 7.0 Nougat for Asus Transformer. Today an XDA Senior Member, timduru has built the initial build of Android 7.0 Nougat for Asus Transformer in the XDA forum. This is not a stable build of AOSP 7.0 Nougat. So install it at your own risk. Here is the list of what's working and what's not working.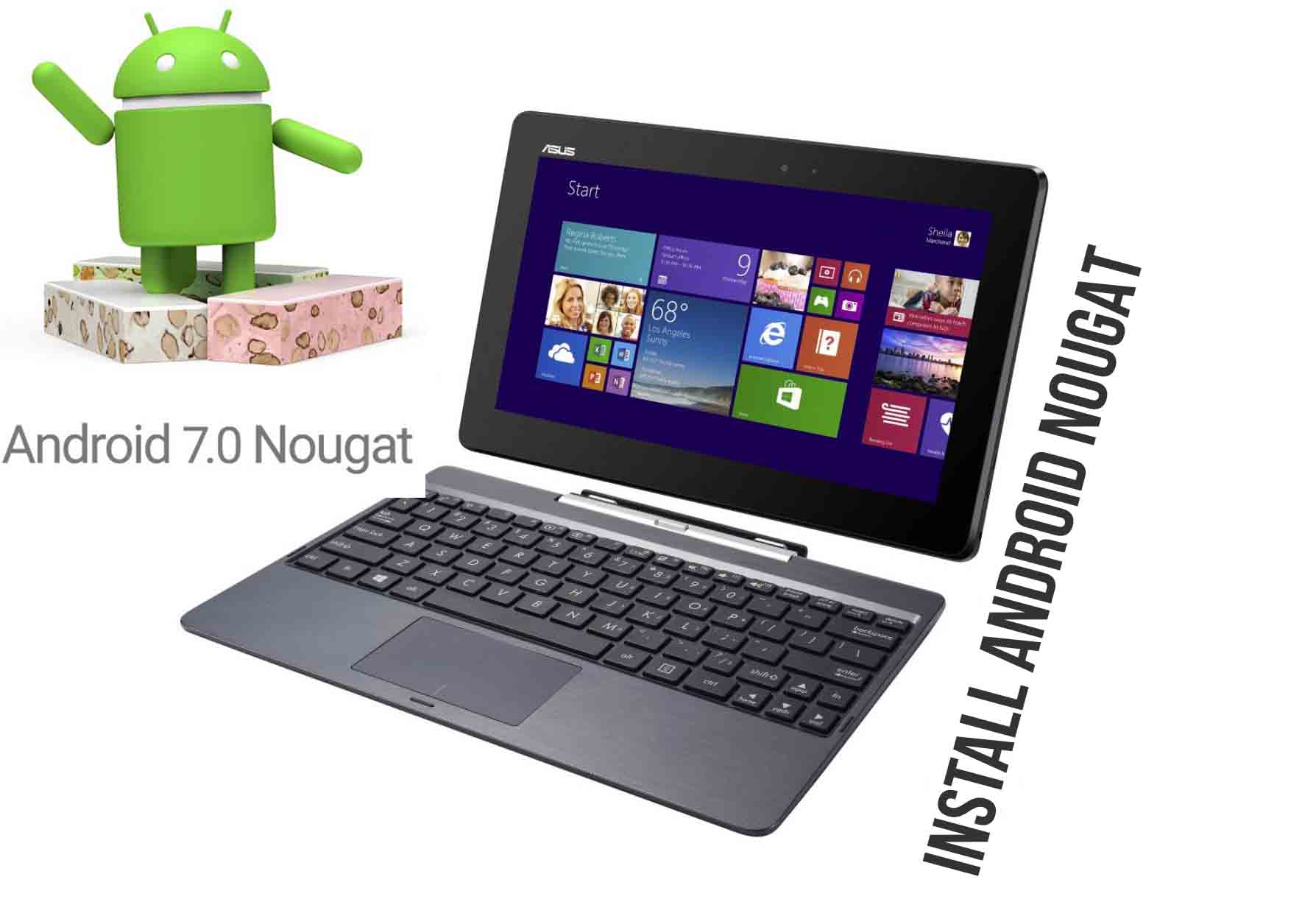 This is an alpha build of AOSP Android 7.0 built from the newly released Google Android Source Code. This is not stable enough to use. It has a daily drive, But that doesn't mean you will never get AOSP Android 7.0 stable build for Asus Transformer. If you want to try this ROM, please download and follow the guide on How to Install AOSP Android 7.0 Nougat for Asus Transformer.
What is in Android 7.0 Nougat?
Android 7.0 Nougat was another codename for the new version of Android after Google's Android 6.0 Marshmallow. It was unveiled on Google I/O 2016. This is the seventh major version of the Android operating system. Google first released Android 7.0 Nougat has a beta build on March 9, 2016, and it was officially released on August 22, 2016. This has a huge incremental feature on this new update. Android Nougat comes with features such as Quick Switching between recent apps, Split Screen Mode, Quick Reply via Notification, Notification Redesigned panel, Notifications prioritization, Enhanced Doze Mode, System UI Tuner, Customizable Quick Settings, Don Not Disturb, New Settings Panel Redesigned, Data Saver per App, seamless updates and New Emoji Support.
Currently Not Working:
– Video recording
– What is listed in post #2 or crossed in the feature list
PRE-REQUISITE
This will work on Asus Transformer TF300T only, Don't Try this on Any other device.
Charge your phone up to 80% or 70%.
You will lose the original ROM or any CUSTOM ROM you have already installed it on your phone. So make sure to back up your phone before doing this step using TWRP or CWM or any Custom Recovery.
You must install TWRP or any Custom Recovery on your phone.
Download all the Zip files from below and Place it in your phone's root of internal memory.
Steps for How to Install AOSP Android 7.0 Nougat for Asus Transformer
[button color="red" size="22px" type="square" target="blank" link="http://downloads.timduru.org/android/tf300t/K.A.T/KatKiss/7.x/dev/"]DOWNLOAD 7.0 ROM[/button] [button color="red" size="22px" type="square" target="blank" link="http://opengapps.org/"]DOWNLOAD GAPPS[/button]
First of all, you need to boot into Recovery – Turn your phone off ->Hold Volume Down and Power button simultaneously for few seconds -> You will see the recovery
Before installing the custom ROM, it's better if you Wipe all the data by Clicking the Wipe button and Select Advanced Wipe – Tick all except Internal Storage
Swipe to WIPE
Now Click the Install Button to install the AOSP ANDROID 7.0 Nougat
Now Browse through the files of Internal memory where you have uploaded the Zip file of Custom Rom (better move the custom rom zip into root of your internal memory)
Select the Custom Rom Zip File and Swipe to confirm the installation. Then reboot.
For Google, Gapps install the Google Gapps Zip using the same process
That's it! Now reboot your phone. You have Install Android 7.0 on Asus Transformer Successfully.
SOME USEFUL TIPS FROM XDA DEVELOPER TEAM
First Install
Make sure you do a format /data the first time you install the rom
(backup your internal storage first if you want to keep something)
The first boot after a rom flash can take a few minutes as ART is slower than dalvik to optimize the applications, but is faster after the 1st time.
(First boot takes ~4-5 minutes without gapps and 10+ minutes with gapps)
Also keep in mind that after a fresh install, it might take a bit of time to get up to full speed as media scanner & google are checking/scanning and restoring stuff.
Bluetooth
Bluetooth might require to be turned on twice before it turns on.
System UI Tuner
A few things including the navbar buttons can be tweaked in Settings => System UI Tuner
Google Play Movies
Our current Widevine DRM libs are not compatible.
So you can't play a movie on the tablet with Google Play Movies as it requires that.
Starting a movie to play on chromecast should be fine as the drm will be the chromecast one in that case.
Hardware keyboard layouts
More languages have been added in the default asusec keyboard
Set the keyboard layout through Settings => Language & Input => asusec => setup keyboard layouts
These also allow live switching without reboot with ctrl + space
Global Key Override/Shorcut Mecanism
Available in Settings => Dock => Add Key Override Actions
This will allow you not only to redefine function keys assignment, and other special keys actions,
but you'll also be able to assign global macro actions / app launch to any key + Meta key combination (shift Left or Right , ctrl..)
You can also add multiple actions to one key combination, simply click again on the "+" button for the same key combination.
For example if you want to assign to one key combination a list of action to run before going to bed for example, like: turn wifi off, Bluetooth off, mute sound, and turn screen off, you can do that
Note that starting multiple applications with one key is kinda a miss and hit for the moment due to some mecanism in android that seems to prevent applications to start too close to each others.
Storage (fstrim) and Database optimization:
Fstrim is native since 4.3 and will happen in the background if your tablet is idle / sleeping and that your battery is > 70%
There is also a script to run it manually in the rom: /etc/kat/optimizestorage
To optimize the Database: /etc/kat/optimizedb
To run both, open a terminal and run:
su
/etc/kat/optimize