If you're using an iPhone for a while, then you should probably know that transferring data, data syncing, iOS updates, entering into DFU mode, etc all are done by connecting your device with iTunes. Now, you may ask what is iTunes? So, iTunes is an all-in-one platform for the media player, media library, device management, and more. So, if your iPhone 11 is not connecting to iTunes software, then you can check out this full article to fix that issue by yourself.
Just like the App Store, users may also face issues with connecting to iTunes software due to temporary server down, maintenance outages, etc. It's highly recommended to wait for an hour or more while you're facing this type of issue. Some times, there may be some problems with your computer or with your iPhone as well. So, checking the below-mentioned solutions may become useful for you.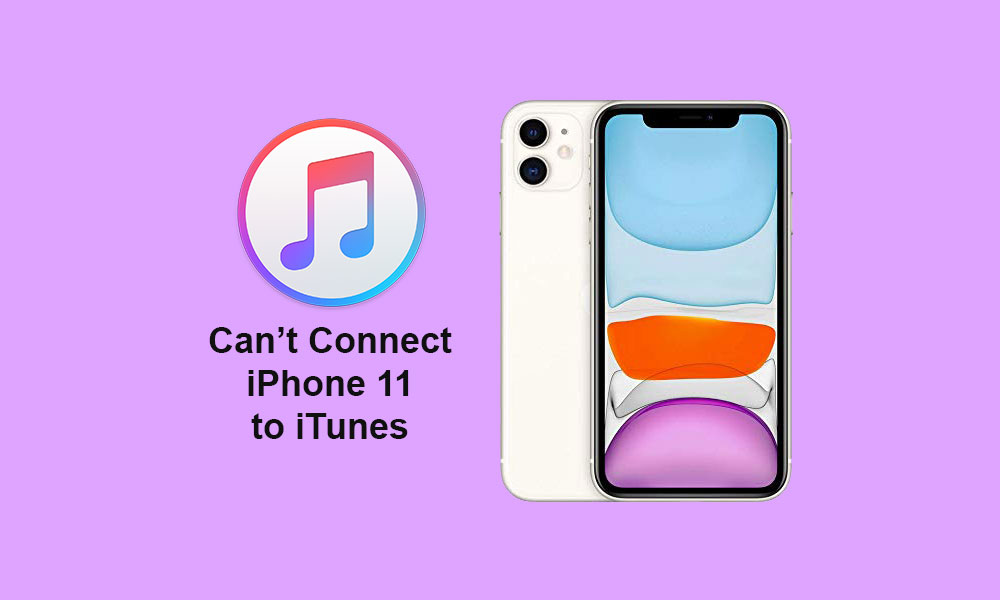 Steps to Fix iPhone 11 is not connecting to iTunes software
Before heading over to the steps, just make sure that you've installed the latest version of iTunes for your computer. Additionally, you need to check whether the lightning cable is working or not. Try to keep connected your iPhone 11 with the PC properly.
Always try to use the original or certified lightning cable for your iPhone. Now, without further ado, let's jump into the steps below.
1. Reboot your iPhone 11
Long-press both the Power/Side + Volume Up buttons for a couple of seconds.
Then the Slide to Power off bar will show up. Release both the buttons.
Slide the bar to turn off your iPhone.
Now, long-press the Power/Side button for a couple of seconds to turn on your iPhone.
2. Turn Off Screen Time
Tap on the iPhone Settings > tap on Screen Time.
Select Content & Privacy Restrictions and turn off the toggle.
If prompted, enter your device passcode to confirm it.
Now, try to connect your iPhone with the PC again and connect to iTunes software.
3. Reset All Settings on iPhone 11 to fix iPhone 11 not connecting to iTunes software
Go to the Settings > General > Tap on Reset.
Tap on Reset All Settings.
If prompted, enter the passcode and continue.
Confirm Reset All Settings and restart your iPhone.
4. Reinstall iTunes on the PC
First of all, you will need to restart your computer.
Then uninstall the iTunes software from your PC and reinstall it.
Now, connect your iPhone 11 and try to sync at first.
If done, you can easily perform your task via the iTunes.
5. Check Software Updates on iTunes to fix iPhone 11 not connecting to iTunes software
Launch the iTunes app on the PC.
Connect your handset and click on Help.
Then click on Check for Updates.
If a new update is available, follow the on-screen instructions and proceed.
Similarly, if you're using macOS Catalina, you may have to open the Finder app instead of iTunes.
Launch the Finder app on your Mac.
Click on App Store > Check for Updates > Click on Install button, if any update is available.
6. Update Software on Windows or Mac
Some times, an outdated operating system version of Windows PC or Mac can cause plenty of issues while connecting your handset with it. Make sure to keep checking the latest software update for your computer.
For the Windows PC/Laptop:
Click on the Windows menu icon from the bottom left corner of the screen.
Now, type software update and the system will bring a list of options.
You will see Check for Updates under System Settings.
Click on it and proceed.
Once done, reboot your PC.
For the Mac:
Click on the Apple menu from the upper left corner of the screen.
Click on Software Update > Check for it and download it.
Once done, reboot your computer.
Now, you can check again by connecting your iPhone 11 to iTunes software.
We hope you've found this guide useful. Feel free to ask in the comments below for any queries.