It will not be an exaggeration to say that everybody uses a computer nowadays. It can be about kids playing games on a PC or a school student indulging in online classes. All college-goers also need such equipment for a plethora of projects and assignments. Not to forget, the role of computers in offices and other industries; it is inexplicably imperative and enormous. The usage of computers got triggered so much, especially after the pandemic 2020 came and everybody went online. It meant more applications running on the same computer, innumerable files on it, and so more load in other ways.

With so many programs and extra files consuming the storage space in your computer, it is obvious that it will slow down eventually. Overconsumption of the storage devices and over usage of CPU will result in the decreased efficiency of the system. But, there is no need to get in panic mode; you can fix this in a few minutes only. Install PC cleaning software like Defencebyte Computer Optimizer and see your computer working efficiently again as it did when it was new. Find below the wholesome review of this product highlighting its pros and cons both to help you know if it is worth it or not.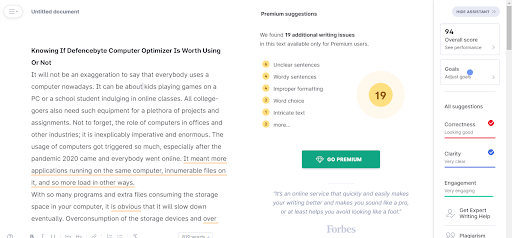 But, first things first, it makes sense to know what this product is about, especially if you have never heard of such a thing before.
What is Defencebyte Computer Optimizer?
As elaborated above, the speed of a PC may decrease over time. This happens because using the internet may create some unnecessary files unknowingly on your computer. Such files may even occur in offline mode when you play music, videos, or do anything textual also. Resultantly, the storage space decreases, and the CPU makes more effort in processing every file. Thus, you experience crashed windows, frequent hanging, frozen screens, sluggish processing, and other unpleasantries while using a laptop/ desktop.
Defencebyte Computer Optimizer is an application that can find all such unnecessary files, remove them, and then finally improve the speed of the computer astonishingly. It is compatible with Windows XP, Vista, 7, 8, and 10. Now, let's jump to its features, pros, cons, and pricing.
Features
It finds the redundant files and removes them instantly.
The first mention of this PC cleaner must be about its ability to track all such files that are of no use but lying in your computer and slowing down everything. This optimizer can find plenty of such types like empty registry keys, uninstalled entries, invalid paths, file extensions, non-existent shared DLLs, and other redundant files. It will indeed be vain if the cleaner only finds the files and do nothing more. Defencebyte Cleaner goes a step ahead and even removes all such unnecessary files. Thus, it is not just a scanner but also a cleaner.
It detects and blocks unsafe URLs to prevent the sluggishness of your PC.
Users not from the IT field often do not know that visiting unknown websites can pose threats to the performance of their computers. Such unsafe URLs contain malware that may make its way to your laptop/ desktop. The result is that the CPU gets busy and the storage gets occupied that eventually reducing the efficiency of the system. The problem is that a person may not even get notice beforehand about such URLs. But, if you have Defencebyte Computer Optimizer on your PC, it will block such URLs and prevent further adverse consequences.
It acts as a Task Manager and automated cleaning tool.
It is imperative to clean the PC and remove extra files regularly from the PC to ensure its fast performance. However, it is possible and common to forget to keep a track of the cleaning routine. Delaying the same may lead to a frozen screen and other PC-hanging issues at the time when a user is doing something crucial. Avoid such situations with the help of this cleaning tool. Set a schedule, and it will automatically execute the same whenever needed. Also, it can show CPU usage and help you in optimizing the applications like the Task Manager.
Pros
Quick installation

Small size of 12 MB

30- Day money-back guarantee
Improves the speed and performance of the PC
Empties storage space by removing unnecessary files
Cons
Not compatible with android and iOS.
May not always ask before deleting.
Price Range
Defencebyte Computer Optimizer is available for trial at zero cost. Interested people can buy the paid versions for the following rates. All these packages and rates are for one year.
For 1 computer, the discounted rate is$ 38.95, otherwise at $ 54.95.

For 3 computers, the discounted rate is $ 78.95, otherwise at $ 104.95.

For 5 computers, the discounted rate is $ 111.95, otherwise at $ 144.95.

For 10 computers, the discounted rate is $ 181.95, otherwise at $ 219.95.