Mac mini is a small, portable desktop computer manufactured by Apple. It's been there since 2005. It has the potential to transform any screen into a Mac-powered computer. To some extent, it can be a flexible purchase too. If you already have a monitor, keypad, and a mouse at home, only buying a Mac Mini can bring you the experience of a Macbook using your old devices. The new Mac Mini has a compatible processor, which helps it cope with heavy application usage.
On the other hand, macOS is manufactured in a way that optimizes your PC in an energy-efficient mode naturally. It tries to save energy as much as possible to extend your battery life. In response, when you stop using your Mac Mini for a certain period, it automatically turns to sleep mode. Though Mac Mini runs on Electricity, the Sleep Mode helps it to consume lesser power. But a problem with Mac Mini's sleeping mode has been detected in the past few months. It is not getting into sleep mode as it has been before or it is falling asleep in between. This is the most unwanted problem a user wants to face.
We have gone through the problem and come up with different reasons for it, along with their solutions. Follow every step carefully so that you do not miss out on anything. So, without any further ado, let's get started.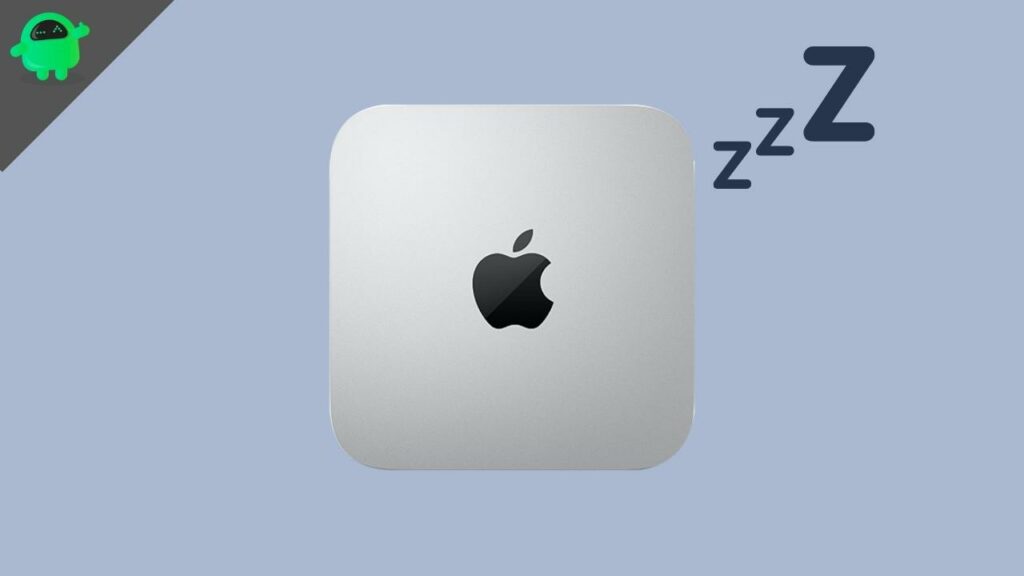 Possible Reasons Behind Mac Mini Not Sleeping
There are various reasons behind a Mac Mini not sleeping properly or at inappropriate intervals. Most of them are easily identifiable. Sometimes apps running in the background might prevent the process of sleeping on the Mac Mini. The user must identify the app and stop it. Another problem is due to improper instructions in the settings or not setting any instructions at all. Apart from these two, Bluetooth-connected devices can also wake Mac Mini up from sleep or will not let it sleep properly. File searching might take some time, too; depending on the file size, the time taken may increase and prevent the device from falling asleep. But the worst of all is hardware issues.
Given below are the points jotted down regarding the reason behind this problem:
A background app that is not closed properly.
Automatic sleep is disabled from settings.
Unnecessary movement of

Bluetooth devices.

Spotlight running in the background.
Faulty External Devices trying to reconnect

.
How to Fix Mac Mini Not Sleeping Problem?
We have pointed out all the reasons already. Now we will be discussing the way out too. Using the solutions provided, you can fix it within a few minutes.
Fix 1: Close Any Unwanted App From Activity Monitor
Activity Monitor lets you stay updated on apps taking too much space in CPU and other resources. If you find any such app taking too much space and using more resources than necessary in the background, force stop the app as it might be the reason behind your Mac Mini not sleeping.
Here's how to do it:
First, open "Activity Monitor" from Launchpad or use Spotlight.
Once the App opens, navigate to "CPU" and "Memory" and find the app you do not want to run in the background.
Double click on the App, and once a new popup appears, click on Quit > Force Quit.
Once you have closed the App, wait for some time and see if your Mac is sleeping by itself or not.
Fix 2: Disable "Prevent your Mac from sleeping" from Settings
As with any device, the Mac Mini goes to sleep after a few minutes of inactivity until and unless you have turned on the option "Prevent your Mac from sleeping automatically when the display is off". Enabling this will prevent your Mac Mini from sleeping when it wants to. People tend to enable this option when they do not want their PC to sleep in between some work.
Here's how to check if the option is enabled or not:
First, open "System Preferences" from Launchpad or use Spotlight.
Now click on "Energy Saver".
Now look for the option "

Prevent your Mac from sleeping automatically when the display is off" and toggle the checkbox.

You can also change different settings like Schedule, Hard Disk power, etc.
Fix 3: Check Your Bluetooth Devices
If your Mac Mini is connected to devices like a keypad, mouse etc. via Bluetooth then a small movement of the device can keep your Mac Mini awake. This can be very irritating to see your Mac turning on automatically even if you are not using it. So, the best way out is to keep all the Bluetooth devices turned off when you are not using them. This will save their Battery as well as won't interfere with your Mac's sleep schedule.
Fix 4: Spotlight May Take Time To Search
We all know that Spotlight is one of the best features of macOS. It helps us find anything from anywhere, Be it our Mac, Web, or somewhere else, Spotlight will easily find the required results in one go. However, sometimes we tend to search for something on Spotlight that is not easily accessible. There is also a chance that your internet can go off while Spotlight is trying to work on a result.
In this case, the best way is to Restart your Mac. It will close all applications, along with the background applications. Once your Mac restarts, it will now be able to sleep without any interruptions.
Fix 5: Remove Faulty Devices
As Macs do not come with higher storage options, we sometimes plug in our external storage devices for more storage or any other reasons. However, chances are, you might get into trouble if the device driver is not properly detected, or the device is faulty, it can just connect and disconnect, disabling the macOS to perform as expected.
So, if you feel an external device is causing the issue, plug out all the external devices and then check if your Mac is working properly or not. This should solve the issue with sleep too.
Conclusion
Unnecessary interruptions during your usage period are quite frustrating and undesirable. So, if any problem arises, you must try to fix it yourself. Oftentimes fixing is quite an easy job. This article shows you the easy way outs to fix the problem at home. However, if nothing helps, you should visit your nearest Apple service centre and get your Mac fixed. Also, feel free to let us know about any other solutions that might have helped you in the comments below.