Irrespective of what type of smartphone you use, may it be a budget or mid-range, restarting and freezing problem could be possible. This can be created due to a number of issues such as when the system cannot execute a line of code and its screen freezes or when the cache files get corrupted or the system is hogging too many resources than it should and what not. This is why many users have reported about the Teclast restarting and freezing problem but don't you worry as we have the perfect troubleshooting guide towards its solution right here.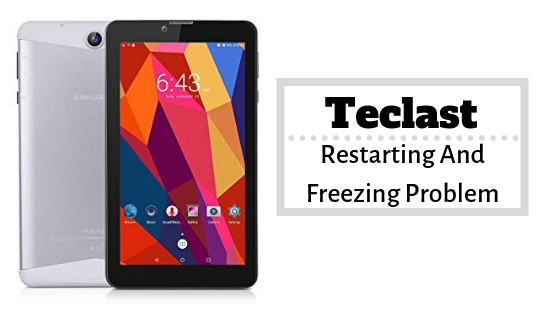 Methods To Fix Teclast Restarting And Freezing Problem
Rebooting the device
Often hailed as one of the quickest and effective ways to get rid of any software-related problem, rebooting the device actually works. If your phone is restarting abruptly, it could be having trouble executing any code that it sticks frequently or there could be any resource related hurdle that is triggering the device to boot up. On the other hand, screen freezes are fairly common when the system is overloaded, overworked, or when apps crash due to various errors or when the resources required aren't met and so on. This is where a force reboot comes into action since you cannot do a normal reboot as the screen if frozen. To perform a force reboot, you'll need to press both power and volume up or down based on the make or model and that must reboot the system right away.
Close down all the active apps
There's no point in keeping a number of apps active for a longer duration. Here, active apps don't only mean the app that you are currently working on or using but also those that you accessed but didn't exit properly and these apps are switched to background apps. When the system is handling too many apps at once, it tends to suffer due to inadequate resources or so since handling too many apps isn't a simple task. Moreover, smartphones with fewer RAM storage suffer the most breakdown often causing restarting and freezing problem which is why we recommend turning off all the apps at once if the screen is working.
Force stop resisting apps
You know that you need to tap on 'recent' apps and swipe all the apps to close it but are they really closed? Well, the answer is, most of the apps will be closed after doing this but not all apps. That is where the force stop comes into play. You can visit Settings → Apps → Running and tap on each individual app showcased here to 'Force Stop' it. Note that there are some limitations i.e. you shouldn't touch any system apps that would otherwise cause a problem in using the device so still to downloaded apps only.
Close down unwanted services
Another main reason behind why screen freezes on a smartphone are if the services including Wi-Fi, NFC, Bluetooth, etc are turned on for a longer duration. This usually adds stress on the processor even if they are not in use but still active and often cause battery drainage. Thus, the solution is to simply close down all these services right away.
Delete unwanted/unnecessary apps
Android smartphones have a plethora of pre-installed apps and then, we are free to download as many apps as possible from Google Play Store. This might seem logical but the thing is, the more apps you install, the higher the resources will be hogged to support these apps when in operation. Since not everyone practices installing only a handful of useful apps, we usually end up installing an app that we would use once and forget for the rest of our lives. These apps put a lot of stress on the processor, RAM, storage, and battery even when they are closed and in fact, some of these apps have a tendency to wake up in the background. Therefore, the quick solution is to uninstall these unwanted apps once and for all. You need to visit Settings → Apps → All and check out the list of unwanted apps to purge.
Free up storage
Next up, storage is a key resource on a smartphone and if there's not much space left for apps to use, the phone will end up encountering a slew of issues including restarting and freezing problem. This is why experts recommend users to simply free up the internal storage to keep the phone away from any resource crunch.
For any smartphone with 32GB or more storage, having too much data stored internally is not a big deal but this is completely different for smartphones with maybe 4GB/8GB/16B of internal storage and since Android smartphones are spread across the different spectrum of internal storage, this means that there are a plethora of smartphones with less internal storage. This is where external storage via Google Drive or even memory card comes into play. But first, free up some space in the internal storage to escape any issues on a smartphone.
Check if the memory card is corrupt
I just added that using a memory card will extend the storage capacity while not stressing on the internal storage that could trigger restarting and freezing problem. But if not used properly, memory cards have a tendency to get corrupt easily. This is why you should use it properly and take a backup in Google Drive or anywhere you like to stay ahead even if the memory card stops responding when you might not be able to retrieve the data in most cases.
Purge all types of cache memory
We are talking about Teclast restarting and freezing problem which means we cannot skip cache files. These files are temporarily created and stored by the system whenever the user accesses any app or service and that helps in retrieval the related app faster when the user requests it. But cache files are vulnerable and can easily get infected with malware, ransomware, viruses, bugs, and whatnot. This is why experts advise users to simply purge all types of cache files from time to time and that is something you'll notice in terms of performance since cache files make the system sluggish. Here are a few ways you can purge different types of cache memory.
Using third-party apps: There are a plethora of apps available on Google Play Store that enables deleting cache files automatically such as Avast Clean Up. These apps require a single button to get rid of all the cache files.
Deleting app cache: This is a manual process that requires users to proceed to 'Settings → Apps → Downloaded' where they can tap on each app individually and get rid of cache files simply by deleting 'em by tapping on 'Clear Cache' and 'Clear Storage'.
Deleting storage cache: Another type of cache files are storage cache that you can access via Settings → Storage → Cache Memory.
Wipe cache partition: Finally, the next procedure to abide by is to clear cache partition which is accessible via recovery mode that you can access using the procedure mentioned in the 'hard reset' section.
Scrutinize the battery & charging brick
You are mistaken if you believe that battery or the charging brick can cause restarting and freezing problem. This is because incompatible or incompetent battery or charging brick or if either of the components is damaged, they can introduce a number of problems that you can fix simply by getting these components checked and repaired if necessary.
Perform a hard reset on the device
The final step in this restarting and freezing problem troubleshooting guide is to perform a hard reset on your Teclast smartphone that will help get rid of most of the problems caused on the software front but it wouldn't do any good if the problem is hardware-related to beware and take a backup before proceeding.
First up, simply press the power button to shut down the device.
Next up is to press both power + volume up buttons together to trigger it to enter into the recovery mode which would take several seconds where you need to hold the buttons until an Android logo is not displayed on-screen.
You can let go of the button now and wait for the menu to come up.
Next, select the option that says 'wipe data/factory reset' and 'yes — delete all user data' to confirm the said actions and there you have it.
Finally, select 'reboot system now' and set up the device to verify if there's any problem or not.
Get help
This is probably the last thing you could do to fix Teclast restarting and freezing problem if you are stuck somewhere or can't get the phone working properly even after following the troubleshooting guide mentioned above. You need to report the issue to either an authorized or third-party service center and note that the repair and replacement and others charges vary in these centers.