Restarting and freezing problem on Vertex or any other smartphone can be dreadful and irritating. This is why our readers posted tens and hundreds of requests to prescribe a way to fix the issue. We tried a number of things trying to find out ways to fix the problem and did a lot of research to prescribe this explicit troubleshooting guide that tackles plenty of reasons ranging from the apps, firmware, cache, storage, and other resources that might induce this issue on your phone. So, read along to know how to fix the problem and let us know which method actually helped after referring the guide below.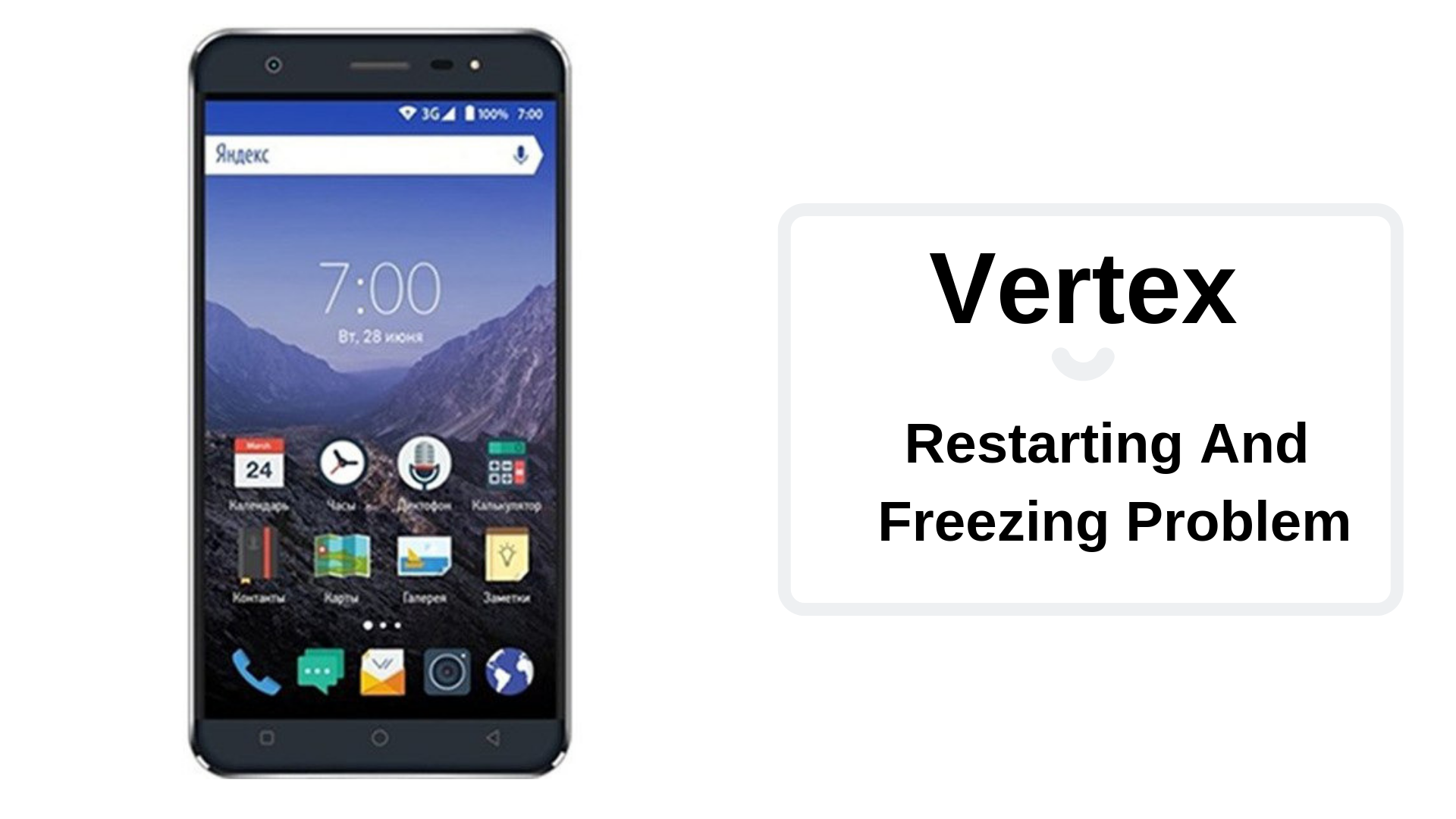 What are the probable causes of this problem?
Of everything that you have on your phone, cache, memory/storage, and apps are three of the major causes of Vertex restarting and freezing problem because at any given time, at least one of 'em is relevant in any case you can point out. Thus, this troubleshooting guide will provide a 360-degrees resolution on how you can fix any issue with the roots in these three major factors or any other factors related to it so stay tuned and read along.
How to fix Vertex Restarting and Freezing Problem?
Reboot/force reboot the phone
Well, isn't that the first thing you would do if you are observing restarting and freezing problem on your phone. By doing so, you are abruptly shutting down all the apps and processes on the device thus, clearing any backlogs, resources that were hoarded, and apps active in fore and background. This is where you need to press the power key to reboot the device. Note that if the device doesn't shut off if the screen is frozen, you can opt for force reboot wherein you need to long press the power key along with volume up or down or both keys together depending upon the make and model to pull a force reboot.
Kill all the apps
There are a plethora of third-party and bloatware apps running in foreground and background. It is easy to keep a track of all the running apps but it is not as simple to squash those recently used apps all the time. First up, you can purge all the apps running at the moment simply by tapping on the "recent apps" and then, closing 'em all. Next, there a number of apps in the background along with other third-party apps that keep popping up in the background such as WhatsApp which could be one of the reasons behind the screen freezing issue that we are discussing here.
To kill 'em off, you need to retreat to the Settings app and go to Apps >> Running. Here, a list of all the apps currently running apps and processes will appear. This is when you simply 'Force Stop' apps individually to get 'em off the radar.
Kill all the services and features
After forcing apps and processes to stop even after they pop up abruptly, redundantly, or otherwise, you need to kill all the services such as location, NFC, wifi, Bluetooth, etc. This will probably fix the Vertex restarting and freezing problem on your device.
Uninstall unwanted apps
Moving on, let's look at the fact that there are apps that you wouldn't want on your phone such as some kind of bloatware or pre-installed apps which aren't uninstallable. Next, there are third-party apps that we usually install but never take work from that adds to the restarting and freezing problem either directly or otherwise. Thus, the way to fix this from happening is to uninstall unwanted apps. It is not complicated to simply uninstall a third-party app that requires the user to navigate to the Settings → Apps → All. Click on apps that you don't want and tap on 'Uninstall'. On the contrary, bloatware can be disabled but not uninstall without proper knowledge which is possible through the same methodology listed above.
Boot into safe mode to detect problems
A bypass to the situation before uninstalling apps left and right is to boot into the safe mode. Here, you'll be able to detect the section of apps or services causing the issue which is either bloatware or hardware aspects or third-party apps.
Depending upon the make and model of the device, either you would require to power on the device and press volume up/down or home button (if available). Once you log into the safe mode, all third-party apps have been disabled. If you experience the same set of problem, it is probably the bloatware or any component in the hardware section. On the other hand, if the phone runs smooth, any one or maybe even a consortium of third-party apps are causing the issue which is easy to detect since you'll have to get rid of apps in descending order until the phone starts working properly.
Check if the SD card is corrupt
Could the memory or storage or preferably external storage be the problem? The answer is yes because it is possible for SD cards to get corrupted. The simple way to resolve any dubious queries you might have is to simply remove the SD card and check if makes any difference. You can cross check the same using a different phone to verify if your phone isn't the cause of the issue in the first place.
Uninstall launchers/widgets
As a matter of fact, if you use launchers that aren't pre-installed or recommended for your phone, the performance will tank no matter how stylish the launcher looks and works. This is the reason why every tech expert would recommend uninstalling launchers from the phone. Also, widgets that you put on the home screen can add it to the dragging performance on a device causing the screen to freeze or apps to crash, etc.
Clear cache files
RAM can speed up processes on your phone making it faster than ever, however, cache files can slow it down and are obstructively irritating to keep saved on a phone no matter if it is for temporary purposes only. You need to get rid of cache files before they can introduce any issues and the Vertex restarting and freezing problem is evidently one of them. You'll need to clear both app cache and storage cache using 'Settings → Storage → Cache Memory' and 'Settings → Apps → Downloaded → Click on an 'App' → Clear Cache'. Finally, you must wipe out cache partition from the recovery mode as well.
Update all the apps
Updating apps must be a repeated task but it is helpful to keep the apps running smoothly. On the contrary, outdated apps show vulnerability to bugs, malware, and whatnot. This is the reason why we always recommend updating all the apps on your phone.
Upgrade to the latest OS/rollback
If you read the above definition on why you must update an app, you literally know why you must keep the firmware updated as well. To put things in context, the firmware is a piece of software and needs constant refinement and knacks to keep it running smoothly and an update provides it with the same. However, since you are using an Android smartphone, a maximum of the devices will either lost support to further updates immediately after sales or in a few months or a year or two. This is where rolling back to a previous firmware or installing a custom ROM comes into the play.
Perform a master reset
To fix restarting and freezing problem caused due to a wedged software glitch or failure, you can literally pull a master reset on the device that must retreat the phone to its original factory settings and preferably get you out of the issue. You can do the same using this procedure.
First up, turn off the device and let it rest for a second.
Now, press power + volume up + volume down button together and hold it for several seconds until the phone boots up.
Just as when you see an Android logo on the screen, you can let go the button.
Now, you need to access 'wipe data/factory reset' from the given menu in the recovery mode.
Further, select 'yes — delete all user data' to affirm the selection.
Reboot the system, set it up as a new one and hopefully, the restarting and freezing problem that we are talking about must be gone.
Contact the device manufacturer
It is better to ask help from a service center preferably an authorized one where you can report the problem, get it analyzed and fix it although after paying a certain amount as service or repair charges, etc. On the contrary, you can report it to a third-party service center to get it resolved at a cheaper repair cost but it will definitely purge the warranty on the device.