Microsoft is really trying hard to push Edge browser to several users, but there have been numerous reposts that the browser is having multiple issues, especially with online video playing. Most of our day to day activities include the use of online video streaming whether it be for your online studies, entertainment or tutorials. When Microsoft Edge videos are not playing or showing back screen instead of actual videos, you might wonder why this is happening in the first place.
MS Edge works on chromium web system so it should not have any problems rendering online videos at all. Although there are multiple factors that might come into the picture which may lead to this issue. I have faced a similar issue recently, and here are some troubleshooting methods I used to fix the issue.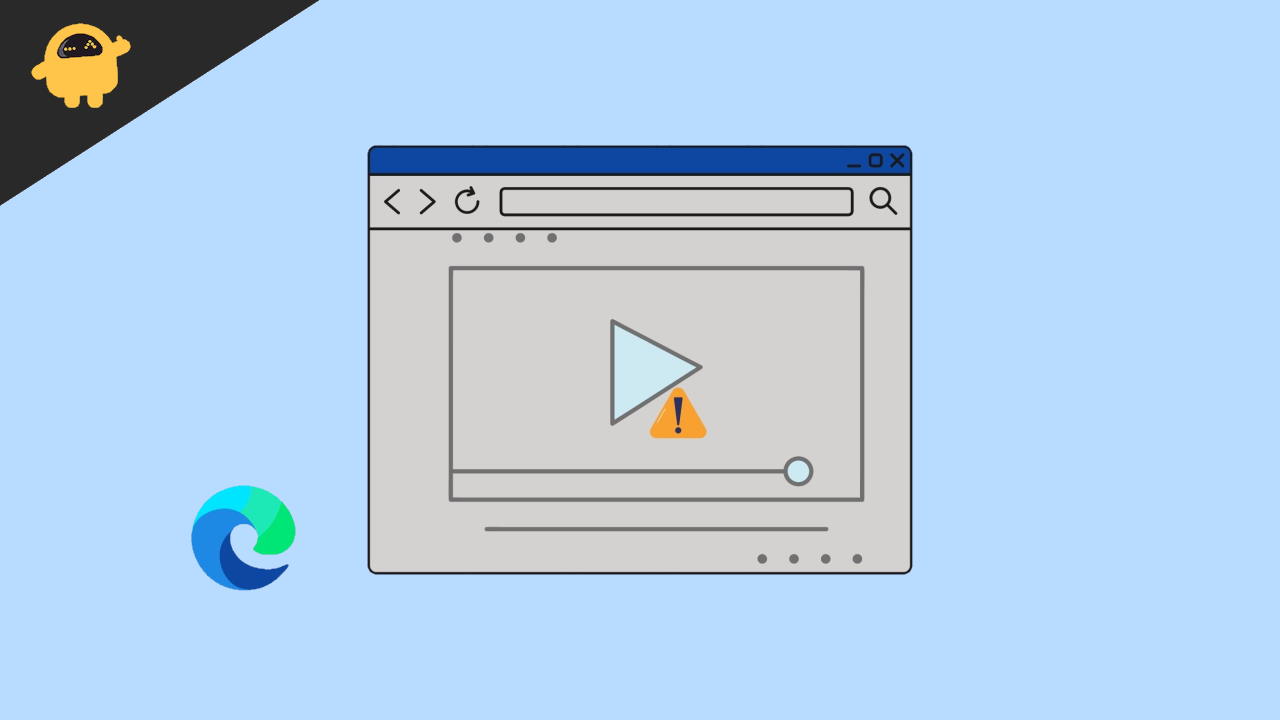 Fix: Microsoft Edge Videos Not Playing or Showing Black Screen
When you surf the internet, random issues like website, not loading, video stuck in buffering or video playing are very common issues. In most cases, these issues are tied with your internet connection and not because of software fault. Bown below are some troubleshooting methods that will help you to check this issue.
Check Internet Connection
In most cases, the issue of Videos Not Playing or Showing a Black Screen is due to a bad internet connection or temporary internet failure. So please check if your internet is working fine without any bandwidth issues.
Many ISP do lock several websites to prohibit streaming of video content, usually copyrighted or DRM content. Please connect with your ISP if there are such restrictions for your internet account.
Check Video Servers
If your internet connection is all fine, even then it's possible that the video will not load. This happened when the website server is having a downtime, and because of this, you will face Microsoft Edge videos not playing or showing black screen issues.
There is no easy way to check this, but let's say you are watching videos on Crynchyroll.com and videos are not working, but when you open Youtube.com, videos are working fine. In this case, Crunchyroll might be facing server downtime and you have to wait until the issue is fixed.
Server downtime usually happens if you are watching online movies or TV shows. Since these websites have heavy traffic and due to this sometimes you might face video issues.
Disable High Contrast Mode
High contrast mode is a special mode made for people who have weak eyesight. This mode helps them to see the screen better. But it can also modify how images or videos look and often creates problems when streaming videos online. You can disable it from the settings menu.
Open the Windows settings menu and navigate to Accessibility option.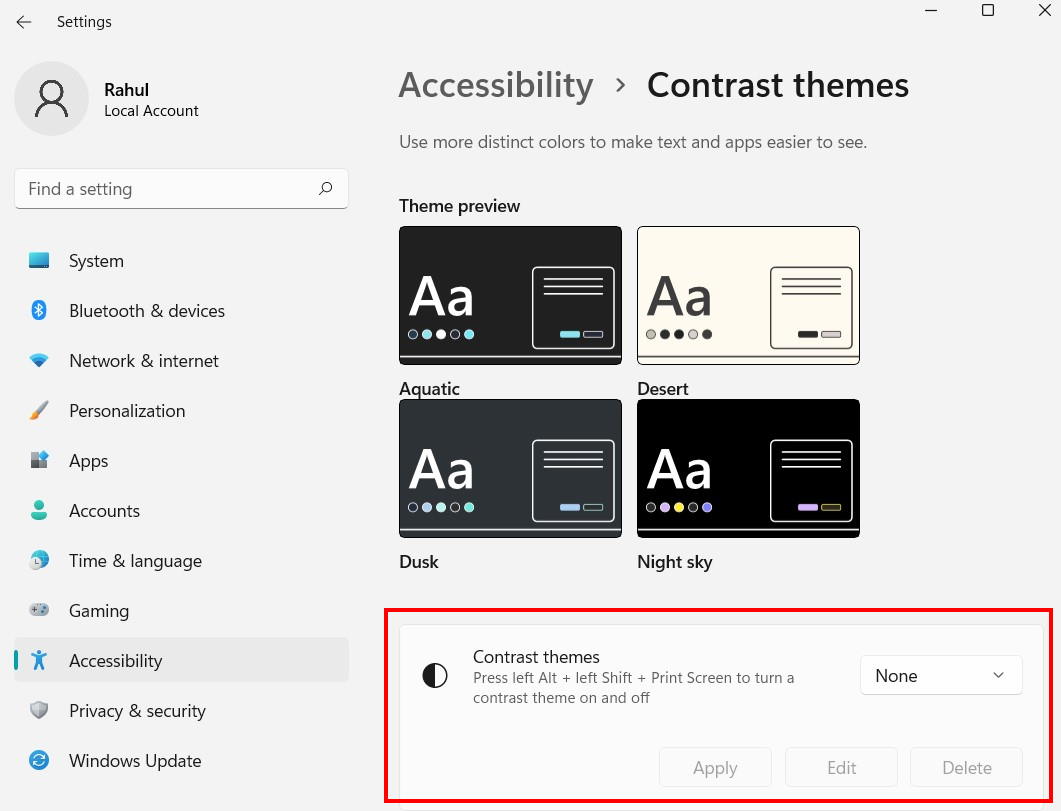 Here click on contrast themes and make sure you choose none.
Now open MS Edge once again and see if the issue is resolved.
Disable Hardware Acceleration
The above methods were general troubleshooting, now let us check some settings preferences that might be causing this issue. Hardware acceleration is a feature that helps browser heavy elements like animation or video to load efficiently. But if not configured properly, it will not load video frames and you will see a black frame only.
Open MS Edge and go to settings.

Here find the hardware acceleration option and make sure the Use hardware acceleration when available toggle is turned off.
Enable Software Rendering
By default, your laptop is designed to render video or graphics using the GPU unit. But if the GPU is overheated or missing any drivers, it will cause the video to go blank or not load entirely. In such cases, you may enable software rendering to bypass GPU and it will hopefully fix the video issue you are facing.
Open Run window and search for inetcpl.cpl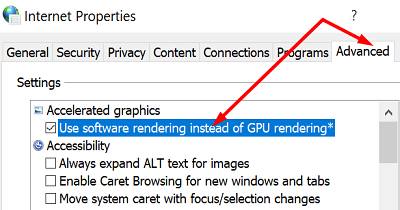 Here go to the Advanced tab and check the Use software rendering instead of GPU rendering option.
Reset Edge Flags to Default
Microsoft Edge comes with a special feature for flags. This can also create Videos Not Playing or Showing Black Screen problems. So you may reset them to factory default values.
Open Microsoft Edge browser > type about:flags in the Search bar and press the Enter Key. This will take you to the Flags screen.

Here click on Reset All button to Reset the Flags to default settings.
Disable Windows Defender SmartScreen
Defender SmartScreen is a precautionary feature by Windows that protects you from harmful websites by blocking their ads, scripts or popup videos. Sometimes this can also block videos from playing and cause several issues. You can disable it the following way:
Open Microsoft Edge browser >Menu > Settings.
Here, find Privacy, Search, and services tab in the left pane and scroll down to the "Security" section

Now disable this feature. Please note that after disabling this feature, your risk of online virus or malware gets increases. So please get an antivirus for the same.
Install Media Feature Pack
Windows media pack is a standalone package that comes pre-installed with all versions of windows. It helps you to watch movies, videos, renders animations etc. But in many laptops, this pack is not installed.
Once you install this package, the issue will be gone. You may install the package from the official Microsoft page.
Install VLC Media Player
In most cases, the screen goes black because the computer is not able to render the video. This is due to incompatible browsers or video codecs. Now it gets very tricky to find the right drivers or video codecs to install on your computer.
The VLC media player is a freeware video player application, which comes bundled with different video drivers and codecs. Once you install VLC, the issue of the black screen will go away.
Conclusion
So these were some working methods to fix Microsoft Edge Videos not playing or showing black screen issues. We recommend users to keep their PC drivers updated and also update MS Edge whenever a new update is available. If none of the above methods works for you, then we recommend you to install Chrome or Firefox which are equally capable browsers.