In the modern era, the need for a waterproof smartphone is growing by the day. With new smartphones launching every quarter, customers do get confused about what to buy and what not. With the recent release of Xiaomi Poco M5 and M5S, many customers are thinking bout purchasing these devices but are not sure about the waterproof and dustproof security of these devices. So in today's article, we will test these devices and see how they perform.
Xiaomi Poco M5 and M5S are mid range smartphones from a company that has a proven record of making good quality smartphones. In previous models, they have launched some waterproof smartphones in the same price bracket, so customers have high hope for these devices.
As we said, a waterproof smartphone is a must have feature in this modern era. It is because we tend to use our smartphones for all kinds of activities including communication, storing important & sensitive information, and storing pictures, videos & memories. And all of these can be destroyed by a small water accident or a juice spill.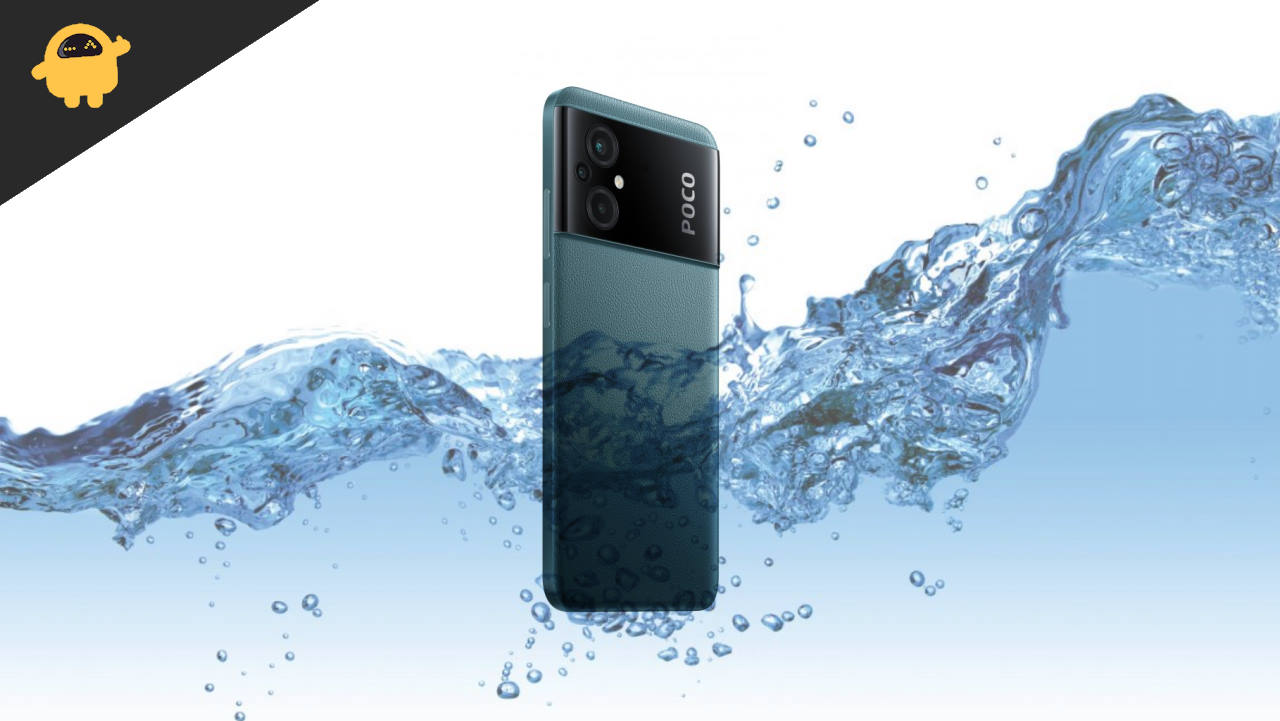 Xiaomi Poco M5 Waterproof and Dustproof Test
Poco M5 is a low budget segment device that caters to the basic need of an individual. The device comes with a big 6.58 inches screen 83% screen to body ratio. It is powered by a 2.2 GHz processor coupled with 4GB of RAM sufficient to tackle any day to day app or gaming activity. Regarding connectivity, you will get Wifi, LTE & Bluetooth 5.0 connectivity out of the box Regarding the camera, it has got a triple camera system with 50MP as the primary camera. For waterproofing measures, there is no official IP rating available for that.
To test the waterproofing measures for Poco M5, we dropped the device in a bucket full of water, and it got screen damaged instantly. After 20-30 seconds, the touch also stopped responding. Regarding dustproof measures, the device tends to hold well under windy and sandstorm situations. However, the device is not water resistant or waterproof by any means. So users must take proper care of this device against any accidental water damage.
Xiaomi Poco M5S Waterproof and Dustproof Test
Poco M5S is the advanced version of the same model with noticeable upgrades. It comes with a 6.43 inches screen protected with Corning Gorilla Glass. The device has an aesthetic look and a modern punch hole camera design. Regarding power, the device comes with 2GHz CPU power and 4GB of RAM which can handle any day to day task easily. For camera enthusiasts, the device has a 64MP main camera sensor which takes phenomenal pictures. And for waterproofing measures, it has an official IP53 water resistant rating.
So as the device has an official IP53 rating, it makes the device official water resistant but not waterproof. To test this, we dipped the device into a bucket full of water, and to our surprise, there was no water damage at all. And since the device is protected against water, it's automatically dustproof as well. Poco M5S is water resistant to some extent, but users must take precautions to avoid any accidental water damage.
Conclusion
After conducting waterproof and dustproof tests on Xiaomi Poco M5 and M5S, we can say that both devices are dustproof. However, none of these devices are waterproof by any means, but M5S is water resistant to some extent. So if you are planning to purchase one of these smartphones, please be sure to take proper care of these devices against any accidental liquid damage.