Xiaomi's sub-brand Poco or Pocophone had a thrilling start in 2018 when it launched its first phone dubbed Poco F1 as a flagship killer against OnePlus 6. This gave Pocophone the much-needed hype but that only started dying when the company started to simply rebrand its parent company's phones like the recently launched Poco M2 Pro in India is a rebranded Redmi Note 9 Pro. If that wasn't enough, reviewers and those who got their hands on Poco M2 Pro devices realized that the phone has a major issue.
I am talking about the issue that has spread like wildfire due to the ongoing political tension between the two neighboring giants India and China. Poco hasn't kept a tab on the user privacy on its M2 Pro which comes with a tonne of bloatware which is typically difficult to uninstall unless the user knows how to root or remove these apps. Moreover, the phone manages to arrive with a few apps that the Government of India banned earlier last week due to privacy concerns including the likes of Clean Master, TikTok, and others.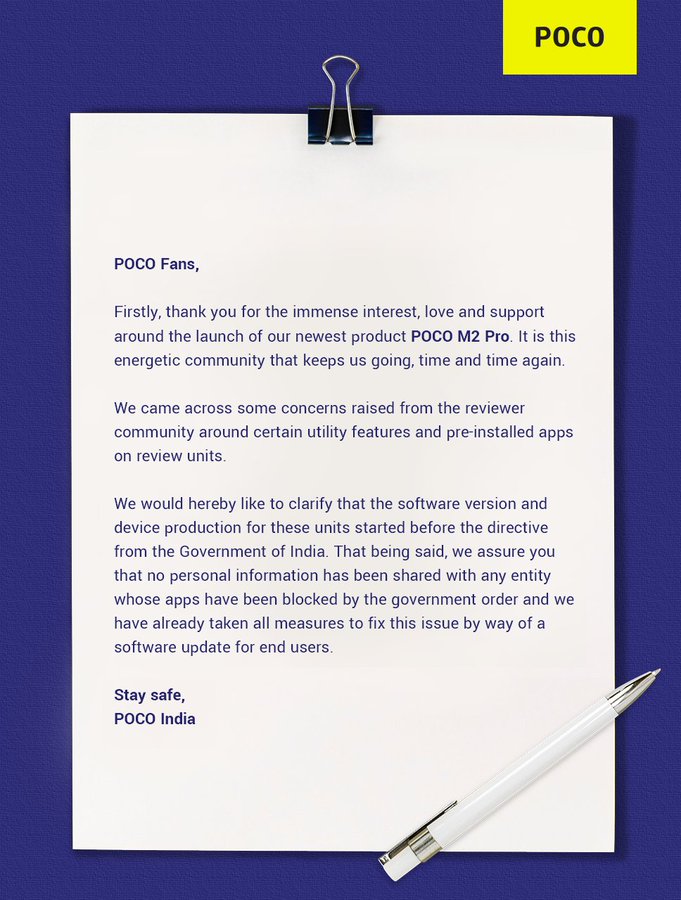 One of the things that Poco users have been facing is that even a so-called cleaner app on their phones requests access to files, sensors, and other aspects of the phone. How on Earth would access to "Contacts" aid in the working of a cleaner app. The cherry on the top is that once the access has been granted, it cannot be revoked unless you specifically deny it as with many Android 10 builds. This could potentially cause harm to the user as all the data is believed to be routed to a Chinese server.
Anyways, Poco India tried to defend itself with an open letter posted on its Twitter handle which clarifies a few things mentioned below. First of all, the review units of Poco M2 Pro were manufactured before the directives from the Government of India were imposed banning 59 apps from both App Store and Play Store and elsewhere. The letter mentions that no personal information has ever been compromised with any app that was banned in India. In fact, Poco is working on a software update that should fix the problem probably by removing their bloatware that is considered a threat to user privacy in India.
Albeit indirectly, YouTuber and tech expert Ranjit took a jab at the smartphone makers who load bloatware on their phones when selling it. He did mention that companies are still loading "junkware" and "crapware" with their phones even when India and Google have banned several of the apps.
Smartphone brands…. please stop loading crapware and junkware in your smartphones…. at-least stop pre-loading spy junk apps. You guys just don't listen to us or goolge but at-least stop it when Indian Govt has banned those apps, but still they come pre-loaded on smartphones!

— Ranjit (@geekyranjit) July 9, 2020
Note that it isn't just Poco M2 Pro but there is a bucketload of phones that arrive with bloatware is a similar fashion which needs to be changed until the ban on 59 apps continues in India.