Vivo is one of the best selling smartphone manufacturers which has unveiled high-end specification enabled phone with an unbelievably lower price tag. But similar to any other smartphone, Vivo has its share of Wifi problems as well as a bunch of performance constraints and issues that need a fix before it develops into a severe problem. WiFi is one of the widely known aspects of a smartphone or any other electronic device that lets the users do and connect with rest of the world and do his/her job with the ease of not being bound to a place similar to how you would do if your computer is connected to an ethernet cable.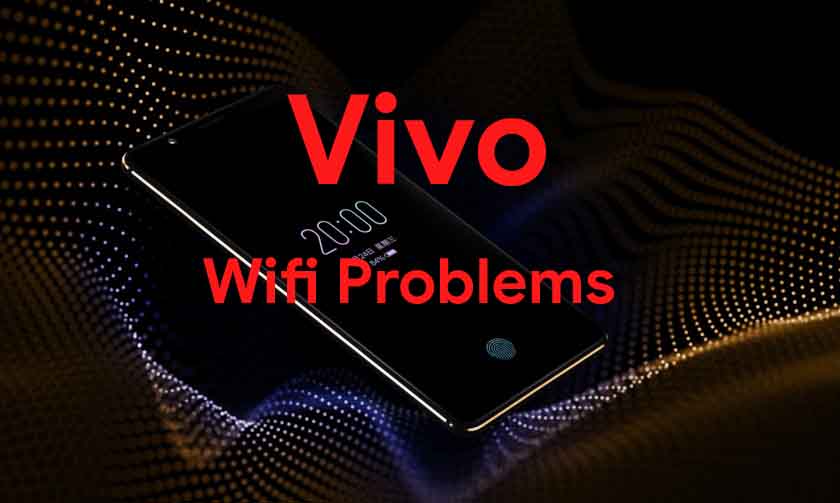 As I mentioned above that Vivo smartphone does suffer from various Wifi problems which can be due to any hardware or software issue. Where there is a problem, there are fixes available to sort it out. These are few methods that you can use to fix any and every major wifi problems that you may be facing with the Wifi feature of your Vivo smartphone. Note that this guide can be followed if you have any other brand too since it these methods are universally accepted by Android devices.
How To Fix Vivo Wifi Problems?
Power Off
Like any other feature on your phone, Wifi consumes both battery power and processing power which is a lot of work to do by the software. So, developing software glitches is common on Android phones which means you don't have to worry about these temporary issues. To curb temporary issues, simply power off the smartphone and restart it only after few minutes. This will allow the system to reassign required processing power to the wifi feature and hopefully, you will get to use the internet without much hassle.
Forget The SSID/Network
It is possible that your phone doesn't accept association or authorize connection with a wireless network suddenly. If will show notifications like 'Rejected' or ' Authorizing' but it won't enable the connection and that is where this tip will come handy. Simply, click on the network that you want to connect to and forget the password assuming that you already have the password for you. Wait for few seconds and then, click on the network and enter the right password as earlier. Now, click on 'Connect' to see if it is connected or not. If it is still showing a similar issue, take your phone closer to the wifi router until the connection is established.
Toggle the wifi on your phone
This method won't take many efforts since you just need to tap with your thumb or finger on the screen. If you are observing wifi problems like it won't connect or the phone would search for it, toggle the wifi feature on your phone. Simply, tap on the wifi shortcut under notification tray and wait for a while. Now tap on the icon again and let it search for the available network and connection. If it still shows error detecting a wireless network that you want to access, go to 'Settings > Wifi' and click on 3 vertical dots on the right bottom of the screen. Click on 'Scan' and hopefully, it will detect the available network and connect to it accordingly.
Toggle the wifi router
Similar to how you can fix wifi problems on your phone by toggling the wifi feature, toggling the router has its own benefits. First of all, get close to your router and try connecting to it with your phone. If it is still not connecting, press the power button located behind the wifi router. Wait for a while and let the router rest for a minute and then, restart it again. Once the wifi router is accessible, check out the available networks on your phone and connect to your network. If the problem is persistent, press the small 'reset' button on your wifi router and try connecting to the network again.
Check for wireless password
Unlike Apple iPhone, Android smartphones like Vivo allow users to enter wifi password and check if it is correct or not. It is probable that you actually entered a wrong password or a right password to the wrong SSID. This is where android shows its prowess against iOS. Simply click on the network you want to access, tap on 'Forget' password. Take a deep breath or wait for a moment and then, enter the password again. This time, press the adjoining eye feature adjoining to the password section that will convert the encrypted password into visible text format. Now you can check if you have entered the right password or not and bang, click on connect button to enjoy using wifi on your phone.
Check out the Advanced Wifi settings
If the wifi is connected by your can't access the internet, you can perform this method to delete the proxy on your phone and hopefully, it will take care of the internet issues that you have been observing lately.
First, open the 'Settings' on your phone and go to 'Wireless and Networks'.
Now, tap on 'Wifi Settings' or if it is available on the first page itself.
Now, tap on 'Advanced' to enter into the advanced setting mode.
This is where you not to tap on proxy setting and delete it which usually restricts internet access.
Delete domain or IP address under the proxy settings.
Now, check if the internet is working or not. If not, you'll have to practice other methods in this explicit list.
Select a static IP address
If there is an issue with the ever-changing dynamic IP address, you can switch your phone settings to static IP address which will help ascertain if the router that you are trying to connect to is having any issues handling DHCP addresses or not. There could be other issues too. Setting up the static IP address is simple. Go to Settings > Wifi > Advanced Settings and select the option 'Use static IP'.
Check the power saving mode
Frankly, power saving mode is essential for your phone as it saves a hefty chunk of your battery life in case if you need it urgently. What power saving mode does is it restricts several apps and services that demand more battery power and also, restricts the user from a wifi network. Yes, it will disconnect the user from using wifi if the settings are not checked. Although it happens in only a few models if it a potential problem since you won't be able to use the wifi when this mode is enabled but disabling it won't take much of your time.
Simply open the menu on your phone and go to 'Settings'.
Tap on 'Battery Saving Mode' and toggle it to turn it off.
If your phone shows advanced settings where it might show the apps and services being restricted, you can simply untick wifi out of the list. This will enable wifi even after you are using power saving mode.
Toggle Airplane Mode
It might seem awkward but what If I say that you can sort out wifi problems by toggling the airplane mode. Ironic, isn't it? First of all, it is possible that airplane mode is active in the first place which will deny any network to work on the phone until you turn it off.
In another scenario, if the airplane mode is not active and you have trouble accessing the internet via wifi, it's time for the airplane mode to show its magic. Simply turn it On for a second and let the phone be idle for a second. Enabling it will disconnect the phone from any cellular and wifi networks. After few seconds, disable it and now, try to access the internet via wifi.
Update the OS
What does updating the OS have to do with wifi problems? You may ask but there is a strong correlation between this two things. First of all, the Operating System is the platform that runs every app, service, tool, a feature on your phone which includes Wifi. It is plausible that outdated OS patch developed glitches or bugs that would turn off the wifi or won't let the user connect to any wifi network. Thus, this is where updating the OS and keeping it up-to-date comes into play.
To update the OS on your phone, go to 'Settings' and then, tap on 'About Phone'.
Now, select the 'Software Update' option and check for the available updates.
If there is any new patch available, download it and then, install it accordingly. If there is none, then you will have to stick with the next method to curb this issue once-and-for-all.
Factory Reset
Factory Reset may seem a drastic step but trust me, it will fix the majority of the problems that you have been noticing in your phone such as constant lagging, performance issue, freezing, and unresponsiveness, as well as a delay in action, etc. There are things you must remember before actually practicing a Factory Data Reset (FDR) like, the battery life must be at least 50% to ensure that it won't interfere while you are doing FDR. Next thing is to take a backup of the data that you want to save since FDR will totally wipe out the data from the phone. Since you have got the gist of what to remember, follow the method below to perform FDR.
FDR Using 'Backup & Reset'
Tap on 'Settings > Backup & Reset > Reset'.
Enter the password that you have setup on your phone and click on 'Erase Everything'.
The phone will perform FDR and then, reboot it.
FDR Using Hardware Keys
Turn off the phone
Press Power button and Volume Up button together and hold it firmly.
Let the device vibrate or display Android logo and only then, release the buttons.
Use Volume Up or Down key to toggle between the options and tap on 'Power' button to select it.
Complete the hard reset in the recovery mode and then, reboot the device.
After the phone restarts, carefully complete the setup and then, connect to wifi by entering the password.
Visit the service center
Okay, so the wifi problem is persistent and wouldn't go even after you went through everything listed above. Although it is highly unlikely that software glitches would withstand these methods altogether which hints towards a probable hardware issue. Since Wifi on your phone works with the help of Wifi antenna affixed to the phone assembly, it is possible that it might have got damaged due to falling or any traces of liquid damage. Since wifi is one of the most used features of a smartphone, it would make you restless to fix it asap. Rather than waiting for the problem to sort by itself (it won't), take your phone to a service center. The technician will diagnose if there is any software or hardware issue with your phone and then, prompt you.
If your phone is in warranty period or locked by any carrier, GetDroidTips recommends visiting authorized service center only. This is due to the fact that the warranty will still stay intact and you'll be able to get benefits in terms of lower cost of repair or replacement, etc.