Wifi is affordable and faster than mobile data irrespective of what generation of networks you are using and since wifi is available in many places, it has been a must in daily life. Nowadays, we totally depend on wifi to play games, browse the web, watch videos, listen to music, learn about something or research for a project or about work and absolutely everything is possible when you sign in to a wifi either private or a public wifi available at libraries, malls, cafeteria, and other places. But now that I have described few of the benefits, let's discuss its problems. OnePlus is a highly reputed smartphone brand with high-end flagship smartphones but some of the users have reported OnePlus wifi problems.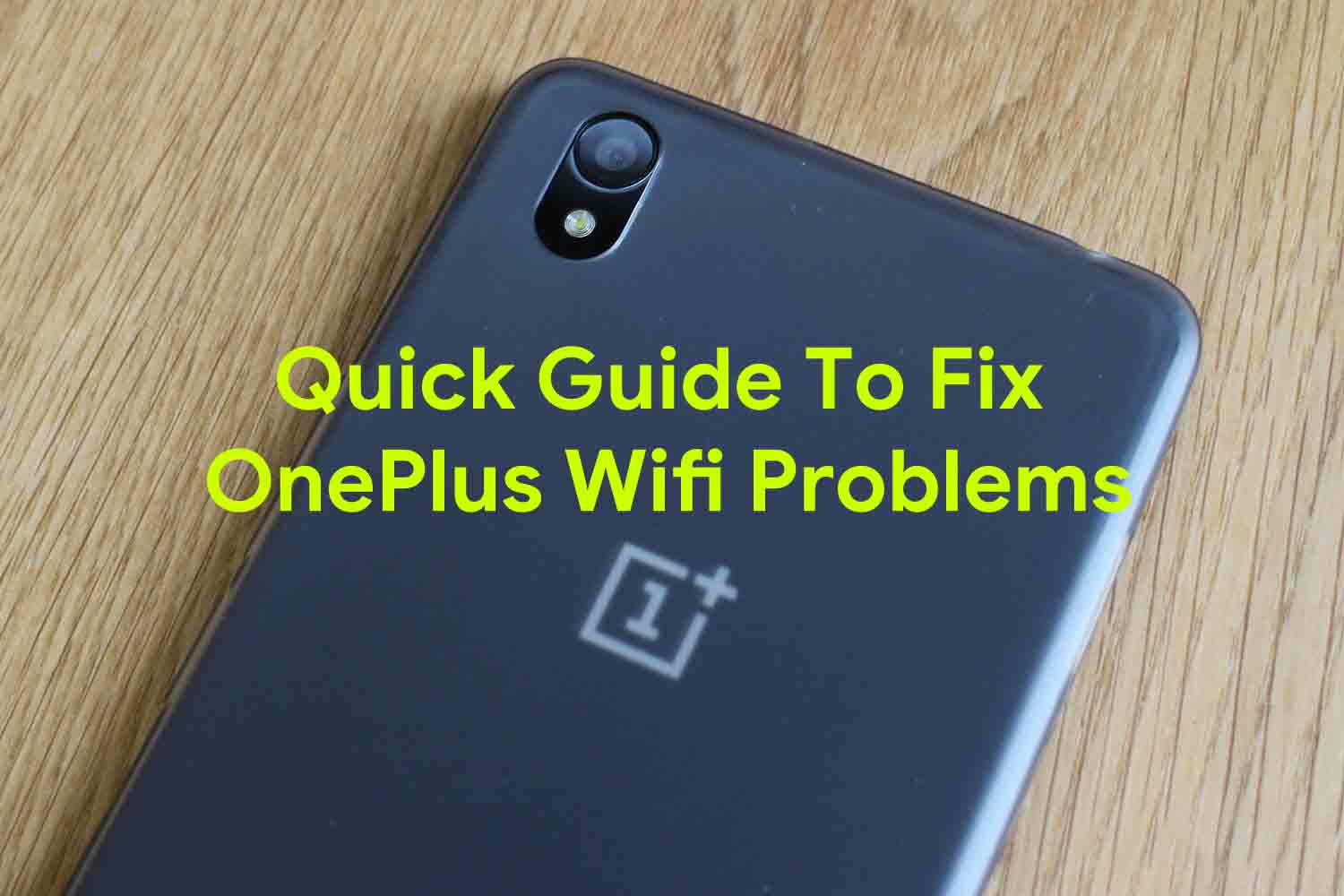 And no, it is not limited to OnePlus only but all the Android smartphones of different makes and models are suffering from the same. There is a considerable group of people who have reported this issue on their devices and we thought, hey let's create a blog on how to fix OnePlus Wifi Problems using various troubleshooting tips and tricks.
What types of wifi problems do people face?
There isn't any specific wifi-related problem that people have reported because there are several of 'em. Firstly, people have reported issues such as they are unable to turn on the wifi or connect to it, they are unable to stay connected to the wifi network to the phone is stuck in 'Obtaining IP Address' status or the device is incapable of authenticating the password even when its right. Further, people have also reported wifi problems such as a weak signal from the router or modem or strong signal but weak downloading speeds and so on.
How to fix OnePlus Wifi Problems?
Toggle Wifi
It happens a lot of time that you tap on 'Wifi' icon assuming that it will start and connect to the available wifi network but then find out it isn't connected. Either the wifi isn't turned on or it is unable to connect. For this, you can toggle the wifi icon from the notification tray that will kickstart the feature prompting it to start instantly. But if you are unable to do the same, simply proceed to "Settings >> Wifi" and then, turn on the wifi again, this must do its magic.
Toggle Airplane Mode
Still unable to connect to an available wifi network? Time to toggle the airplane mode which is little ironic since it will actually disable all the connections. Keep the airplane mode activated for 30 seconds and then, turn it off and connect to the wifi. This must definitely turn on the wifi and connect to an available network.
Reboot the phone
It is probable that you are facing OnePlus wifi problems whenever you tap on wifi button because of a minor software glitch which is preventing the wifi from connecting to the router. Rebooting the device is a powerful yet simple technique that you can use which must resolve minor software glitches as well as boost the system' performance even further.
Reboot the router
Still unable to connect to a wifi network? It could be something to do with the router which isn't accepting any association request. It is advisable to reboot the router by turning it off and keeping it idle for few minutes after which, you can press the boot button or turn on the switch depending upon how your turned if off. This must connect the phone to the wifi instantly.
Check the SSID & Password
If the phone hasn't yet realized an available network or if it shows authentication failed, it is due to an improper SSID or password that you had entered to connect. Verify these two details and then, reconnect. This must turn on the wifi instantly.
Forget and reconnect
You were working on a wifi network yesterday but when you tried to connect to the same network today, you aren't able to do it. Why? There is a chance that there is an authentication problem or the phone isn't able to connect to the wifi even when the password is entered correctly. In such cases, you must forget the wifi network, toggle the airplane mode once and then, connect to the available network with a proper password that you can verify by clicking on 'Show Password' and then, reconnect.
Use Static IP as opposed to DHCP
If you are facing trouble in using DHCP, you can actually revert to Static IP which is more reliable and efficient. Here's how you can do it.
Tap and open the Settings app and revert to 'Wireless and networks'.
Next is to tap on 'Wifi settings' and then, tap on 'Menu'.
Select 'Advanced options' and then, select 'Use static IP'.
Here, you need to enter certain details regarding the IP address, Gateway, Netmask, DNS 1, DNS 2, and other details.
Unable to find available networks?
There are several ways you can get rid of this problem that is by toggling airplane mode, deleting excess wifi networks in order to connect to a new one, as well as rebooting the router in an attempt to fix the problem.
Connected but there's no internet?
It is possible that there is an intermittent issue with the service provider because of which, you are unable to use the internet even if the wifi is connected properly. Please check if with the service provider to get a perfect solution for the issue.
"Obtaining IP Address problem"
It's annoying when this status under any selected wifi networks pops up on the screen. You can resolve it using apps available on play store such as Wifi mHotstop or use the term wifi fix to search for available apps and download it.
Wifi keeps disconnecting itself
Now that's what frustrates me a lot. It is far worse than when wifi doesn't connect. Here, the wifi keeps disconnecting after some time even after you connected to the same. What you can do is to check if you have power saving mode activated or not. If yes, try to toggle and then gauge the difference. Further, you also verify if the wifi problems that you are observing is due to app conflict or if a recently downloaded app is causing the obstacle. Uninstall a recently downloaded app and verify if this trick worked or not.
Update the router's firmware
Similar to how updating the phone is important, it is also crucial to update the firmware of the router as well. You can find the available updates if any by navigating to the admin panel of the respective router that can be accessed using dedicated IP address. You can try one of the following for your admin panel.
192.168.0.0
192.168.0.1
192.168. 1.1
192.168.1.0
Update the phone
It is way too important to update the smartphone to get rid of any potential software-related issues since developers would send software updates via OTA after every interval to ward off bugs and strengthening the firewall against foreign deterrent. You can update the firmware simply by navigating to Settings >> About Device >> Software Updates >> Check for updates and the available updates must be visible. Note that if your smartphone is out-of-support, you can downgrade to the previous OS or you can download and install a custom ROM.
Restore the phone
This is a powerful tool that will put an end to all software related issues including the wifi problems that you are facing. Restoring the device can put an end to all problems but it will also erase all the memory from the device and will render it as a newly purchased smartphone with factory settings. If you decide to perform a factory reset, here's how you do it.
Gently press the power button and select Power Off from amidst the menu.
Now, press the power button again but also press the volume up button together and hold it for few seconds.
You need to release the buttons once the screen displays the Android logo.
Now, glide through the menu with the help of volume rockers while you can select any option by pressing the power button.
You need to select "wipe data/factory reset" from amidst the menu and finally, confirm the actions by tapping onto "Yes — delete all user data" and that must put an end to wifi problems that you are facing.
Use Wifi signal booster
If you are getting weak wifi signal because the router is too far or behind several walls or if it's near but still, you are getting a weak network, you can enhance the wifi signal strength considerably by installing wifi signal booster at the home or office. This electronic device will pick up the wifi signal from the router and amplify it further so that the strength of the signal can be improved considerably. Although this instrument is little expensive, it I still worth if you want to enhance wifi signal.
Ask an expert
The final resort if you are still addressing the wifi problems on your phone is to report the issue to a service center where you can get it replaced or repaired at a premium that you'll have to pay for the services. If your phone is well under warranty and you want to preserve the same, stick to an authorized service center or else, you can proceed to a third party repair shop.sV