In this article, we will talk about the tier list of all the commanders in the Rise of Kingdoms game. The list you are about to see is based on the endgame outcomes and which commander is placed in which tier, this article will explain all this to you.
Ever wanted to do something new with your life or start a new life? Well, I am not sure about your real life, but you can do something new here but virtually. The Rise of the Kingdom is a game where you can build your own empire and be an emperor.
Rise of Kingdom is a game that is introduced by Lilith Games which was originally called the Rise of Civilization and later it is renamed the Rise of the Kingdom. Throughout the game, you will get to experience how a kingdom works. So how you will make your kingdom will depend on you.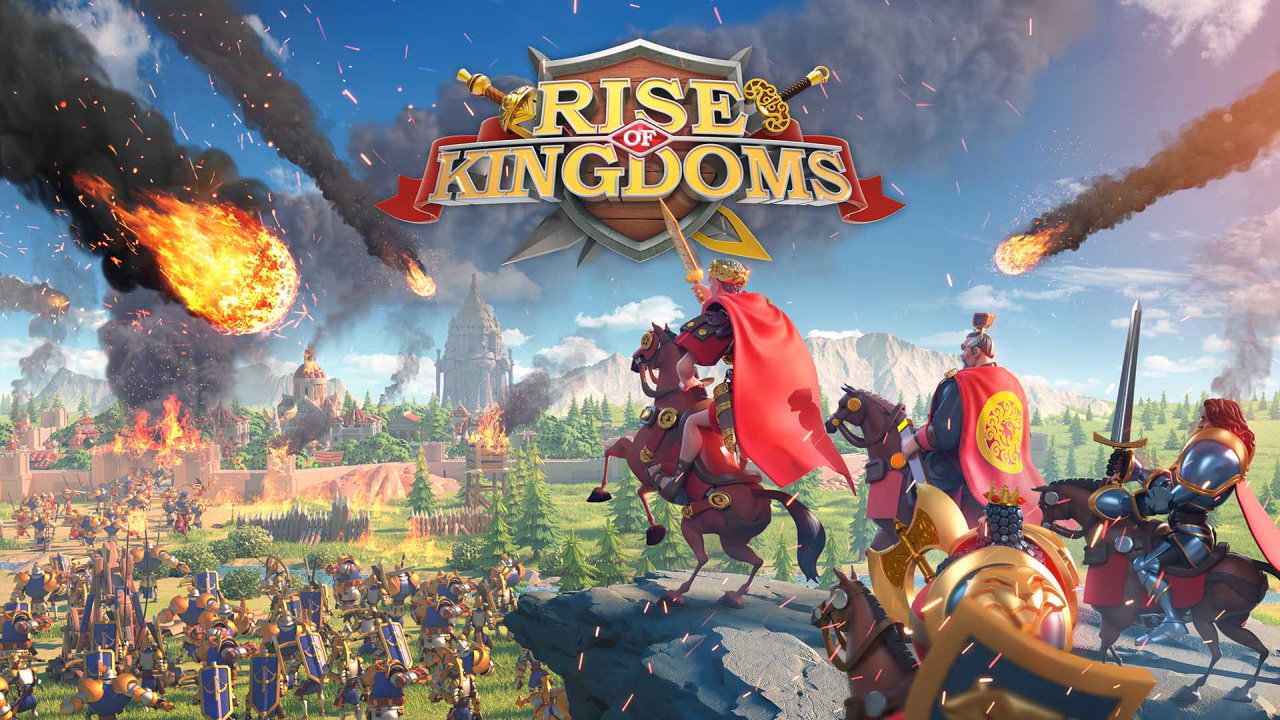 Rise of Kingdoms All Commanders Tier List
Here is the following tier list of the Rise of kingdom commanders. The S is the most powerful and the F is the worst. Here is how you can identify your commander's power level based on their ratings.
Tier S+ – Very Overpowered
Tier S – Overpowered
Tier A – Balanced
Tier B – Slightly Underpowered
Tier C – Underpowered
Tier F – The Worst
Types of Commanders in Rise of Kingdoms
There are four types of commanders in the Rise of Kingdom game based on rarity, these commanders have different types of abilities for different types of battles. More sculptures are required to increase the talents of higher rarity commanders.
It takes 16 skill upgrades to raise all four skills to level 5. 690 sculptures means legendary, 440 sculptures are epic, 340 sculptures are in the elite category, 240 advanced sculptures
Legendary Commanders
Epic Commanders
Elite Commanders
Advanced Commanders
The tier list of these commanders is divided into commanders with different abilities. Some commanders are very good at an open field and some commanders are very bad at an open field but they are very good at Rallies. So it will be very unfair to list all of them based on their single abilities. That is why we have divided all these 4 types of commanders' tier lists based on their abilities.
Legendary Commander Tier List
They are the most powerful commanders in the game due to their abilities and extreme rarity. They are tough to obtain, particularly if you are a F2P player, but not impossible. Some may be gotten by unlocking golden keys in the bar, which is the most convenient and effective method. Here is the Tier list of the legendary commanders.
Yi SeonGye – S+
Alexander – S+
Richard – S+
Saladin – S
Martel – S
Edward – S
Attila – S
Guan Yu – S
Artemisia – S
Cyrus – S
G. Khan – S-
Takeda – S-
Leonidas – S-
Wu-Zetian – A+
Constantine – A+
Aethelflaed – A+
Mehmed – A+
Tomyris – A+
Minamoto – A-
Julius Caesar – A
Barca – A
Fredrick – A
Cao Cao – A
Charlemagne – A-
El Cid – B
Chandragupta – A+
William – A+
Epic Commander Tier List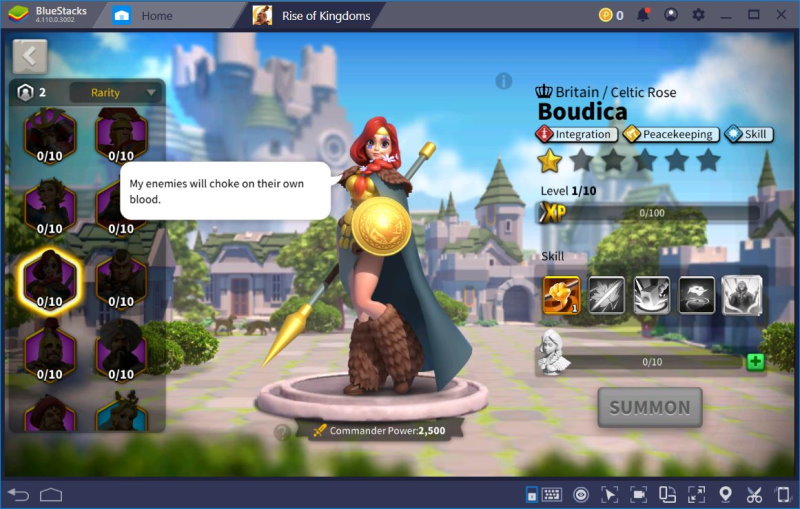 They are not as powerful as Legendary commanders, but they will be quite useful if you are a F2P player, especially because, unlike Legendaries, they need less time and work to grow to the maximum level. You may unlock them all as you continue through the game by utilizing silver and gold tavern keys and events like "Expedition," "Ceroli Crisis," and "Lohar Trial" for Keira and Lohar, respectively. Here is the tier list of the Epic Commanders.
Sun Tzu – A+
Joan of Arc – A
Pelagius – B
Hermann – B
Kusonoki – B
Baibars – B
Boudica – C+
Belisarius – C
Osman – C
Keira – C-
Lohar – D
Elite Commander Tier List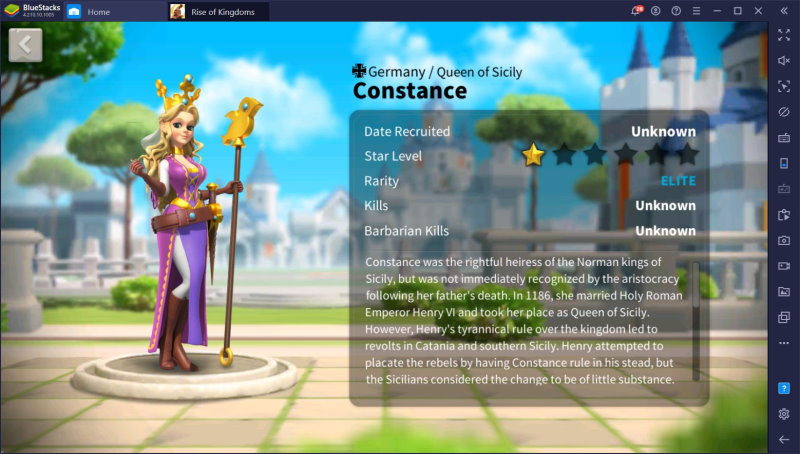 The keys in the bar and events like "Expedition" are quickly and easily obtained by the top commanders. These are beneficial for some chores in the game, such as farming, but they are ineffective for fighting, defending, and other activities. This is why they don't have a tier list.
Constance
Gaius Marius
Lancelot
Šárka
Tomoe Gozen
Advanced Commander Tier List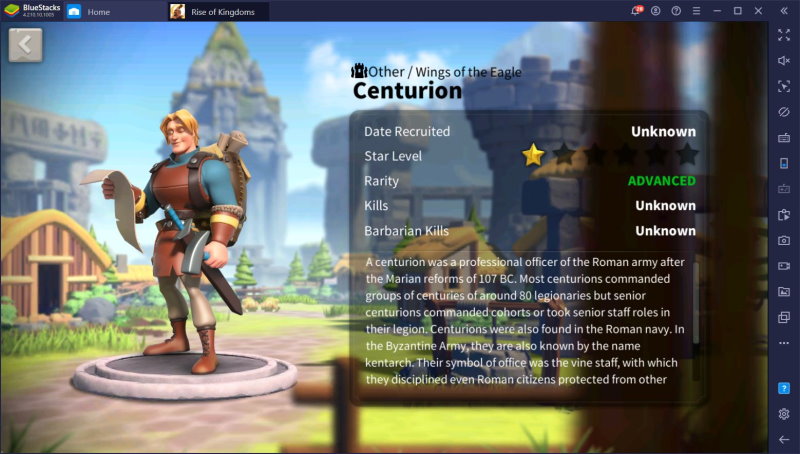 Advanced commanders are the weakest commanders in the game, as well as the fastest and simplest to gain through the tavern and the expedition. They differ in terms of their abilities and talents, but they are not advised for practically any important duty of the game; their usage is only limited. Here is the list of Advanced Commanders.
Centurion
City Keeper
Dragon Lancer
Markswoman
Conclusion
So this was it, the tier list of the Rise of Kingdom is explained with all the four tiers of commander in the game. The Legendary, Advanced, Elite, and Epic commanders can be used when you need them. Every commander has their own abilities and weaknesses. So choose your commander accordingly. The Elite and Epic commanders are not suitable for battlefields, they are very good in their own areas but they are not the best ones to use in the game.