Samsung's Galaxy S22 Ultra offers a wide selection of features, making it yet another promising flagship device. This phone features excellent cameras, a powerful battery, and a massive internal storage space. Furthermore, Samsung has implemented an on-screen fingerprint sensor this time, which looks amazing. However, there is no doubt that this smartphone is one of Samsung's best flagship phones ever created.
But, that doesn't mean that there is no place for improvement. Yes, talking about the recent cases, for some new Samsung Galaxy S22 Ultra users, the phone keeps crashing while they try to do some heavy work such as gaming.
Currently, Samsung has not stated anything about why the phone keeps crashing. That's why we are here with some basic fixes that have the potential to resolve this kind of error in Samsung smartphones. Therefore, make sure to perform each fix that we have described below.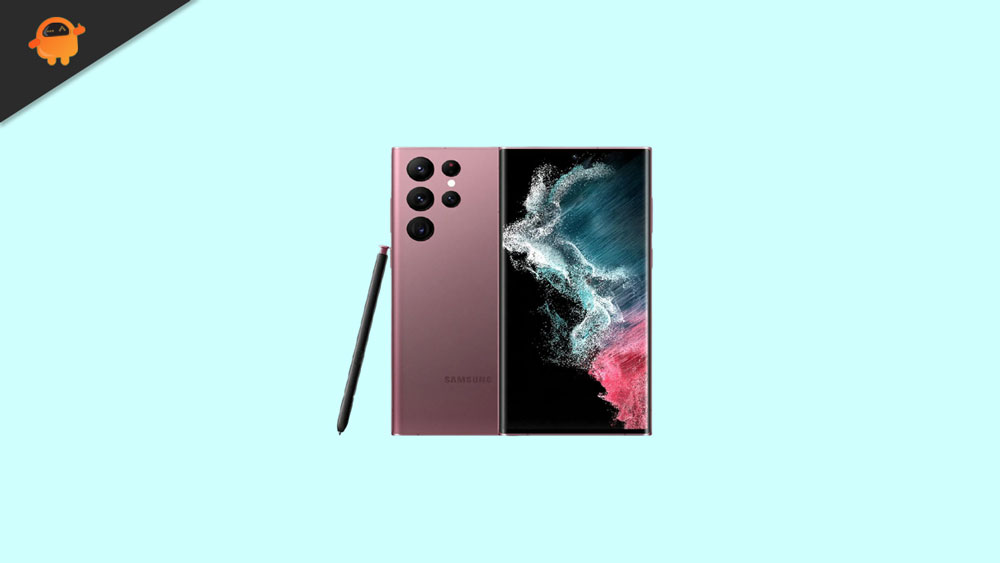 How to Fix Samsung Galaxy S22 Ultra Keeps Crashing
Listed below are some fixes that can help you resolve the Samsung Galaxy S22 Ultra keeps crashing issue. Therefore, make sure to follow them if you are also facing the same. So, now let's take a look at them:
Fix 1: Restart Your Phone
At the initial stage, you must have to restart your phone because there is a possibility that your device might have cache data, which prevents your device from working properly.
So, you must try restarting your device and check if it helps. However, we are sure that this method helps you as many users previously reported that after restarting their S22 ultra, the keeps crashing issue get resolved.
Fix 2: Make Sure It Is Fully Charged
Did you check if your Samsung Galaxy S22 Ultra is fully charged or not? Well, possibilities are high that your device may not be fully charged, due to which you are getting this issue.
So, we suggest you to using the original cable fully charge your Samsung Galaxy S22 ultra and then check again if it crashes anymore or not. However, most probably, this time, the crashing issue will automatically get resolved.
Fix 3: Remove The Problematic App
If the crashing issue doesn't get fixed just by rebooting or charging your device, then the chances are that any particular app will be the reason you are getting this issue. Therefore, we advise you to try to figure out the problematic app and uninstall it from your device.
Many users previously reported that the crashing issue automatically gets resolved after removing the problematic app from their device. Let us know if this helps you as well if you try this out.
Fix 4: Shut Down And Leave It For Sometime
If nothing helps you fix the S22 ultra keeps crashing issue, we suggest you shut down your device completely and then leave it for some time in that state. After that, again boot it up and check if the crashing issue gets resolved or not.
Fix 5: Check For OS Update
In order to keep your device performing at its best, you need to install and download the newest operating system updates. You'll get new features and security updates with the new Update. So if your Samsung Galaxy S22 Ultra crashes and reboots, it may just be time to update its operating system.
However, there are many cases where we have seen that the crashing issue gets resolved just by updating the system OS. Therefore, why not this time? So, you must check if your S22 Ultra OS is updated or not. Need help checking and installing updates? Here are the steps:
Select

Advanced > System updates

from your Android Settings.

Here, you can

check for updates

.
Fix 6: Check Your Storage
Your Samsung Galaxy S22 Ultra may need space cleared up if it is full or nearly full, even if it is up to date. Also, it should be cleaned up if it is less than 10% free. Cleaning up your device will help to ensure that it runs smoothly.
Firstly, tap Storage in the Settings menu.

Within this page, you can see how much space is available and how it's divided by category, including videos, audio, apps, pictures, and downloads.
Fix 7: Close Running Apps
You may require to check for app updates or force the app to stop despite your Android managing app memory during use. If your Android keeps crashing and restarting, you can perform this step.
Open PlayStore and navigate to the three-line menu.

Then, select

My apps & games

.

Now, select the

update

button for the app you want to update. Or you can simply hit the

Update all

button.
Then, if you notice that your phone is still crashing, consider forcing an app to stop, which you think will be the main culprit behind this error. So, to this, here are the steps:
Initially, open the

settings

and tap on

apps

.

Then, tap on the problematic app and hit the

Force Stop

button.
Fix 8: Reset Your Device
Consider advanced troubleshooting if the problem persists while in Safe Mode. To do this, reset your Samsung Galaxy S22 Ultra to its factory settings. Once you've tried everything else, please consider this your last resort. To prevent losing all your apps and data, you must first back up your Android.
Firstly, open the

Settings

and search for the

Factory Data Reset

option.

Then, tap on the

Factory Data Reset

again.

Now, you are ready to reset your phone. You can simply

Swipe to

and tap on

Reset

. Then, follow the on-screen instruction to reset your phone.
Fix 9: Contact To Samsung Officials
Does nothing help you? Well, don't worry! You can still resolve the error just by contacting to the Samsung officials, and if you are lucky enough and your device has a warranty, then they will repair your phone without charging you a single penny. Therefore, you must try contacting them or directly hover over to your nearest service center and ask them to repair it.
From Author's Desk
So, that's all on how to fix the Samsung Galaxy S22 Ultra keeps crashing issue. We hope that the troubleshooting methods mentioned earlier in this guide have helped you. Meanwhile, in case you want any other information regarding this topic, comment below and let us know.