When it comes to smartwatches, Apple has been dominating the space ever since the inception of the first-gen Apple Watch. However, this is not to say that the Android side of smartwatches has been shut quiet. Samsung has been one of the best smartwatch manufacturers, with the Galaxy Watch 4 being the company's latest offering.
The Galaxy Watch 4 is powered by the Exynos W920 at its heart and runs on top of Wear OS with its own slightly customized One UI skin. The smartwatch has all the sensors you could think of in a flagship watch including Samsung's own BioActive sensor that has PPG, ECG, and even BIA scanners. Other specifications of the watch include 1.5 GB of RAM with 16 GB of internal storage where you can store music.
Samsung has also promised up to 4 years of software updates to the Galaxy Watch 4, which is pretty good when compared to the competition in the Android realm. Unfortunately, the latest update to the Galaxy Watch 4 has been causing troubles for users. Many people have been complaining about the Galaxy Watch 4 AOD not working after updating their watch to the latest version. If you are one of those people facing this issue, this guide might be worth the read for you!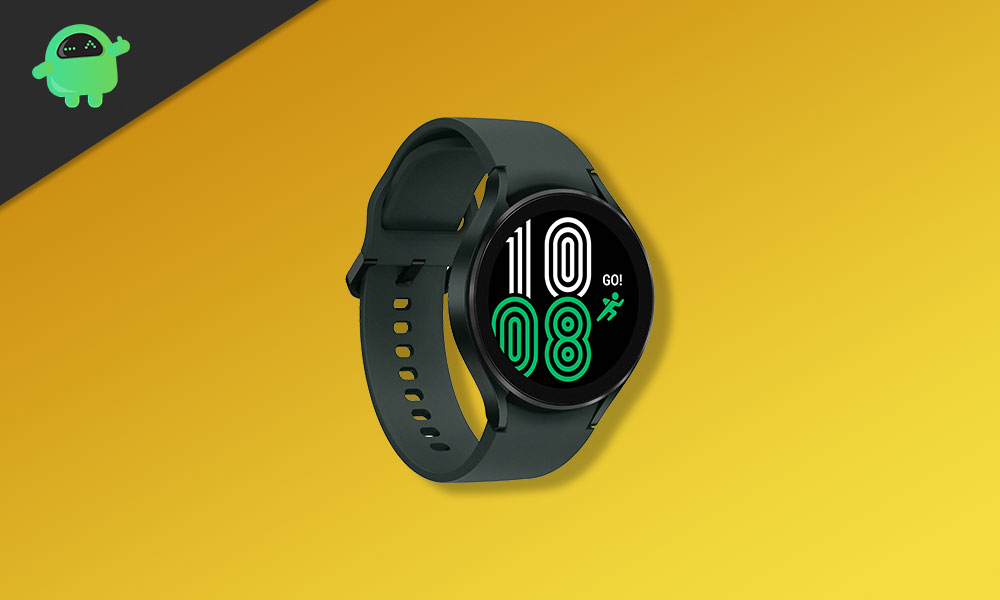 What's Causing the Issue?
Before we begin troubleshooting the issue, let us first take a look at exactly what's causing it. Multiple users have been raising concerns over how their Galaxy Watch 4 AOD has been lagging behind when it comes to displaying the correct time. Unlike before, the always on display doesn't update every minute and is instead lagging behind by 15-20 minutes.
Alongside this annoying bug, many third-party watch faces have also been reportedly found to be not working with the watch after the update. Whenever users try applying a new watch face, the watch freezes for a while before returning to the original watch face. This is really annoying and almost unacceptable for a watch at this price point.
How to Fix Galaxy Watch 4 AOD not working Issue?
While this is a widely reported issue and will soon be fixed with an OTA update, there are a few other reasons that might be causing the Galaxy Watch 4 AOD to not work properly. Below are a few ways you can try to solve this annoying bug:
Fix 1: Disable Power Saving Mode
All Samsung watches have a built-in power-saving mode that turns off features like a few sensors and the always-on display to preserve battery life. There is a good chance that you may have this option enabled which might be causing your watch's AOD to not turn on. To turn off the power-saving mode on your Galaxy Watch 4, navigate to Settings > Device Care > Battery > Power mode and then disable the power-saving mode.
Fix 2: Turn off Night Mode
Night mode on the Galaxy Watch 4 turns off the always-on display and reduces the brightness to make it easier for your eyes to adjust to the screen while using the watch during the night. To disable night mode, simply tap on the little moon toggle.
Fix 3: Disable Theater Mode
The Galaxy Watch 4 also comes with a special theater mode that puts a few of its features to a temporary stop to provide for an interruption-free movie-watching experience. This feature also knocks out your always-on display to make sure others in the theater aren't annoyed by the light from your watch. To disable the theater mode, navigate to Settings > Advances > Theater Mode and turn it off.
Fix 4: Unpair your Watch
Sometimes a faulty Bluetooth connection can also cause issues like this to arise. Simply unpair your Watch using the app on your phone and pair it again. Check if this fixed the annoying Galaxy Watch 4 AOD not working issue.
Fix 5: Update your Watch
Make sure your Galaxy Watch 4 is updated to the latest version that is available. Samsung regularly pushes out software updates to all of its devices, including smartwatches. These updates not only bring additional features but also fix bugs that you might be facing. To check for updates on your Galaxy Watch, open the Galaxy Wearable app on your phone and check for any available software updates there.
Fix 6: Reset your Watch
If all else on this list fails, you can try to reset your watch to see if that fixes the issue. Do note that this will revert all the features back to factory default settings and you may even lose any music stored on your watch's internal storage.
Conclusion
We hope our guide on how to fix the Galaxy Watch 4 AOD not working issue was helpful to you. If you have any tips other than what we've mentioned, do let the other readers know in the comments below! If you have any queries regarding the guide, feel free to contact us, we'd be happy to help!