Sonos is an American audio system manufacturer, best known for its Multi-room audio product lineup. Among the different Products, Sonos Playbase is a low-slung sound base with impressive design and sound. The best part about this Playbase is here you don't need any Sub-Woofer. Besides that, the Sonos App and other associated speakers make it the best Multi-system available in the market. Also, the Playbase has numerous advanced features like Wifi connectivity, Sound tone adjustment and more. But, Presently some users are disappointed with it.
As the official Sonos Community page claims that Sonos Playbase sound is stuterring, lagging and Suddenly Stops working. Following that, the officials have mentioned some common fixes to resolve the audio concern. But, several users are new to wireless speaker-like devices. For so, they are unable to use those fixes on their Playbase. Also, The officials do not any steps for doing that particular fix. So, keeping that in mind below we have shared a guide explaining those common fixes with required instructions.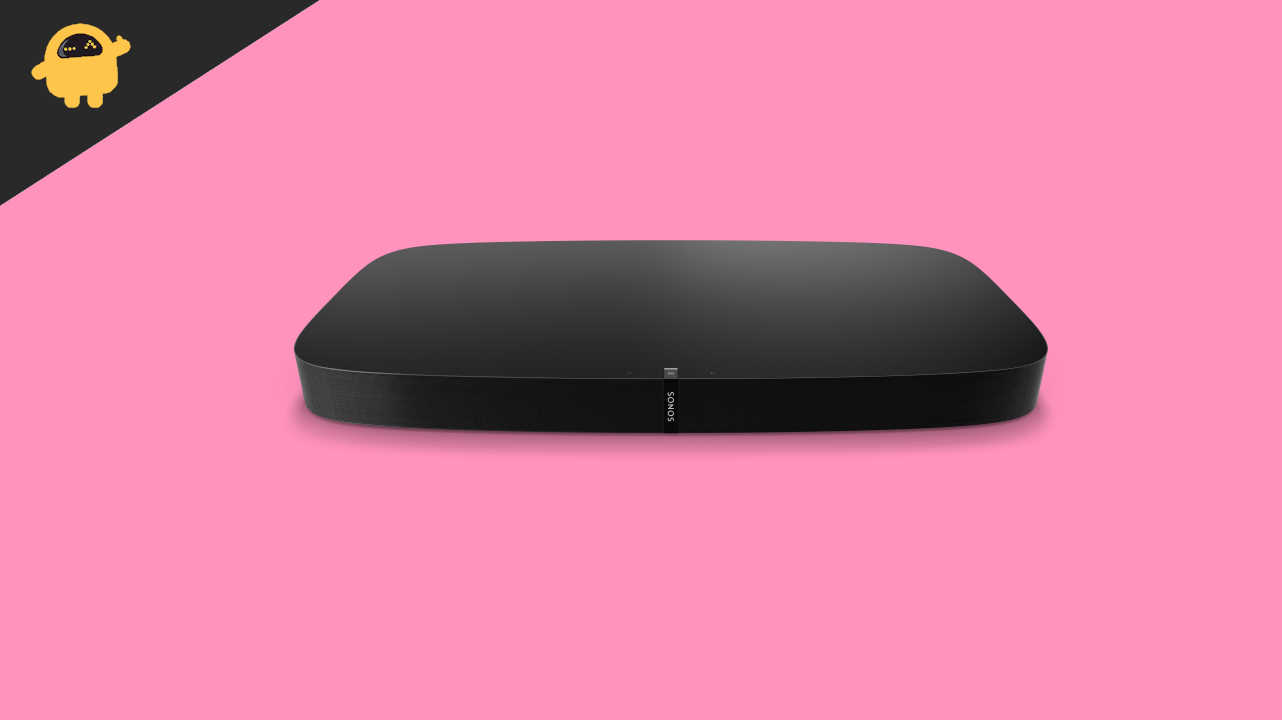 What Are The Causes Behind Sonos Playbase Sound Stuttering and Audio Lag?
These Sound Playbase require good maintenance for their exclusive features. As a technical device, there are chances of facing errors over it. Similar, Sonos Playbase Sound Stuterring or Audio lag is one of the concerns raised by the dominating users. For so, the developers already mentioned some causes and fixes. But, To have more clarity we have tried to gather the exact cause behind it. However, This concern could vary from user to user. So, concerning personalize user experience and the official support page. Here are the common causes behind the Audio lag over this Playbase.
Playbase Not Connected with Internet
Audio Connection Not Responding
Playbase Not Setup Accurately
EQ Settings are disturbed
Fault with the Speakers
What Common Fixes Could I Try to Fix Audio Lag Issue Over Sonos Playbase?
In response to the above-listed causes, we have a straight path to solve the audio lag issue. As these are the common or major reasons behind the audio lag issue. For so, we need to figure out the opposite action for the given causes. We know you are worried about finding a possible solution for the raised concern. On that note, we have figured out some proven solutions. So that you can enjoy the multi-room sound driven by Sonos Playbase. So, below are the proven solution that you can try.
Ensure Stable Internet Connection
Check Optical Audio Cable Plug-In
Setup Your Playbase Accurately
Adjust EQ Settings to the default
Replace the faulty Speakers
Although, These are only the name of the fixes that we are going to try. But, For a normal user, it is hard to understand that in a single line. For that purpose, below we are sharing a complete explanation for each fix to elaborate on the solution.
Ensure Stable Internet Connection
Initially, The Sonos Playbase users always use that device with some entertainment source. But, After the arrival of Smart TVs. The users shifted this device to use it on those TVs. And, Smart TVs majorly run over Wifi internet connectivity. Although, the Wi-Fi Connectivity is always stable. And continues with constant data transfer rates. But, sometimes the connectivity gets disturbed and may cause sound lag or cutting out the issue. Similarly, the same issue likely happens on your Playbase. So, In such a case, we recommend using a stable internet connection.
Check Optical Audio Cable Plug-In
Even the Sonos Playbase has internet connectivity for entertainment sources. But, sometimes users adopt optical audio cables for some reason. And, These cable connections need to be strong. And, appropriate with the Playbase compatibility. Here, if you are facing Playbase sound lag, Stuterring or cutting off. It means the optical audio cable may be loose or plugged incorrectly. In such a case, you need to check the optical audio cable must be properly plug-in to the other source device.
Setup Your Sonos Playbase Accurately
This type of speaker is essential for every individual entertainment enthusiast. But, they are not able to correctly set up their Sonos Playbase. Even though this Playbase is easy to set up and use. But still, users are unable to set it up accurately. Following this, the user may experience audio lag, Stuterring or a cutting down issue over it Because It may possible that they have wrongly set up the Playbase. In such a case, Users are recommended to again set up the device correctly. So, For that reason below we have mentioned some steps. So, It can help in set up the Playbase accurately.
Simply, Open the Sonos app on your Phone.
Then, Tap on the Set up a new system option.
Now, create or log into your Sonos account.
Tap Add on the popup showing your Sonos product.
Next, Tap on Continue and Set up products.
Now, Follow the on-screen steps in the app to set up your Playbase.
That's it, You are done with this fix.
Adjust EQ settings to default
EQ settings are the favorable settings and enforce a big effect over the Sonos Playbase audio lag issue. Because it can be possible that your Playbase has wrong adjusted EQ settings. For such a reason, it offers sound lag, Stuterring issue over it. But, not to worry about it. As you can adjust EQ settings to the default easily. Simply, Download the Sonos official applications and navigate to the EQ settings under the main settings menu. Then, Adjust those settings as per your choice. Either choose them to set as default. After doing so, Your Playbase will not encounter sound lag issues.
Fault with the Sonos Playbase Speakers
If your issue is not resolved yet, it means the speakers onboarded with Sonos Playbase are now faulty. And, from now there is no other option to replace them under the warranty period. However, Your Playbase is out of warranty validity. Then, You can take it to third-party repairing shops. So, that you can repair those speakers wisely. It would be the final cause due to which you are facing audio lag, stuttering, or cutting down issues over your Playbase. So, Apply this fix wisely and experience the authentic sound from Sonos Playbase.
Wrapping up
Sonos Playbase is a pretty cool multi-room speaker device having some little errors. But with the help of the above-listed fixes. You can overcome those errors and can experience the effectiveness of this device. Although, Our guide contains brief elaboration for each of the given fixes. Even, if any user has queries with the same. Then ask them in the comment box appearing below.