Sony Alpha cameras are known for their exceptional performance, ease of use, and cutting-edge technology. However, like any complex piece of technology, they are prone to a variety of common problems that can detract from the user's experience. From battery issues to lens malfunctions, these problems can arise at any time, causing frustration and disappointment for photographers of all levels. Today, in this guide, we will share all Sony Alpha Camera Common Problems and Solutions so you can enjoy your photography at ease.
One of the most common problems faced by Sony Alpha camera users is battery drain. Some other problems involve, camera over heating, memory card not showing up, or even the lens not being compatible. These problems are very common for mirrorless cameras, and if you have a Sony Alpha and you are facing one of these common issues with your device, this article will help you solve them.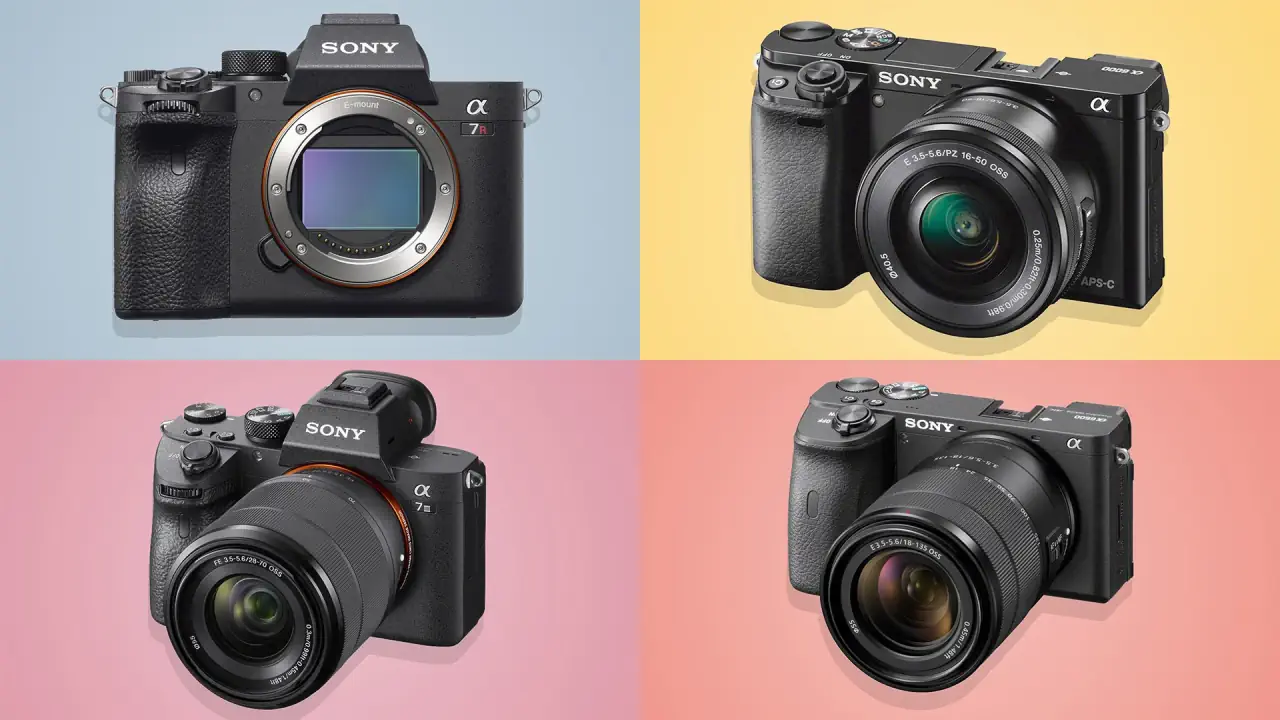 Sony Alpha Camera Common Problems and Solutions
Sony Alpha mirrorless cameras are well made and click very good pictures. But from time to time, your camera can encounter some problems, which can alter the way you click photos, or it might create problems with the camera working.
Camera Error: Turn the power off then On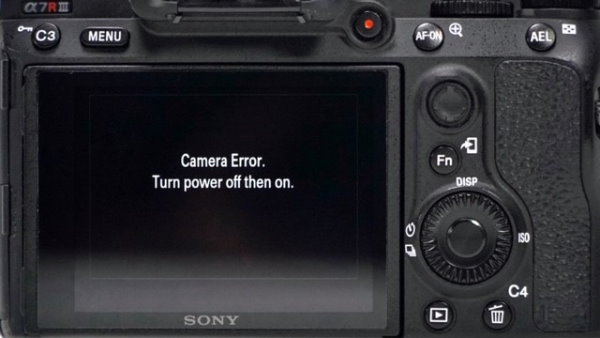 This is by far the most common issue faced by users. This error text appears in the middle of the video recording or while you are taking photos. This error can be caused by anything, from dropping off your camera to exposure to moisture.
There could have been an electronic circuit problem, and you will get this error text on startup. Here is how you can fix this problem for your Sony Alpha.
Turn off your camera by putting the power button in the off position.
Remove your battery and insert it again.
Turn it On again and see if that works or not.
That is the most common solution any user will do, follow what the camera is telling you. If you are still getting the same error text, you can try resetting your camera. Here is how to reset a Sony Alpha camera.
(This menu can be different, depending on your camera module)
Got to Menu and select Set Up.
Select initialize and then select Reset Default.
Wait for the camera to reset and start using it again.
Sony Alpha Camera Error: Unable to Display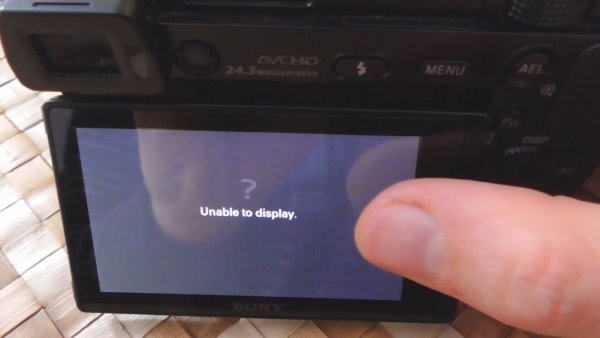 This is also a quite common camera error, your photos won't display on the camera screen. This error can have multiple causes. There might be a chance of a corrupt memory card or using an unsupported memory card. Sometimes, the cause of this error is photos too. Here is how you can fix it.
Click a picture and try viewing them, if you can view the recently clicked picture, that means the problem is with some specific photo. You need to delete that photo your repair it with tools available in the market.
Switch off your camera, remove your memory card, and insert it again. Turn on your camera and see if that works.
If you are unable to view any photos, you will have to format your card.
Sony Alpha Camera Error: Can not recognize lens, attach it properly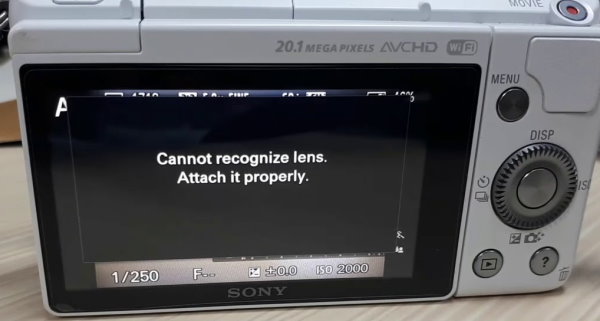 This error happens when you cannot switch your lens, as the Sony Alpha won't recognize it. This error is standard and can be fixed easily. Remove your lens from the Sony Alpha body and reconnect it.
If the problem persists, try cleaning the contact on the camera body and the contacts on the lens. These contacts are the one that connects your phone to the camera.
Make sure to use only compatible lenses with the Sony Alpha camera. If you are using an unsupported lens, you might get this error.
Sony Alpha Camera Error: internal temperature high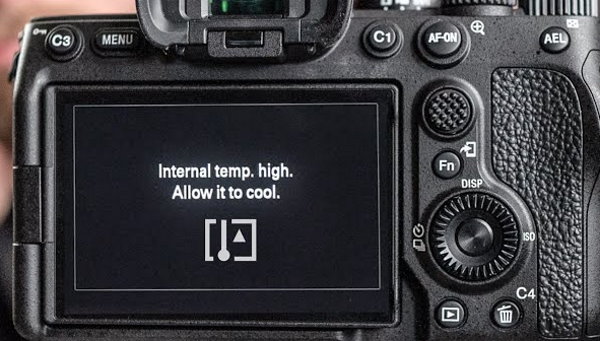 This error is commonly known as the camera overheating error. If you are continuously using your camera for hours and your camera is overheating, you will get errors like these, and your camera will stop working.
The only solution to this problem is to let the camera's internal components cool down. Stop using your camera for a few minutes. The internal components of the cameras are designed to work at a limited temperature and will generate this error once it crosses its limit.
Sony Alpha Camera Error: Battery Not Compatible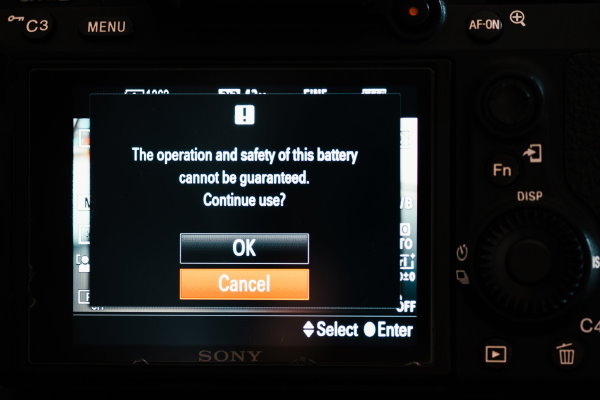 This error message is self-explanatory. You can not insert incompatible batteries in your Sony Alpha camera. Always use a compatible battery with your device. If you have the correct battery inserted into your camera and you are still getting this error, that means your battery is malfunctioning and you can replace it or do this.
Clean your battery terminal with a clean cloth. Do Not Touch Battery Terminals with Metal Objects.
If you have a spare battery, you can try changing them and see if the message appears.
If the error persists, you can try connecting the power adapter to the camera and plug it into the socket and see if that works.
Sony Alpha Camera Error: Card Error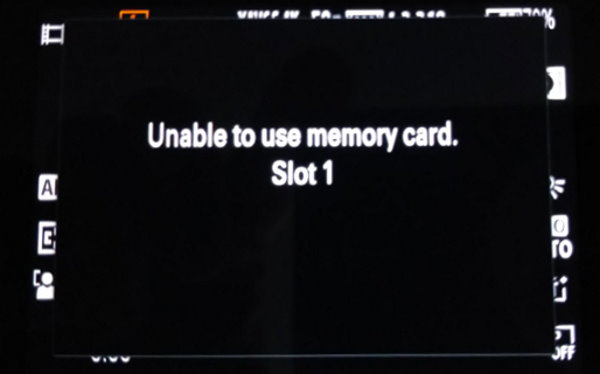 This is the most common error with almost all camera manufacturers. Card error means that the memory card you are using with your camera is incompatible or faulty. To solve this, you don't have to replace it. Simple formatting will work most of the time.
Note: Formatting your data will remove all your photos and videos. It is advisable to keep a backup with you before formatting your memory card.
Sony Alpha Camera Error: Shutter Locked
Shutter locked means your Sony Alpha camera has locked the shutter. There could've been many reasons your camera has locked the shutter. Maybe the camera thinks you have no lens attached and it has locked the shutter or you don't have a memory card inserted into your camera. Here is how you can fix this error.
Check if the camera is in cleaning mode, cleaning mode means that the camera locks the shutter for cleaning and to protect your sensor.
Reattach the lens and see if that works.
Remove and reinsert your memory card.
Try using your camera in manual mode, it simply allows the shutter to unlock.
Format your memory card.
Sony Alpha Camera Error: Date and Time error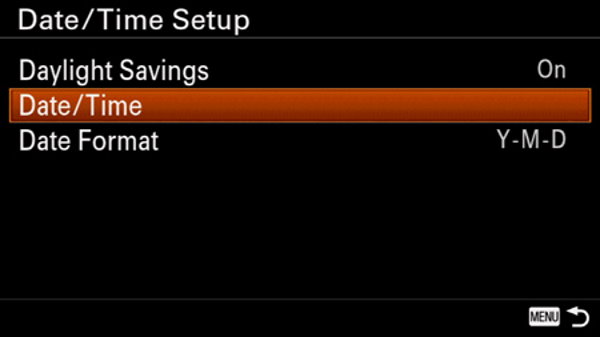 This error arrives on the Sony Alpha camera models when the camera is unable to fetch the correct date and time. This will result in the wrong date and time or you might get a date and time error.
The main cause of this error is low power resources in your battery. A low-power battery won't give you the correct date and time. You can fix it by following a few steps.
Plug in your charger with the camera and wait for it to fully charge. Once fully charged, turn on your camera and see whether that fixes your date and time error.
Sony Alpha Camera Error: Format Disabled
When you try to format your memory card, and you see this error, this means your SD card cannot be formatted from the current settings. However, this is not a camera issue, as you need to format or fix your memory card.
Remove your memory card from the camera.
There is a toggle switch in the memory card, Toggle it down and reinsert the memory card.
Try formatting your memory card.
Conclusion
In conclusion, while Sony Alpha cameras are known as some of the best cameras on the market, they are not without their share of problems. By being aware of these common issues and implementing the recommended solutions, users can ensure that their cameras continue to perform at their best, capturing stunning images and providing an enjoyable photography experience. Most of these errors are easy to fix yourself at home. Some errors can not be fixed by us, and you need to go to the service center to fix that particular error.