Today we're reviewing the SuperEQ Q2 Pro TWS ANC in-ear earbuds. These sound great and have Bluetooth 5.2, along with a sleek design that too with good battery life. In addition, it's got touch control hybrid active noise cancellation 30 hours playtime and transparency mode.
You'll get everything in SuperEQ Q2 Pro Hybrid Active Noise Cancelling Earbuds. So, you can read our in-depth review of these beautiful earbuds if you are confused about whether to buy this one or not. Here we have discussed every single detail about these earbuds. Also, we have a surprise for you by the end of this guide. So, you must have to make sure to stick with us till the end.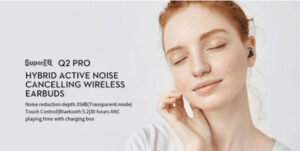 SuperEQ Q2 Pro ANC TWS Earbuds
: Should You Buy?
SuperEQ Q2 Pro is offering excellent sound and some decent features at a rather acceptable price for Bluetooth earbuds with ANC but without a smartphone app. In a very short period of time, it has become the most popular wireless earbuds brand that we have.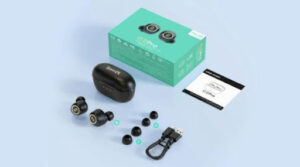 Although, generally, not many companies really have a great traditional reputation for good audio quality, you could be surprised by this brand because they could establish themselves as a really reliable good audio option. The SuperEQ Q2 Pro is the best example of that. So, what we're expecting today true wireless earbuds with active noise canceling for? Well, let's find out.
Super EQ Q2 Pro ANC TWS Earbuds: What Are The Best Features?
So, here are some features that you would surely like. Therefore, make sure to take a look at them:
4 Mics for Clear Calls
Its advanced four-chip microphones on each side, also known as the noise-canceling technology that optimizes earbuds' performance while calling and gives you a smooth communication experience.
Latest Bluetooth 5.2
We always have to compromise with our Bluetooth device because not many headphones are come with the latest Bluetooth technology, due to which we have to face many issues while connecting it to our device. But, these earbuds feature Bluetooth 5.2 technology that gives you a more stable and secure connection with a low power consumption rate.
Excellent Sound with Dynamic Bass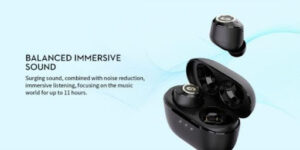 If you are a person who loves to listen to songs using your headphones or earbuds, then this is the great choice for you as the 12mm neodymium-magnet drivers give you incredible beats with deep bass. So, enjoy your music in a more advanced way.
Hall Switch for One-Step Pairing
In this era, we have less time for our day-to-day life. So, keeping this in mind, SuperEQ brings a hall switch feature in these earbuds, which makes sure that you don't have to connect your earbuds every time you use them. So, all thanks to the hall switch feature for that.
Extended Playtime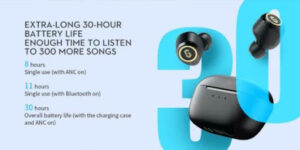 Well, now you do not require to worry about battery life because these earbuds give you around 30hours of playtime battery life along with IPX5 waterproof technology; therefore, you can wear these earbuds while gymming, running, etc.
Should You Buy The SuperEQ Q2 Pro TWS ANC Earbuds?
If you are a fan of Airpods but don't want to spend that much money, then you must go for this as at a very pocket-friendly price, the SuperEQ Q2 Pro TWS ANC earbuds offer you the same features. So, again it totally depends on your choice, we suggest you do your own research before buying these earbuds.
What Is The Pricing Of SuperEQ Q2 Pro TWS ANC Earbuds?
These amazing earbuds from SuperEQ will only cost you around $69.99 at Amazon online store. So, I think the SuperEQ Q2 Pro TWS ANC earbuds are not very costly. Therefore, now if you want, then you can buy it. Also, use the coupon code GETQ2PRO to get an extra 20% discount. But, keep in mind that this coupon will only work on their official website and not on Amazon.
So, that's all I've for you on whether you should invest your hard-earned money in these pieces of earbuds or not. Well, I think you now have a clear idea of whether to buy these earbuds or not. If you want more details about this product, then hover to the official website and check out other information.