Storing stuff on Google Drive allows users to free up internal storage on their phones while still keeping all their belongings on the cloud that they can access. There are several reasons why people would store videos on the Drive but to be honest, the built-in video player app on Google Drive is a turn-off. First of all, it is slow to load a video when you access it via a smartphone and I don't think so there's any difference even if you access it via a PC or so.
On the other hand, there might be a number of reasons why it could be slow and in fact, some videos might not even run and slow processing error at the end of the loading screen. Here, we have listed a total of 13 top ways to fix Google Drive Videos Not Playing or Processing Error that you can follow to fix it up. This excludes issues created by any bandwidth or internet connection or limitation.
Top 13 Ways to Fix Google Dri­ve Videos Not Play­ing or Pro­cess­ing Error?
Pirated Content
Storing, sharing, and streaming pirated content is super easy on Google Drive as you aren't using your phone's internal storage or computer resources to run a local file. However, Google uses an efficient file hashing system that blocks pirated content on finding one. This works a bit like how YouTube marked out copyrighted content on its platform. This will lead to removal or ban on such pirated content or you might be blocked from using those videos.
Video is corrupted
Now, this is the most common issue with videos on Google Drive or any other cloud storage solution you can find across Android, iOS, Mac and other platforms. Here, it is possible that the video you tried to access is corrupted and thus, Google Drive starts popping up an error like 'This video cannot be played' or it will fail while processing it, etc.
Max Playback Resolution
Storing videos on Google Drive is pretty easy, however, it has a max playback resolution that it supports while you trying playing it once uploaded. Google Drive supports a max up to 1920×1080 pixels resolution and any video with a higher resolution then that will not play in Google Drive. The fix is to download it on your PC or smartphone and play it.
File Size Too Large
Google Drive offers almost 15GB of cloud storage free and any more storage will require you to pay extra to get terabytes of cloud storage at a premium. However, there are certain limitations on how large file size could be such as a video file size shouldn't exceed 5TB which although it is ginormous, the system counts the size of all the video files you upload at once which is why it could trigger an issue. Thus, keep the file size in mind before uploading it to Google Drive.
Open In A New Window
If the videos aren't playing or if you are seeing processing error when you click on any video on Google Drive, try opening it in a new window if you are using it on a PC or laptop, etc. Simply rush towards the file, right-click on it and it should give you an overflow menu and select 'Preview'. Since you aren't able to play this video, tap on the three vertically stacked dots on the extreme right and select 'Open in a new window'. This should work.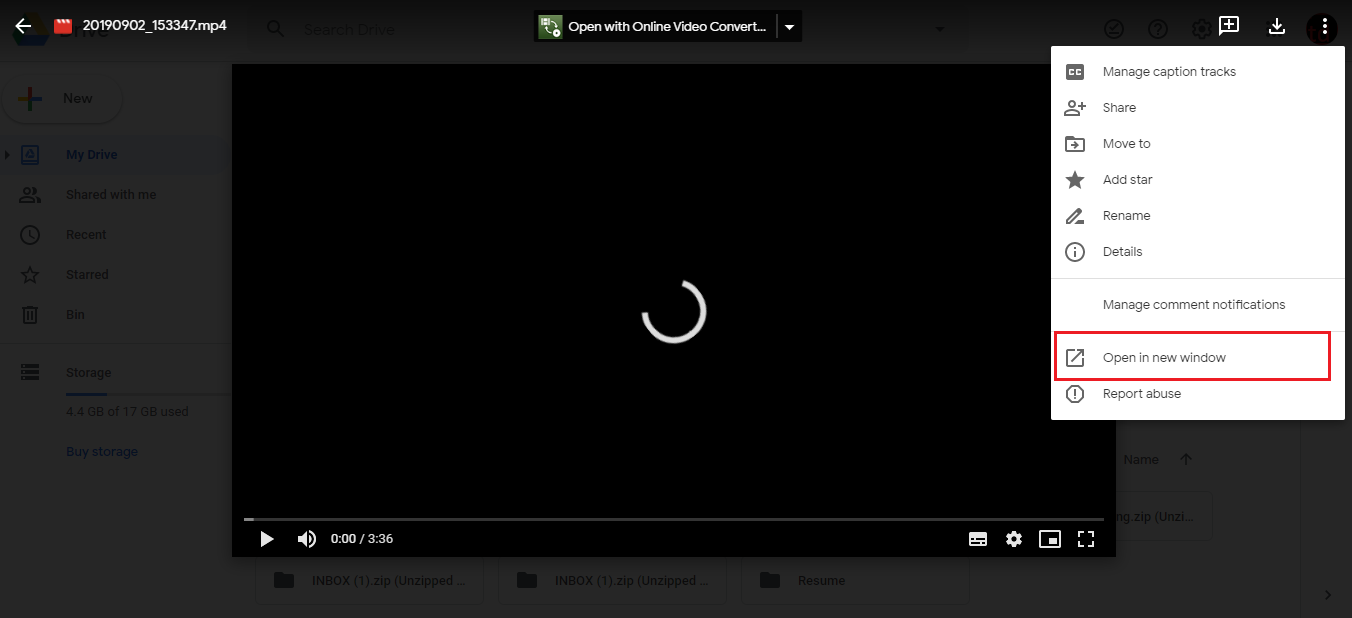 Create a Copy & Play
People tend to go stuff to find a workaround (around) any issue. This is where this trick comes into play. Some users reportedly fixed the Google Drive videos not playing error simply by creating a copy of the file within the Drive. For this to work, go to the video file you want to play, right-click on it and select 'Make a Copy' from the overflow menu. Note that this will create a file named 'Copy of X' where X is the file name that you want to open. Search for the new file, double tap on it and bingo, it must play.
Update the Google Drive App/Browser
Similar to how any app or service could stop working if outdated, Google Drive app on your smartphone or web browser that you are using to access the drive on smartphone or PC is indeed an app itself. Thus, it is possible that the app you are using is out of date causing the issue to spark in the first place. Thus, a quick method to fix the Google Drive videos not playing error in a case sparked by the outdated app(s) is to simply update it. For this to work, you need to go to the Google Play Store to find the update. On a PC, the browser or the Google Drive app usually updates itself. You can check their version and download the latest version if the one you are using turns out to be an old version somehow.
Clear app cache
One of the most common deterrents of an app causing it to suffer is the corrupted or overwritten cache files. Note that cache files are created by the app itself to carry out processing faster than others. However, sometimes either the cache files get overwritten or corrupted causing the app to slow down. It can also introduce bugs causing it to crash when certain events are triggered which is why it is better to clear app cache right there.
Step 01: To clear the cache of the web browser on your PC/laptop, proceed to Settings >> Advanced and tap on 'Clear Browsing Data'.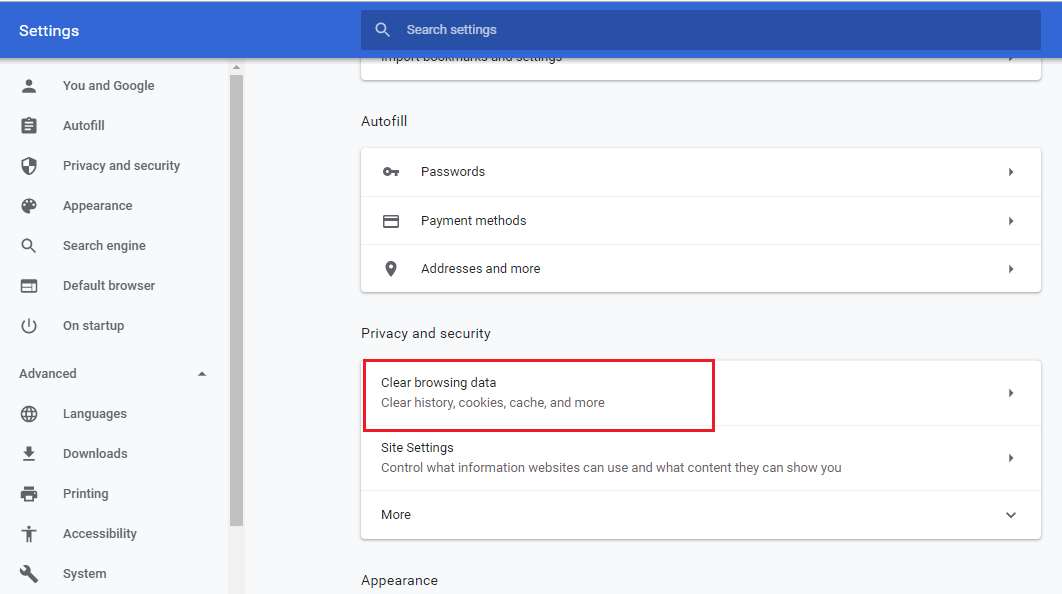 Step 02: Next up, select the site data that you want to get rid of such as Cookies, Cached Images, etc and finally, hit the 'Clear Data' button to get it done.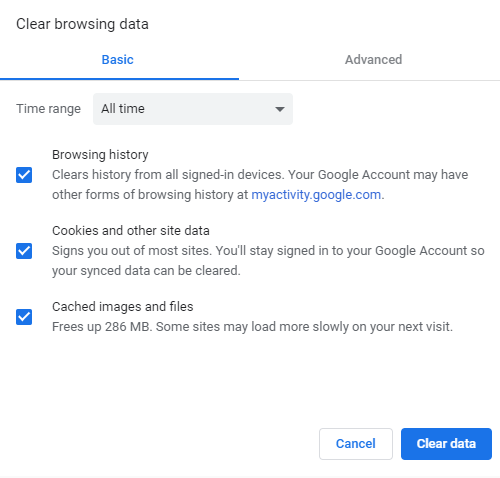 Step 01: To clear the cache of an Android smartphone, you can proceed to the Settings >> Apps & Notifications.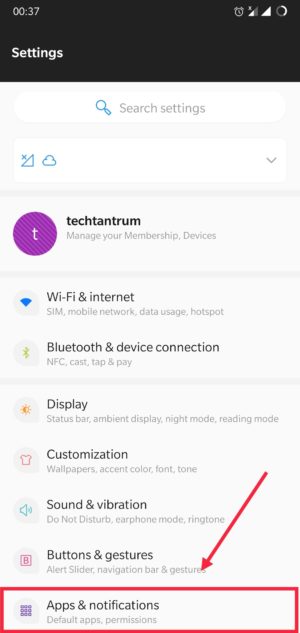 Step 02: Search for Google Drive from among the list of apps and tap on it.
Step 03: Next up, you need to proceed to the 'Storage' and finally, hit 'Clear Cache' and all the cache files are gone.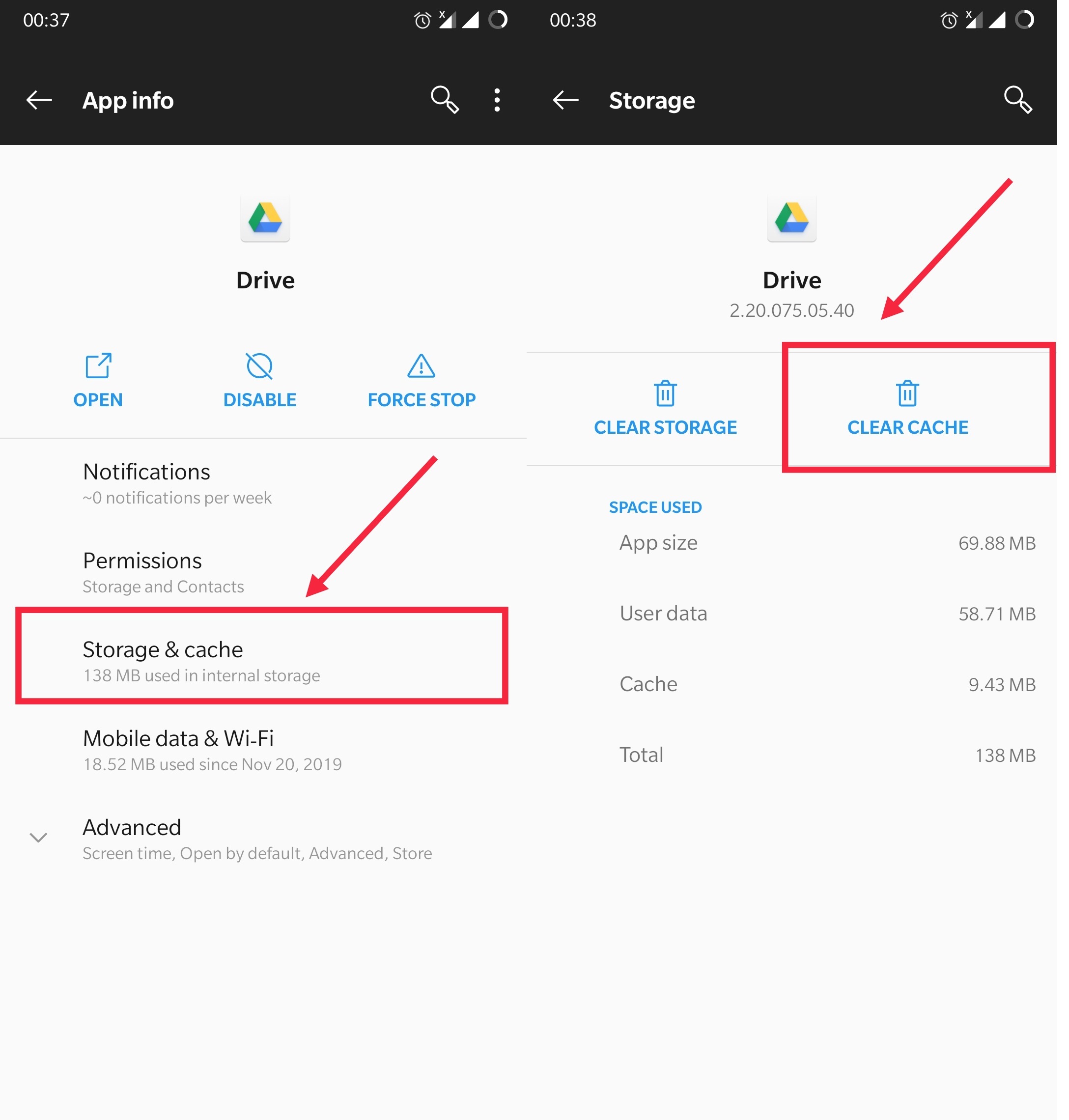 (Note that the process could be a bit different depending upon which smartphone you are using.)
Turn on Incognito Mode
It is a workaround that you can check out while accessing any video on Google Drive. Here, you need to turn on Incognito Mode supported by all the web browsers on both smartphones and computers. Once the mode is active, go to your Google Drive and check if the video is playing or not. If it is still showing issues like 'Whoops! There was a problem playing this video' or others, I would recommend disabling extensions if any to check whether these caused the video to suffer error or not.
File Type Is Not Supported
Now, this is again a common reason why you are getting the 'videos not playing error' while accessing it via Google Drive. This happens if the video that you are trying to play is not supported by Google Drive. It supports all the popular video formats, some formats might not be supported and although it can store those unsupported files, you would require to export or download it to run locally.
Multiple Accounts Logged In
To be honest, Google Chrome allows multiple accounts that you can add and use simultaneously simply by switching between the accounts and get the advantage of all sorts of services individually. Although it occurs less but it is possible that opening multiple accounts on Google Chrome can be a problem in video playback. To fix it, you can simply sign out from all or all accounts except one and check out Google Drive to see if the problem is averted or not.
Download & Run Locally
If the videos stored on Google Drive on an app or website on a web browser isn't working, you can download the file and play it locally. For this, you can open the Google Drive app on your phone, select the file that you want to check out, and finally, tap on options and select 'Download' and it is done.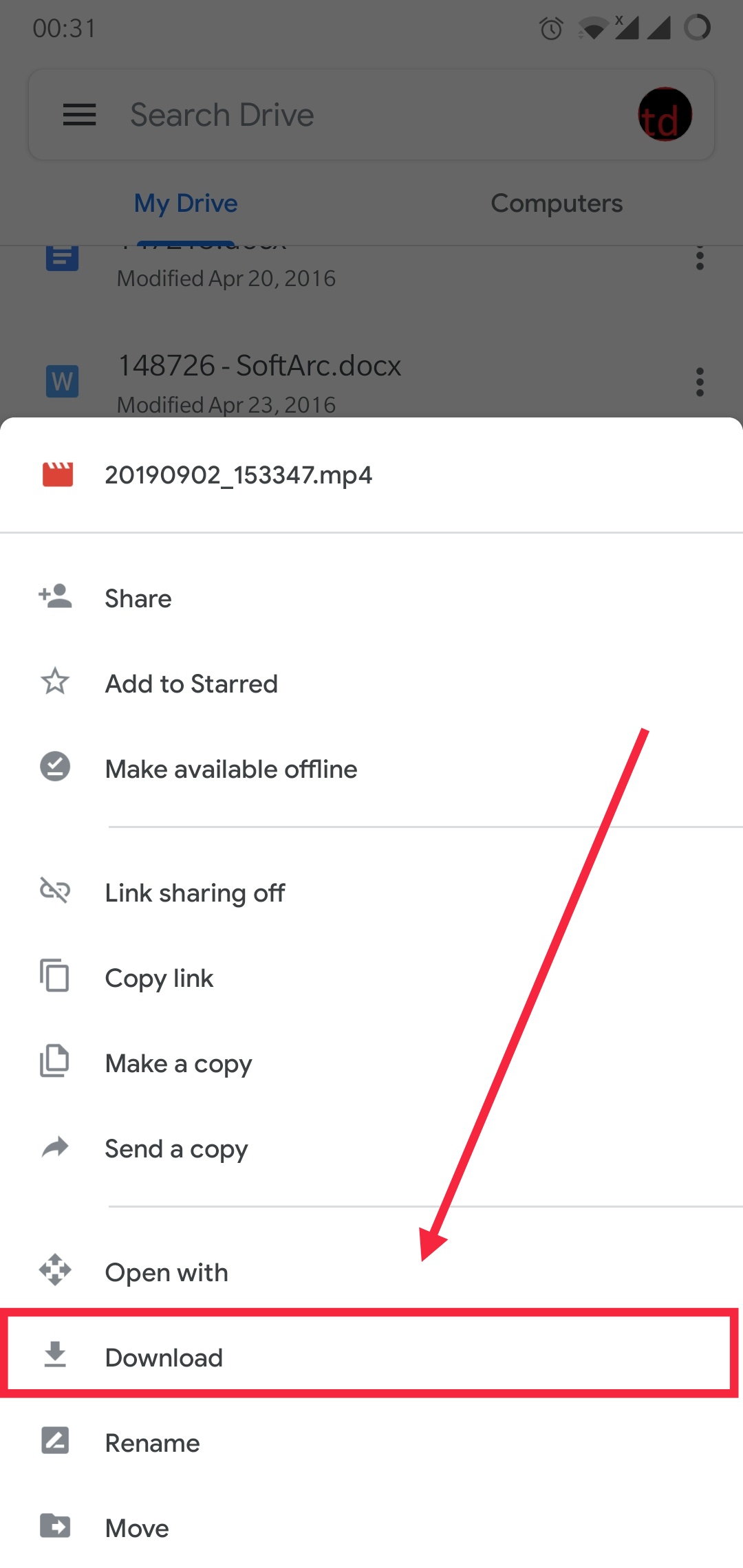 Don't Block Cookies
Cookies are a block of code that connects users with websites & web servers. It uses the data to customize web pages according to users' needs and so on. Many people have reported that when they blocked cookies on their web browser such as Google Chrome, they found out that videos stored on Google Drive face issues. Although it is not a common issue, it does occur and thus, it is here and we have prescribed the way you can allow cookies to fix this problem.
Step 01: For this to work, go to the Settings of Google Chrome or any other web browser that you are currently using and proceed to Advanced >> Privacy and Security >> Site Settings.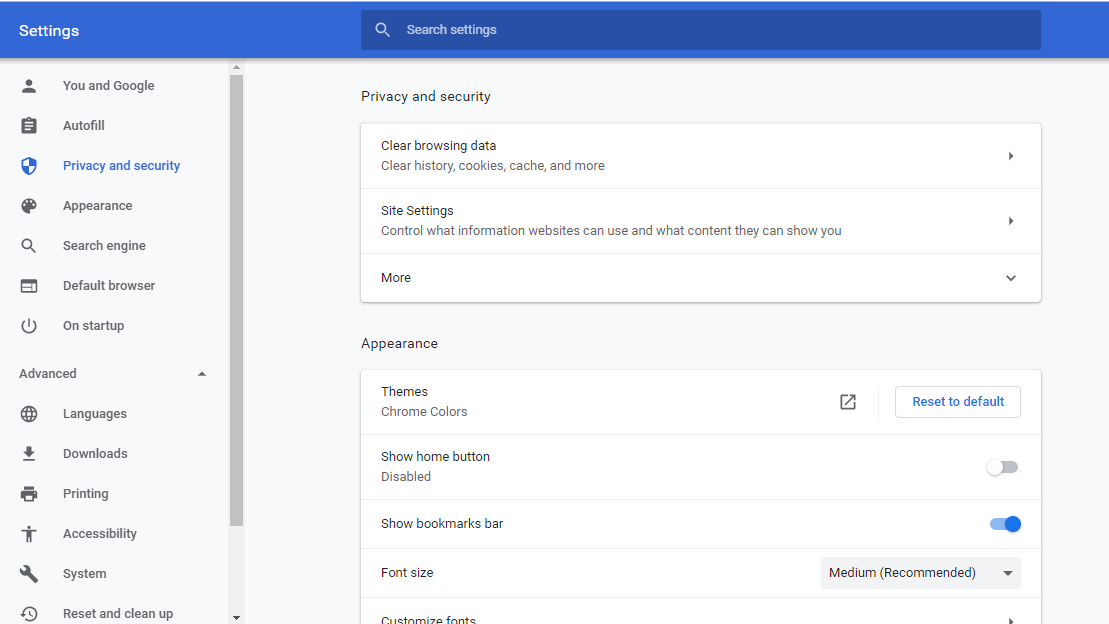 Step 02: Check whether the 'Cookies and site data' are blocked or not.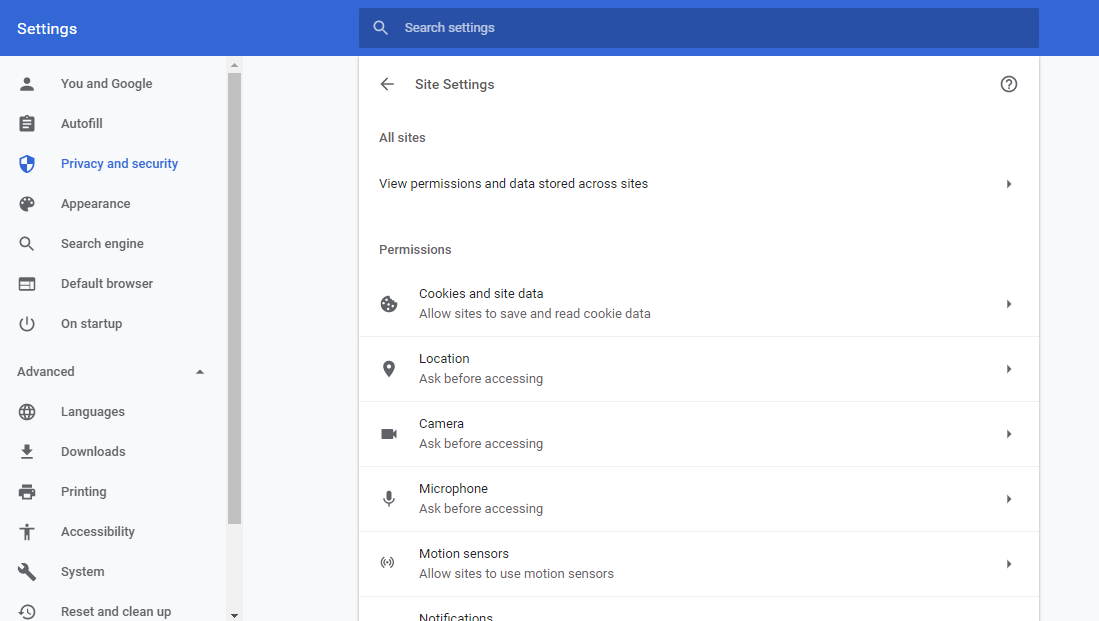 Step 03: If yes, click on it, toggle the lever against it to enable it.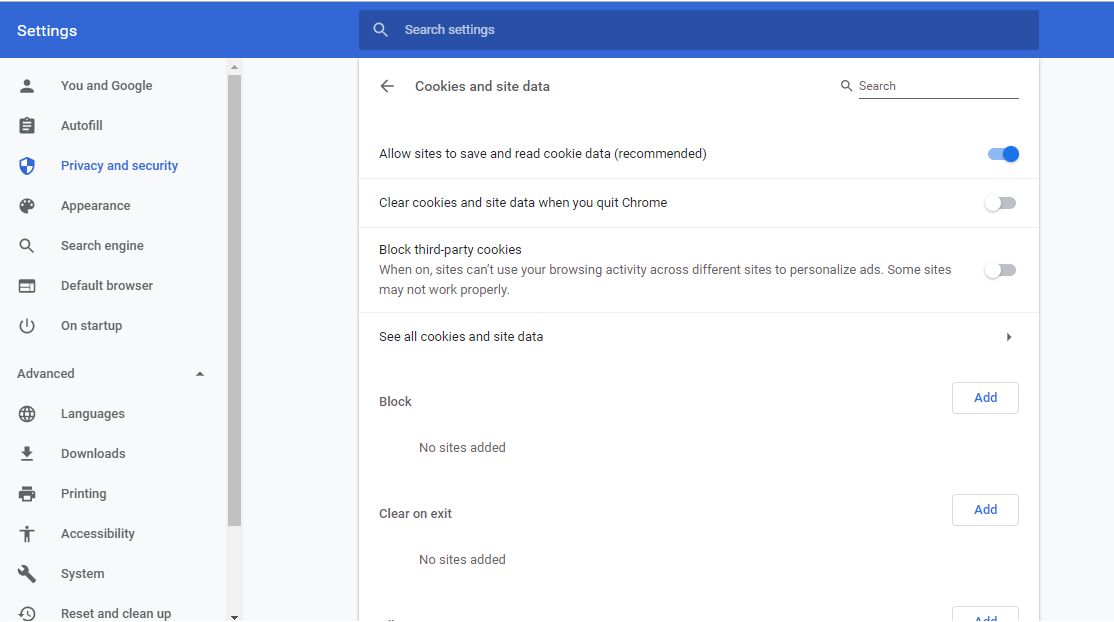 I hope this methods explained in this entire guide helped you fix the vidoes not playing or processing error on Google Drive on phone or PC. If yes, tell us which method helped you and which one was a bummer in the comments.