Little things make a big difference. That's how life works and that's how high-tech works. Choosing the best headphones may not seem like a big deal, but it is if you opt for Apple's AirPods. It doesn't even matter which ones you'll pick – AirPods gen 1 vs gen 2 – as they always deliver the same results in terms of convenience and functionality.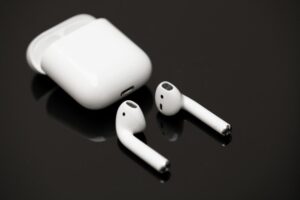 Unfortunately, we notice that many people still fail to recognize the advantages of using AirPods on their iPhone devices. It is indeed a mistake because we are talking about one of the finest tech products currently available on the market.
This is exactly why we decided to write a special post dedicated to the benefits of AirPods and their practical advantages. Buckle up as we are about to present you with the most important pros of Apple's AirPods!
The sound is crystal clear
The best thing about AirPods is that they produce clear sounds regardless of the background noise or environment in general. This type of earbuds contains a powerful noise cancelling system that works well in all situations, so you don't have to maximize decibels in order to listen to what you actually want to hear. At the same time, sound clarity at low decibels prevents any hearing-related damage.
AirPods are smart earbuds
Do you know that Apple's AirPods actually make a pair of smart earbuds? They get along well with the virtual assistant Siri, thus helping you to configure and calibrate the sound without taking the smartphone out of the pocket. Besides that, AirPods can serve many other purposes such as checking the weather forecast or completing a phone call.
They help with sleep deprivation
Another interesting way to use iPhone AirPods is to let them help you fall asleep easily. First of all, they cancel background noise. Secondly, they can serve as a source of white noise – just in case you want to listen to something relaxing before and while sleeping.
You probably don't use earbuds for more than an hour or two while working or commuting, so you will be pleased to learn that Apple's AirPods have superior battery life. They support up to five hours of uninterrupted activity, while the charging time remains at an incredibly low level of 15 minutes.
Improved Bluetooth pairing
Unlike other types of earbuds and headphones, AirPods have a reliable Bluetooth pairing system that remains functional regardless of the circumstances. Apple's product contains the so-called W1 chips with amazing connectivity features. This basically means that Bluetooth will never let you down, even if you run or make strange moves or whatever. In terms of Bluetooth pairing, it can't get better than iPhone AirPods.
AirPods work with Android devices as well
One of the reasons why some users don't like Apple is the fact that they design unique products that usually do not pair with other operating systems so simply. This is not the case with Apple's AirPods as they work with Android devices as well. It makes AirPods much more inclusive and it will probably bring Apple tons of new buyers in the long run.
Advanced features make them even better
Apple did not design great earbuds just to stop on the basic features. On the contrary, the company built an all-around tool with additional functions that significantly enrich user experience. One such feature is the play/pause function because AirPods automatically halt the music in case one of the AirPods is unplugged. Of course, the device keeps playing as soon as the AirPod is on again. Besides that, iPhone earbuds come with a built-in microphone and dual optical sensors.
AirPods are well-designed and lightweight
The last thing we have to mention here is that Apple really made sure to design a beautiful pair of highly functional earbuds. AirPods are lightweight and it's almost as if we are not wearing anything in our ears. Furthermore, the design is so subtle and well-shaped that we can wear the device for hours without noticing it.
The Bottom Line
Choosing the best headphones wasn't such a big deal until Apple released their AirPods. This product turned out to be a game-changer in the field of smartphone headsets and we had to prove it in a new article! We showed you the most important benefits of using AirPods on your iPhone, so now it's your turn and purchase a pair if you don't have one already.