In this guide, we will share with your how to troubleshoot EMERGENCY CALLS ONLY on OnePlus 7/7 Pro handset. Follow the full guide mentioned below. We have provided all the possible reasons and fixes of emergency calls only bug which may appear on any Android device. OnePlus recently launched its two new flagship devices OnePlus 7 and OnePlus 7 Pro handset. If you're planning to buy or already purchased OnePlus 7 and OnePlus 7 Pro device, you should know the issue and fixes. In a few years, OnePlus device users have complained about some of the common issues which appeared. EMERGENCY CALLS ONLY issue is one of them. It doesn't mean that OnePlus devices are not great or doesn't value for money. OnePlus devices are one of the best smartphones out there with flagship specifications and affordable price tag.
Steps to Troubleshoot EMERGENCY CALLS ONLY on OnePlus 7/7 Pro
There are so many common problems appear on OnePlus devices like Network issue, Camera, Wireless connectivity, battery, fast charging issue, etc. The No SIM or Emergency Calls Only issue only appear when your mobile SIM or carrier or software issue arise. The 'EMERGENCY CALLS ONLY' on OnePlus 7/7 Pro devices can occur for a number of reasons. Check out the following list: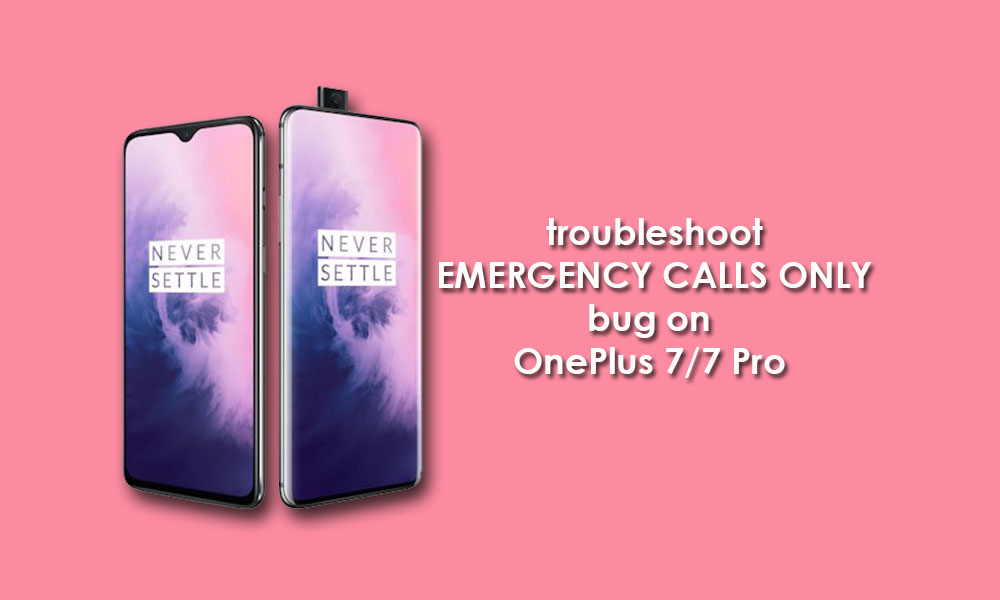 1. Reboot the device (EMERGENCY CALLS ONLY on OnePlus 7/7 Pro)
Restarting your OnePlus device is important and first troubleshooting step in this case. EMERGENCY CALLS ONLY on OnePlus 7/7 Pro bug sometimes can be fixed by rebooting your device. You need to manually restart it.
Turn off your OnePlus device. (Press and hold Power button)
Then press and hold the Power Button again to reboot.
2. Check Your Mobile Network
If the restart option doesn't solve your issue, check your device mobile network as well. Additionally, if you have another mobile phone, try to check your SIM card network whether it's working or not. If the second phone also shows the same issue, you should contact your mobile network operator. There must be a problem with the carrier network or service activating issue.
3. Re-insert the SIM Card on OnePlus 7/7 Pro
If your SIM card not set properly on the SIM tray, there may be some issues with No SIM or EMERGENCY CALLS ONLY. Follow the possible ways to fix:
First, switch off your phone.
Remove the SIM or SIM tray completely.
Re-insert the SIM on the tray and restart again.
This may fix the issue sometimes.
4. Change the SIM Card
If you think that there may be some issue with your SIM card after trying the above-mentioned steps, try to change the SIM card. Contact to your SIM provider or carrier support to replace the SIM card. It can also fix the No SIM issue on OnePlus 7 and OnePlus 7 Pro devices.
5. Disable Fixed Dialing (if any)
Sometimes, Fixed dialing services may interfere with normal network functionalities. If you have enabled fixed dialing on your account, try to disable it. If already disabled, then follow the next step.
Read More: Common OnePlus 7 Problems and Fixes – Wi-Fi, Bluetooth, Camera, SIM, and More
6. Turn Off Airplane or Flight Mode
If your device is running on Airplane or Flight Mode, you should turn off this setting.
Pull down the notification bar from the top of your device display. Find and tap on Airplane Mode icon to turn it off. If not enabled already, then try to enable it and turn off again after a few seconds. Now, restart your device and check the issue solved or not.
7. Change Preferred Network Mode
You can also try to change the network mode of your connection in the device from the settings menu. This may also help to solve the network connectivity issue. You can follow the steps mentioned below:
Open the Settings menu > Tap on Mobile networks or Connections > Tap on Network Operators > Tap on select manually option. Now, wait for your device to search for networks > then choose the preferred network and network mode as well manually. (Such as 2G/3G/4G as a network mode)
8. Wipe Cache Partition (troubleshoot EMERGENCY CALLS ONLY bug)
Sometimes, your device saves a lot of temporary files to load apps and system files quickly. This may raise some issues with device performance. You can fix those issues simply by following the mentioned steps:
First, you need to switch off your device.
Then press and hold the Volume Up + Power key together for a few seconds to boot into stock recovery mode.
You will see a bunch of options > navigate to the 'wipe cache partition' by pressing the volume key to highlight.
Now, press the Power button to select and confirm.
Navigate to the 'Yes' option to highlight and press the Power button to confirm wiping.
After completing the wipe cache partition, select and confirm 'Reboot system now'.
Your device will restart automatically.
Your device data will not be deleted in this process.
9. Check IMEI not Blocked
You should check out the device IMEI isn't blocked. Mobile carriers may block a device IMEI for some reasons. In order to check the status of your device IMEI, you can follow:
Open the dialer app.
Type the code: *#06#

If the IMEI not showing, that means the EFS folder may be corrupted or may be blocked.
Here, in this case, you can try to re-flash the firmware and see if that will restore the default EFS folder.
It will help you to troubleshoot Calls on Important numbers only issue on OnePlus 7/7 Pro.
10. Reset Network Settings
Sometimes, resetting the network settings can fix all the network-related issues completely. It will reset all the settings of Wi-Fi, Mobile network, Hotspot, etc to default. In order to do that, follow these steps:
Go to the device Settings menu.
Tap on Backup & reset.
Tap on Network settings reset.
Select the Reset settings option.
It will all reset network settings on OnePlus 7 and 7 Pro including wireless connections.
Tap on Reset all network settings? confirmation to initiate.
Wait for the process and your device network will reset completely.
11. Fix EMERGENCY CALLS ONLY on OnePlus 7/7 Pro: Perform Factory Reset
The final troubleshooting step that you can do on your device is to wipe it with a factory reset. Make sure to back your personal data up before you do it:
Go to the Settings menu in your device.
Tap on Backup & Reset option.
Now, tap on Factory Data Reset.
Tap on Reset phone.
Finally, tap on Erase everything > wait for the system to complete the reset process and your device will reboot.
It will erase all your device internal data, messages, Google account, installed third-party apps, games, etc.
Hopefully, the factory reset option will fix Emergency Calls on OnePlus 7/7 Pro issue and other minor issues as well.