Haier TVs are not a common name in households as a TV OEM, but people who purchase them often use their devices. A common way to interact with TVs is through a remote, and even to turn on the TV in the first place, we need a remote. But that is not the only way to turn on your Haier TV. If you do not have a remote for your Haier TV, or it has run out of battery, or it is not working at all, you should know there are other ways to turn on your TV.
In this article, we will look into how you can turn on a Haier TV without using the remote. So if you have a faulty remote, this article will help you. Here we have mentioned all the possible solutions in one place. Depending on your convenience, you can choose any method that you see ideal. So without any further ado, let's get into it.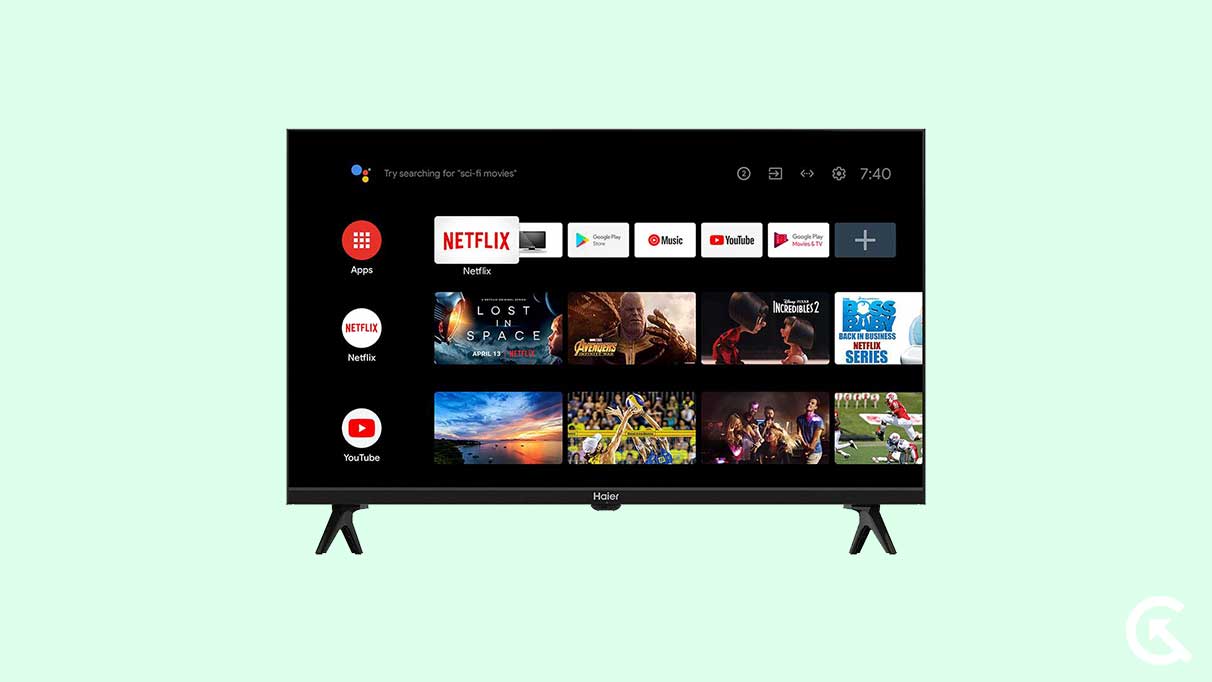 How to Turn On Haier TV Without Remote?
You can use the methods below until you get a replacement remote later.
Make Use Of The Buttons:
Before remotes were a thing, TVs were much bigger in size, and these were the TV that utilized the cathode ray tube technology to display content on the screen. These TVs did not have any IR receiver or remote at that time. All the functionalities of the TV mostly relied on physical buttons that were present on the TV. TVs, even now have not completely removed buttons from the device itself. Not having an operational remote is not an anomaly, and OEMs do realize that. So there are common buttons like the power and navigation buttons built into the device. So if you want to turn on your Haier TV without a remote, you can look for the button on the TV itself. It could be present on the sides or on the bottom part of the TV. A single press of the power button should be enough to turn on the TV.
Use A Universal Remote Control:
Universal remotes or all-in-one remotes are remotes that can be paired with multiple devices and then used to operate them. These remotes' USP is their wide compatibility with devices across different brands. All the user needs to do is perform a pairing process similar to what we see with Bluetooth pairing. Universal remotes push out certain codes that can be used to pair with devices from certain brands. And we already have an article on how to do that as well.
So depending on your TV model, pick a Universal remote that matches your requirement and pair it up with your Haier TV through the simple pairing process that would hardly take five minutes of your time.
Use A DirecTV Remote:
Haier TVs are compatible with remotes from DirecTV as well. Even though DirecTV has no connection with Haier, their remotes can be used as a controller for Haier TV as well. You need to set up the remote before you use it with Haier TV though. Once the setup is done from your side, you can use the same remote that you use with DirecTV to control your Haier TV as well.
So if you have a DirecTV connection, you can set up your DirecTV remote with the Haier TV by following the steps mentioned below.
Switch Off the DirecTV box.
Slide the switch from the Set Top Box to the TV.
Open up your PC and visit the DirecTV Remote Control Code Lookup Page.
Select the remote model on this page and then select the Haier TV option.
Enter your Haier TV's model number.
If you do not know the Model number of your TV, choose the option I Do Not Know The Model Number option and follow the steps mentioned to get the code for your TV.
Once you have the codes on the screen, press the Select and Mode buttons on the remote.
The LED light on your remote will blink twice.
Enter one code after the other with the remote on your Haier TV until you find the one that works for you.
Once the setup is complete, you can use your DirecTV remote without any issues.
Use an Android phone with an IR blaster:
Nowadays, some budget and mid-range smartphones are coming with IR sensor at the top that gives the functionality of using the smartphone to control ACs, TV, and even other gadgets that can be controlled via Remote. These smartphones come with an application where you can select the device you want to control. You will get several options with the app that also includes the option of Haier TV. So if you have any such smartphone with you, you can use it to turn on your Haier TV without the remote.
So these are the different ways to turn on your Haier TV without a remote. If you have any questions or queries about this article, comment below, and we will get back to you. Also, check out our other articles on iPhone tips and tricks, Android tips and tricks, PC tips and tricks, and much more for more helpful information.