Another day we are here with another new article with us, today, here we will give our honest review on the new product from UGREEN, i.e., UGREEN 4K@60 Hz USB C Hub. Although this product is very awesome, it is very important for buyers to know whether this product is good enough for them or not. In addition, the built quality of the UGREEN 4K@60 Hz USB C Hub is an aluminum metal with a soft and smooth finish. With this, you won't have any productivity issues which can maximize your user experience. However, you can also use the HDMI port at 60hz, which is working perfectly without any delays to video or audio quality. Anyway, if you are planning to buy this, you must read the deep down analysis that we have described here. So, let's get started with this.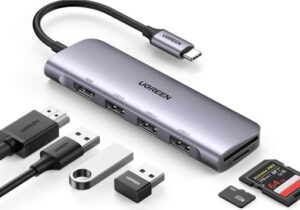 What is UGREEN?
Well, before we start, it is important to know about the company UGREEN because I think not many users are familiar with this. UGREEN is a Chinese digital accessory selling giant owned and regulated by the UGREEN Group Limited, founded in 2012 in Shenzhen, Guangdong, by Zhang Qingsen. Generally, the UGREEN company know for its charging equipment and digital accessories, including the lightning faster-charging cables and audio devices. However, over the years, UGREEN slowly and steadily has become one of China's best-charging accessories sellers. So, now let's talk about what we are exactly here.
UGREEN 4K 60 60Hz USB C Hub That Is Finally Worth Gettings!
UGREEN is always known for its best and top-notch quality products, and trust me, I've personally used this charging hub. So, if you are looking for products like this and getting confused about which product you should buy, then take a look at what we have observed about this product.
Features of UGREEN 4K@60 Hz USB C Hub
There are many features that the UGREEN 4K@60 Hz USB C Hub has. Some of them are really awesome. So, let's take a look at some of the cool features of this USB C Hub:
#1. Crystal-Clear 4K@60Hz Output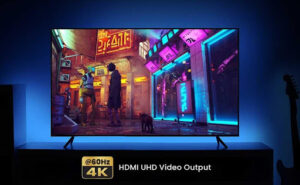 When connecting the 4K monitor, this USB C Hub supports 4K@60Hz resolution. Meanwhile, for a cinema-like visualization experience, you can simply connect your screens to HDTV, monitor, or projector using this port. But, keep one thing in mind that the 4K@40 Hz supports only on laptops that have the display port 1.4.
#2. Reliable Data Transfer
It has 3 USB3.0 ports that you can use for higher expansion speed because that can easily give you a total of 5Gbps that will cover a wide range of conventional equipment and not only be limited to the keyboards, USB drivers, etc. Also, it is not like the other products offered by any other brand. Your data will be the same because it reduces the probability of signal interference while enjoying efficient transmission.
#3. Broad Compatibility
In general, we go with a brand with a wide range of compatibility, and UGREEN understands this very efficiently. That's the reason when they launch any device or accessories, and they make sure that their products are compatible with every available device in the market.
Now, talking about the UGREEN 4K@60 Hz USB C Hub, then it is compatible with almost every single device that has a Type-C(USB-C) port along with the Thunderbolt 3, which includes the MacBook Air, MacBook, MacBook Pro, iMac, M1, iPad Pro, Chromebook, Dell, HP, Lenovo, Asus, and many more.
#4. 6 in 1 Hub
It is very important in terms of usability to have more ports that can help users carry just one device that can allow you to use a maximum number of devices simultaneously. That's the reason UGREEN brings 6 in 1 port in this device, including a 4K@60Hz HDMI Output along with the 3 USB 3.0 Ports and a microSD/SD card reader(that has the highest speed of 104MB/S). So, I really like this small device, and from a usability perspective, I'll highly recommend you to use this.
#5. Durable And Portable Design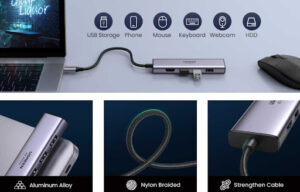 There is no question about the built quality of this USB C Hub because talking about the exterior then it is made up of sleek aluminum and braided-nylon cable that gives a better addition to the design of high-end devices. Also, it is easy to carry it with you while you are traveling due to its slim size.
Is It Safe To Use UGREEN 4K@60 Hz USB C Hub?
Yeah! In my personal opinion, it is one hundred percent safe to use this USB C Hub in your daily use. However, many users who buy this have given positive reviews and also suggested others to just try this once. Therefore, you should also try this out.
Pricing And Offers
Talking about the pricing, then you can get the UGREEN 4K@60 Hz USB C Hub at just 25.99 USD. But, right now there's an offer on this device so that you can get it at a discounted price of 23.99 USD. However, this is a limited-time deal, so grab it as soon as possible before it gets ended. Code: 30CHUB4K
Valid time: 01/09/2022——01/25/2022Page price: $25.99 (There is plan to reduce price)
Deal price: $17.28
Price after code: 30% off
Page Discount OFF: 5% coupon
product link:https://amzn.to/3IOmgaJ
Where To Buy UGREEN 4K@60 Hz USB C Hub?
You can easily buy this product from their official website as well as the other eCommerce giants such as Amazon. So, here's the link that you can use to buy the UGREEN 4K@60 Hz USB C Hub. You can simply click on the link and buy one for yourself or a gift to your loved one.
Our Review
This dongle works perfectly for my Acer Predator Helios 300. It provides enough port variety for me. SO, if you have gotten a newer generation laptop, no matter whether it's a Macbook or Windows, it has enough compatible ports that are just whack.
When I was buying this product from UGREEN, I was quite skeptical, but when I used this, I got totally surprised as now I'm able to connect a wireless keyboard, mouse, and external monitor altogether. Also, the SD card slot that really fulfills my storage needs. Therefore, I will highly recommend you to order this product, and you will for sure not have to regret your decision.
So, that's all from our side on our detailed and honest review of UGREEN 4K@60 Hz USB C Hub. We hope now you have a more clear idea of whether you have to go for it or not. Meanwhile, if you are already using this dongle, let us know in the comment section about your experience.