Phones have gone through a long time with innovations and inventions, features and more adding every other day. From a suitcase-sized phone to a lightweight palm-sized smartphone today, we have come a long way. Even after that, two of the most primary features on smartphones is, in fact, calling and texting. Speaking about calls, it allows users to call or receive calls from someone or anyone from any part of the world levied by the charges that carriers put based on the tariff plan. However, there could be issues with the calling feature on a phone like iPhone XS Max which is currently the epitome when it comes to power and features.
As a user, you might not be able to pick up the call either it could be from a specific user or it could be any and every call. This could be a problem since you can't pick a call causing distress on the other end of the call although you can follow it up with a text message. So, what to do if you are cannot receive phone calls or if you cannot make phone calls on your iPhone XS Max? Here are a few tips and tricks that you will find handy.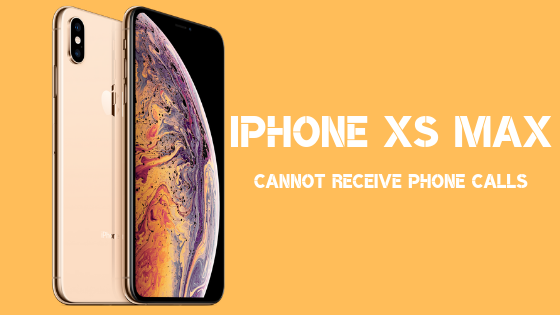 What to do if you cannot receive phone calls on your Apple iPhone XS Max?
Solution #1: Perform a soft or force reboot on your iPhone XS Max
A soft reboot is one of the many ways you can resolve the issue on your Apple iPhone XS Max. The reason being the fact that some glitches and bugs might have occurred when the call came through or it could be due to something else causing problems when you receive a call or you are making a call. Performing a soft reboot will actually rewind your smartphone and relieve it from any stress caused by a string of processes and apps active in the foreground and background. this is what makes the soft reboot and effective solution.
To reboot your phone you need to press and hold the Side button on your iPhone XS Max and press either of the volume rockers simultaneously.
A slider with the caption 'Slide to Power Off' will appear on the display which is when you actually release the hardware keys.
Use the slider to turn off the phone at wait for 30 seconds or a minute until the phone rejuvenates.
Press the power button again and keep it held for a few seconds until an Apple logo appears on the display which is the phone restart.
Solution #2: Try Force Reboot
If the soft reboot doesn't work, try force reboot on your device which also acts as a battery pull required to take the phone out of the screen frozen issue or when it hangs while doing something. The procedure is vaguely different so follow along to perform force reboot on iPhone XS Max.
Press Volume Up button once and release it.
Then, press Volume Down button and release it.
Now press and hold the Side button until the phone shuts down and restarts showing an Apple logo on-screen when you can release the button.
The phone will restart automatically, ask for a passcode to unlock so do it and check if the issue is resolved or not.
Solution #3: Turn ON Airplane Mode
Airplane mode can come in handy when someone is facing network-related issues which include cellular networks without any doubt. As you are having issues receiving calls on your iPhone XS Max or the call is easy to receive or make but difficult to disconnect, airplane mode can make a difference for some if not for all.
To enable the Airplane Mode, go to the Settings >> Airplane Mode and toggle it to enable it.
Perform a soft reboot when the airplane mode is engaged.
Once the phone turns back ON, go to Settings >> Airplane Mode and turn it off.
You can also try alternating the Airplane Mode which is only an effective workaround to fix the issue if induced due to unstable or poor network coverage.
Solution #4: Update carrier settings
As you would update the iOS firmware which is actually the next method you need to follow, the same applies for carrier settings as well. If there are problems with the network, your carrier might push an update where the phone must update itself without any human intervention to maintain the quality of the network and other related functions. If not, you will have to proceed to the Settings → General → About section to update the said settings.
Solution #5: Install the latest iOS update
You are using iPhone XS Max which is undoubtedly the most powerful Apple iPhone till date and it is covered under frequent iOS updates for at least half a decade now in case you want to keep it that long. This means it will keep receiving iOS updates as far as iOS 18 approximately. iOS updates keep the phones in good shape as it introduces a host of new features while fixing issues and bugs, glitches found with existing features and functionalities where calling is one of them.
You can check out the iOS updates received via OTA by going to Settings → General → Software Update.
If you find any upcoming updates, simply download the file and update the iOS to the latest firmware.
On the other hand, you will have to wait if there's no update available which could take a few days to weeks to arrive.
Solution #6: Reset network settings on your phone
Since you cannot receive a call on your iPhone XS Max, altered network settings could be the issue. It is possible that network settings on your iPhone XS Max were altered or changed or have become invalid or inaccurate causing the issue from occurring in the first place. As with any other network-related issues, resetting it could possibly resolve the issue.
Step 01: Launch the Settings application on your phone.
Step 02: Tap and open General >> Reset.
Step 03: This page contains all the options needed around resetting the various aspects on iPhone XS Max so scroll to find 'Reset Network Settings' and tap on it.
Step 04: A dialog box asking users to provide passcode needed for authentication will appear so enter the passcode here and proceed.
Step 05: Once the reset is done, reboot the phone (Follow Solution #1) so that all the said changes could take place.
Solution #7: Other Available Options
As aforementioned, calling and texting is one of the most basic and integral functionalities and thus, any issues picking up calls will have resonating impacts on your social, personal, and even professional life. Refer to the list of troubleshooting methods I have curated above. If that doesn't work, you can try resetting the phone to its original factory settings which aren't that of a job as it literally takes a minute to go through. Furthermore, if even that doesn't work which is highly unlikely and might be complex complications or bugs that the technicians will take care of at any authorized Apple service center or you can opt for a third-party center in case if you don't wish to continue with the first-party service which is expensive.