Realme launched the trio Narzo 30, 30 Pro, and 30A in early 2021 each with a different set of specifications especially the chipset although there are some similarities. There is a tonne of features on these phones and Wi-Fi is one of the many and with that, comes WiFi connection problems.
Apparently, we have been receiving complaints about WiFi connection Realme Narzo 30, 30 Pro, or 30A. Although it doesn't affect all the units of these three models, some users will eventually run into problems with their Wi-Fi features, be it unable to connect to the Wi-Fi or slow internet over Wi-Fi or even authentication error and so on.
If you as a user are facing any issue concerning Realme Narzo 30, 30 Pro, or 30A and its ability to connect over Wi-Fi, here are some of the tricks and troubleshooting methods that will resolve even the stubborn Wi-Fi issues on the Realme Narzo 30 series. As usual, you can use this guide on practically any Android smartphone.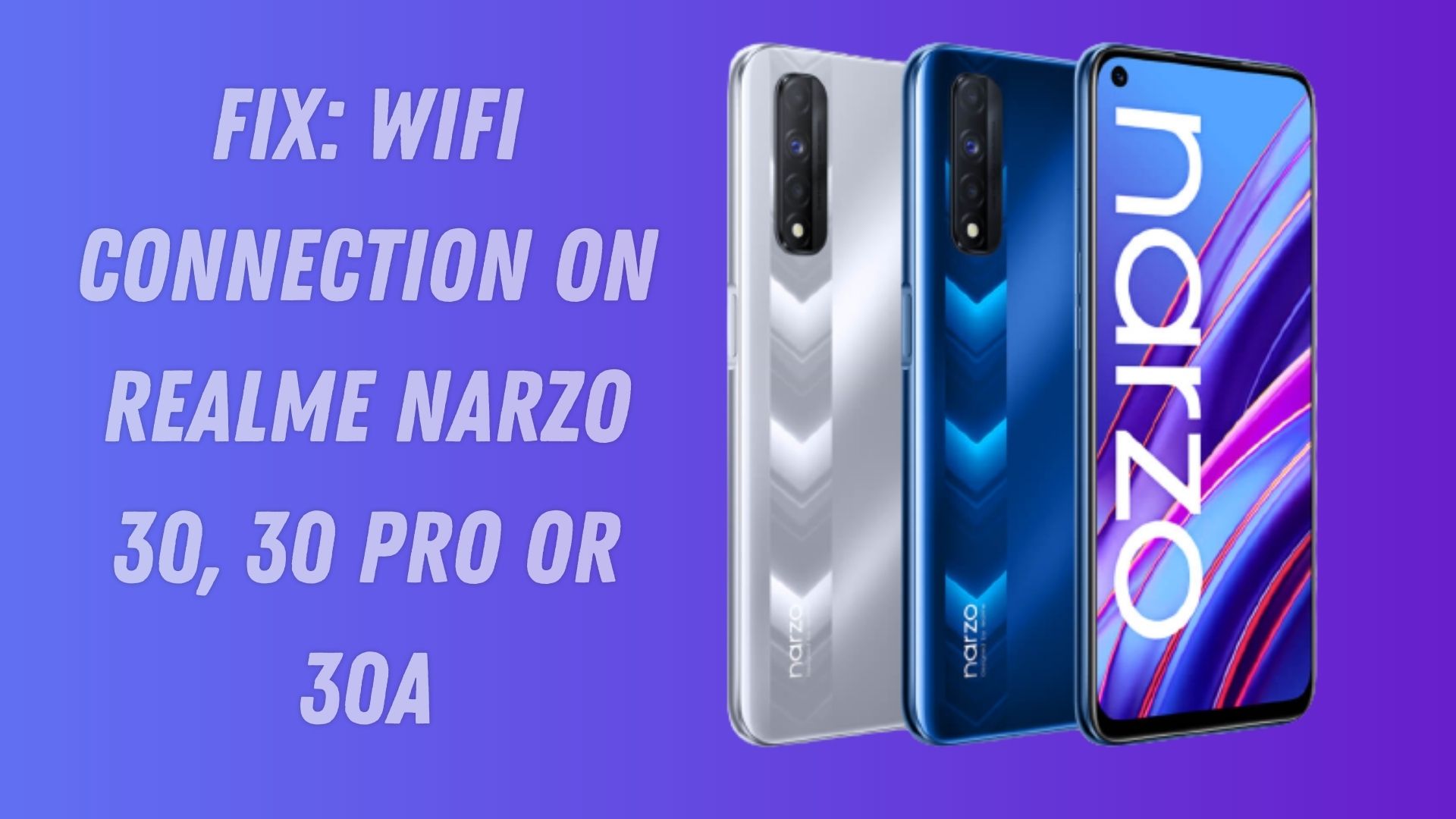 Fix: WiFi Connection on Realme Narzo 30, 30 Pro or 30A
Here are some of the troubleshooting methods that you can use to fix Wi-Fi connection problems on Realme Narzo 30, 30 Pro, or 30A.
Turn On The Wi-Fi
Usually, you have to tap on the Wi-Fi icon on the notification panel to turn it ON. Turns out it does happen that your Narzo 30 series smartphone would end up not registering the touch and thus, even if you assume that you turned on the Wi-Fi, you will have to turn it on again.
On the other hand, if there's a temporary bug preventing Wi-Fi from turning on, simply toggle the Wi-Fi icon repeatedly. This should force the bug to vanish and you would end up enabling it.
Check if you are in the range
I use my phone in the living room when the router is fixed in my bedroom. Although it is okay to have such a configuration but there are many instances where I feel the Wi-Fi strength is too low and thus, it impacts the upload and download speeds as well. Check the distance between you and the router/hotspot and verify if your router can provide needed bandwidth at such a distance. The Google Play Store has a tonne of apps that help you analyze Wi-Fi range and set up your workplace accordingly.
Toggle the Airplane Mode
Wi-Fi on your Realme Narzo 30 series smartphone uses radio frequency to communicate with the router or hotspot. Believe it or not, if there's any network-related issue on your phone. You can kickstart it by toggling the airplane mode several times. It quickly refreshes radio transmission on any smartphone and thus, the Wi-Fi on your phone should start working right away.
Turn Off Bluetooth
Can't connect to the Wi-Fi? Check if you have Bluetooth enabled or not since all these network-related features are using the same electromagnetic spectrum and thus, Bluetooth can adversely impact Wi-Fi working as well. A simple fix to this problem is to turn off Bluetooth and check if the Wi-Fi on Realme Narzo 30, 30 Pro, or 30A is working properly or not. If your answer is the latter, proceed with this troubleshooting guide to find the right solution for your problem.
Verify the band
All three models i.e. Realme Narzo 30, Narzo 30 Pro, and Narzo 30A support dual-band Wi-Fi which means it can connect to both 2.4GHz and 5GHz. However, you need a router supporting 5GHz to connect to this higher band. Check the compatibility of both nodes i.e. the device and the router to verify if the bands were the issue or not.
Check if something's covering the Wi-Fi antenna
Your Realme smartphone has a physical Wi-Fi antenna that it uses to communicate with the router and hotspot. A phone cover or case may interfere with the antenna causing the Wi-Fi strength to suffer. Also, if you are holding the phone covering antenna, it can cause the strength to tumble as well although it is not common that a user might block the antenna but let's say there are chances.
Reboot the device
You are either facing issues connecting with the said Wi-Fi network or it is getting connected but with no internet access. What should you do? Rebooting the phone is an arsenal that fixes a string of bugs and issues on an Android smartphone. It technically works with any smartphone and thus, it is often recommended by many for any type of issue be it network or software-related. Perhaps hardware-related issues are out of scope.
You can either reboot the device at once or switch it off, wait for a few minutes and turn it ON. Check if the Wi-Fi connection problem is fixed or not.
Refresh Wi-Fi connections
There are many applications of this troubleshooting method. Be it "Wi-Fi connection problem" or "Authentication error" or "Wi-Fi keeps dropping intermittently" or any other, you can refresh the Wi-Fi connection assuming that you know the password. Here's how you can do it.
Step 01: Roll down the notification shade and long-press on the Wi-Fi quick tile.
Step 02: Turn on the Wi-Fi and connect to the network you are facing.
Step 03: Select the network in question and long press on it and tap on "Forget".
Step 04: Finally, tap on it, enter the password, and hit "Connect".
Assuming that you were in range with the Wi-Fi network and used the right password, you should be connected to the Wi-Fi right away. You can proceed with other troubleshooting methods to fix this issue.
Change settings to Static
If you get an authentication error after entering a correct password, changing the IP settings from DHCP to Static can help. Check out the Advanced Settings under Wi-Fi and proceed to IP Settings to change it from DHCP to Static where the former is set by default.
Refresh Network Settings
Wi-Fi is a network-related feature and thus, a slight change in the settings may or may not cause an issue. Assuming that changed settings sparked the problem, use this method to fix it up.
Step 01: First up, go to Settings on your phone via app drawer or slide down the notification panel and tap on the 'gear' icon.
Step 02: Next, find and select "Additional Settings".
Step 03: Next up, select "Erase all data (factory reset)".
Step 04: Finally, tap on the first option that says "Reset network settings".
Step 05: Enter the PIN when asked and select "Reset network settings" again to confirm and the process is completed.
Update Software
Many times, outdated patches or firmware can cause a problem in the working of any smartphone either affecting one of the features or the entire phone. Since you use a Narzo 30, 30 Pro, or Narzo 30A each running Android 11-powered Realme UI 2.0, you basically have two software layers to take care of.
If the Wi-Fi is facing an issue or any other functionality for that matter, check if the firmware is updated or not. Also, outdated firmware is a den for intruders so it is advisable to keep the firmware updated irrespective if there's a problem with the phone or not.
You will find the software updates via Settings >> About Phone or you can visit 'n' numbers of websites that provide updated firmware for upgrading manually.
If you are unaware, a router has firmware too and although it keeps updating itself automatically, an outdated firmware can spark problems, and thus, updating it will resolve it as well. Check out the OEM's website to download the firmware and update it.
Perform a Restore Factory
Performing a restore factory on a smartphone is simply settings any software-related issue ablaze. However, it also means you will lose all the data stored only on your phone, and thus, you will have to seek a backup before proceeding.
Step 01: First up, open the Settings app on your phone.
Step 02: Find and tap on "Additional Settings".
Step 03: Next up, tap on "Backup and Reset".
Step 04: Finally, select "Erase All Data (Factory Reset).
Step 05: Finally, tap on "Erase All Data".
Step 06: If you are asked to enter the PIN, enter it and proceed.
You will have to set up the device as a new one after restoring it.
Check for any hardware issue
Assuming that you tried to boot up Wi-Fi on Realme Narzo 30, 30 Pro, or 30A yet to no avail, check if there's any hardware issue. It is quite common for electronic items to malfunction and the Wi-Fi system with the Wi-Fi antenna on your device is no exception. If you feel that the Wi-Fi issues are localized to your phone and other devices are running properly, walk into a service center (authorized or third-party) to get it sorted. As usual, the cost to repair or replace will be different between the two and based on your discretion.
Hope using this detailed troubleshooting guide will assist you in fixing any issue with Wi-Fi-connection on Realme Narzo 30, 30 Pro, or 30A or any other Realme or Android smartphone for that matter.