5G is now rolling to most cities worldwide, and people are getting crazy about enjoying the superfast 5G experience. Even though most smartphones now come with 5G capability and 5G SIM cards, users are ready to see what 5G is all about. However, even if you buy a 5G SIM & 5G smartphone, you might still face an issue of 5G missing from the preferred network type on your smartphone. In this issue, there will not be an option to choose 5G even if your SIM & smartphone have the 5G capability.
As crazy as it sounds, this is what many users face across the globe with different carriers. The problem arises due to the special configuration 5G spectrum needs, which most smartphone manufacturers haven't configured yet. But don't worry; in the below guide, we will help you with some troubleshooting methods to fix this issue easily.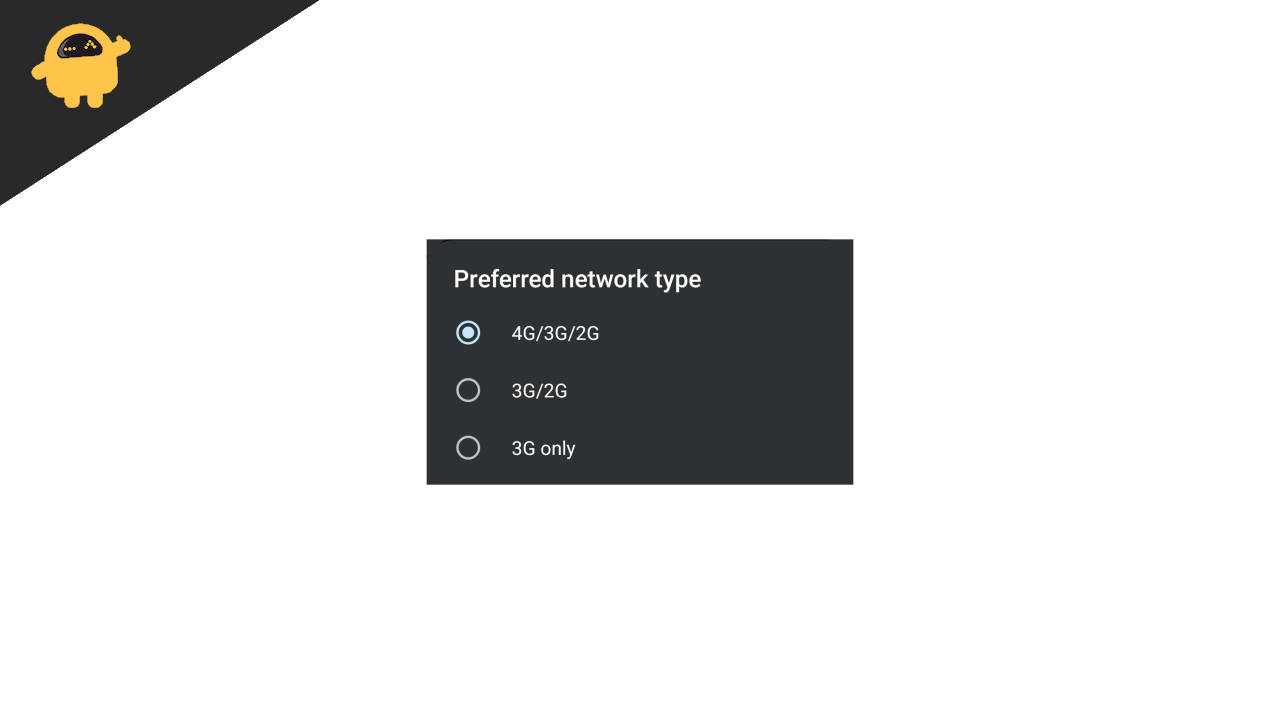 How to Fix If 5G Missing from Preferred Network Type on Any Smartphone
Please note that 5G is a very complicated technology, and a special combination of hardware and software is required to run it. Now, most modern smartphones have 5G hardware but lack the software or are missing the required configuration. The methods below will help you fix just that whether you use an iPhone or Android smartphone.
Method 1: Check 5G compatibility
5G is big news in many regions worldwide, but many smartphones are quite 5G ready. When you buy a smartphone, you will have an option to choose between "5G Supported" and "5G Ready" both of these options so have 5G, but comes with a cath.
5G supported means that the functionality will be available only after an OTA update from the manufacturer, and 5G Ready means you can plug in your 5G SIM card and enjoy 5G services. So please crosscheck what category your smartphone falls into.
Method 2: Get 5G OTA Update
Since many carriers are providing 5G services, Smartphone manufacturers are also rolling out 5G-enabled OTA updates to support 5G networks. So make sure to update your device to the latest software version. You can do this by going to Settings > Software update > check for updates.
Method 3: Check 5G Hardware
If your device does have any 5G hardware, obviously, you will not be able to avail of 5G services. Many free apps are available in Playstore & Appstore, which can help you check 5G hardware easily.
Download and install the Airtel Thanks app from Play Store / Appstore.
Go to the 5G section, and start a Handset test.
Here the app will check for currently available 5G networks in your area.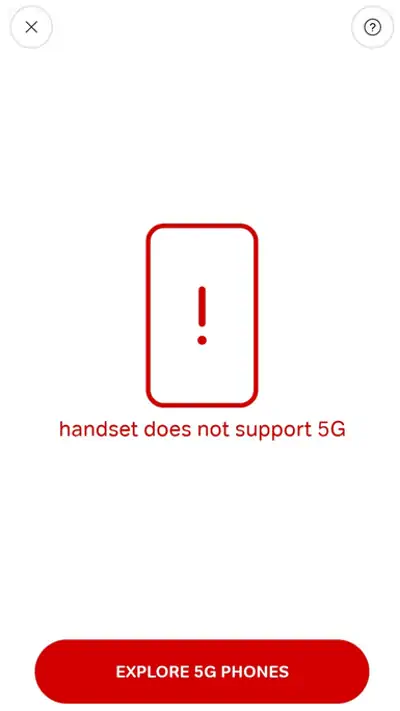 It will test for your device's 5G compatibility. If your device supports 5G, it will give you positive results.
In case you purchased a 5G phone, but the app shows you no 5G, it means the 5G hardware is faulty, and you can avail warranty to get this hardware fixed from the smartphone manufacturer.
Method 4: Check Nearby 5G Towers
Since 5G is an expensive infra-cost-based network, it is not available in all regions and all cities. So before you want to try and troubleshoot the 5G combability, make sure you check the 5G tower coverage nearby. There are many apps that can help you to do it for free, but here we are using the Ookla app.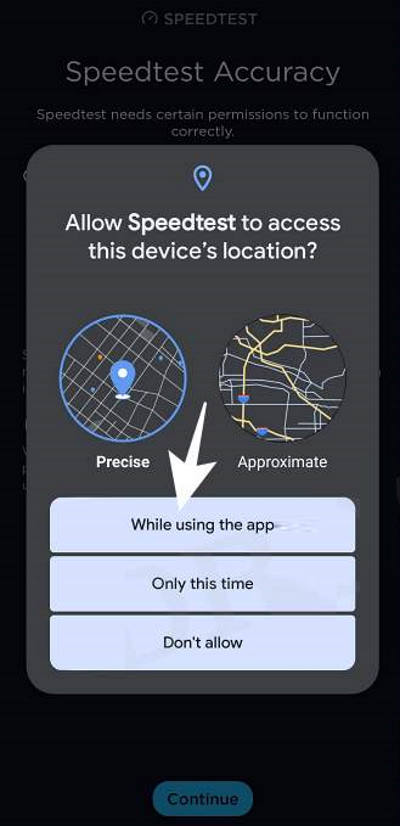 Now launch the app and give the relevant permissions.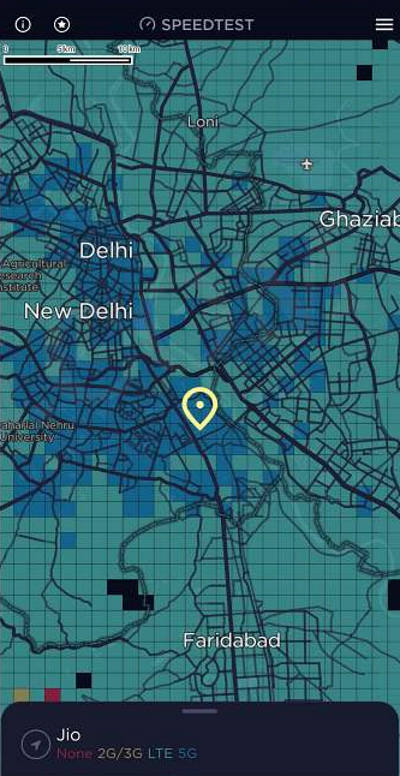 Go to the map section and then click on the "Scan for 5G tower" option.
The app will scan for available towers and it will give you an idea if 5G is available in your area.
Method 5: Check Device Compatible Region
Some international models do come with 5G restrictions based on geolocation. For eg, a smartphone made for China & Hongkong region will not be able to support 5G services in US or Canada. So make sure you doublecross check the device manufacturer and support region before you buy a 5G SIM.
Method 6: Enable 5G in Testing Mode
If you're not able to choose 5G in the network type, the high chances are that the opinion is not enabled. Since this open only gets enabled by OTA update, users might have to wait. But for a few lucky users, you can still enable this option by going to factory testing mode.
Open the Phone default dialer app and type in the below code.
*#*#4636#*#*
A new testing window will open, here choose the phone information option.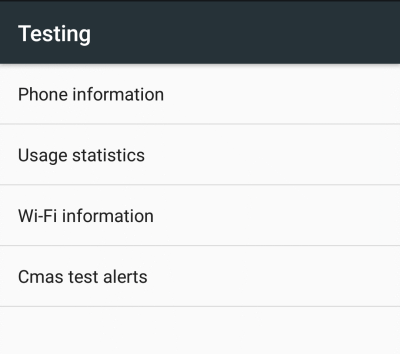 Here scroll to the "Set preferred network type" option.
Choose the NR only option and save the settings.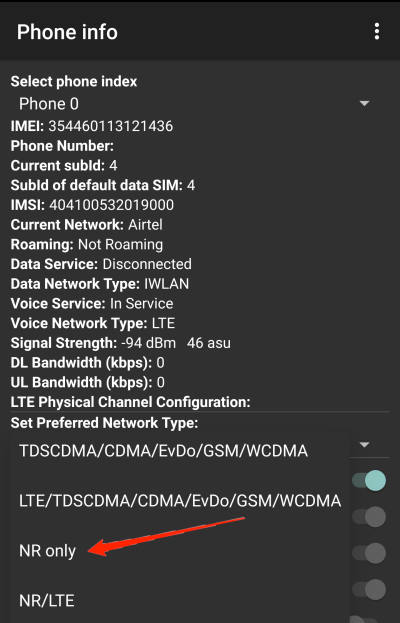 Now you can go back to smartphone settings > Sim card > network type.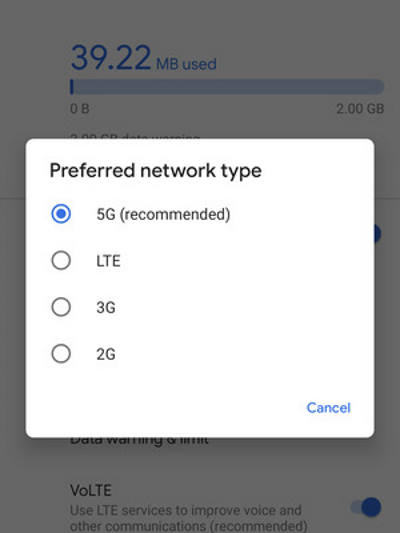 Here you will be able to see 5G option now.
Method 7: Recharge with a 5G Data Plan
We have received multiple completing regarding having a 5G compatible SIM but only getting 4G network. Or 5G Missing from Preferred Network Type settings on their smartphone. This happens when you don't have any valid 5G recharge. Please note that many carriers have a separate data plan bundle got their 5G services, so make sure you check that out with your cellular company.
Method 8: Use 5G SIM in Slot 1 Only
Many devices, especially Android 5G smartphones with dual SIM support. It is wise to note that not each SIM slow is 5G compatible. So make sure you use 5G SIM card in slot 1 only. This will make sure you can enjoy 5G services.
Method 9: Allow 5G Option
Many smartphone manufacturers have located the 5G services as it consumes a lot of battery and resources. So people who want to use 5G, have to enable it from the settings menu.
Open device settings and navigate to SIM preferences.
Here scroll down to calling options.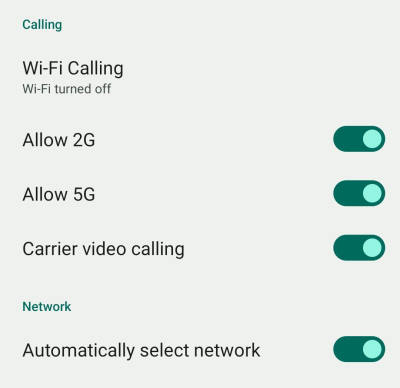 Enable the allow 5G option. Once done, please restart your smartphone, and the 5G option will be available.
Method 10: Contact Device Support
If none of the above methods helps, you might have to connect with your smartphone customer care, as they can fix it. Since many devices raise similar 5G-related problems, they also might release an OTA update that will benefit other users. Or they might offer you a device replacement with working 5G features.
Conclusion
This brings us to the end of this guide for fixing the 5G missing from your smartphone's preferred network type issue. Please note that the issue is probably due to a software mismatch or glitch. So if you have any pending software updates, install them via the software update section on your smartphone.