Contacts are the most important things in our daily lives and especially when it comes to using a mobile device or keep communication with family, friends, or other people. Now, if you're an Android user and just moved to an iOS device or having an iPhone as a secondary handset, then this guide is for you. As the contacts list is very important to us to easily communicate with people, it's necessary to save contact numbers. Check out How to add or remove contacts on Apple iPhone 11/11 Pro/11 Pro Max.
As time goes on, almost each and every person easily forgets the contact numbers & these days we mostly rely on the useful contacts list on our devices instead of keeping it in our memory. So, whether you're using a feature phone or a smartphone, you should add or save all the necessary contact numbers on your device. Meanwhile, at a certain period of time, you can also feel that there are too many unnecessary contacts saved which you should delete to free up some space as well.
Now, first of all, we will share with you the steps to add contacts and then delete contacts on your iPhone 11 or 11 Pro or 11 Pro Max device. Let's jump into it.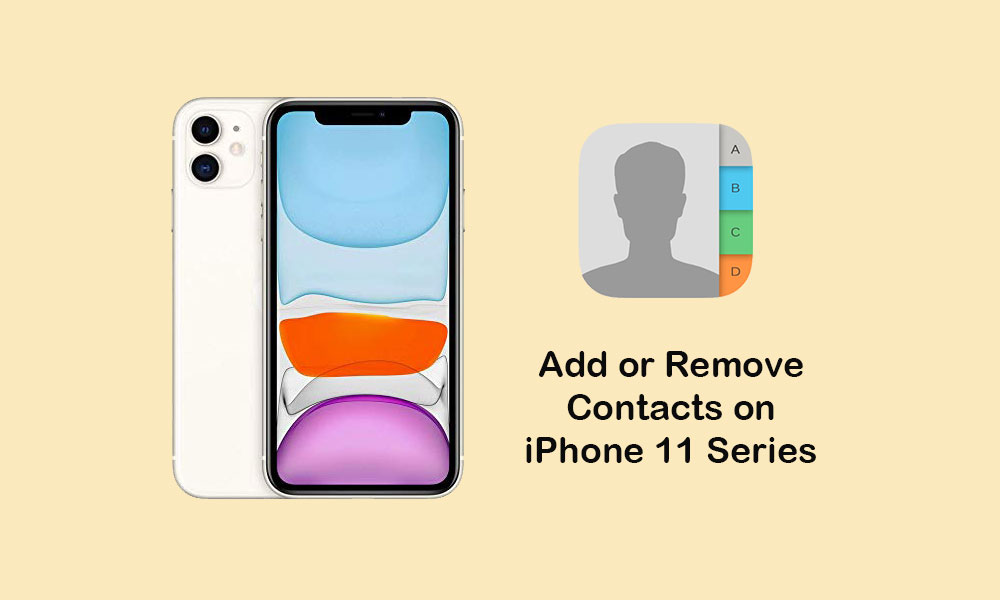 Steps to add contacts on Apple iPhone 11/11 Pro/11 Pro Max
The contact adding process is much simpler and necessary as well for your own work or safety or any other purpose. If you've recently switched to the iPhone 11 series devices then it may take a while to get used to it. However, we can expect that the iOS settings and options are too much simplified to use for any user. Because each and every iPhone runs the same user interface and the same settings or options which will help you for longer usage.
From the Home screen on your iPhone, tap on the Phone icon.
Then tap on Contacts >> tap on the (+) icon at the upper right corner of the screen.
Enter the details of the contact on the fields like First Name, Last Name, Company, Add Phone Number, Add Email ID, etc.
Additionally, you can also set a specific ringtone, text tone, and contact image for your ease.
Once done, tap on the Save button to add the contact.
Now, just search for the saved contact name on the Contacts field to check whether you've done right or not.
Alternatively, you can go to the Phone icon >> type the phone number on the Keypad tab which you want to save >> After entering the contact number, you will see the "Add Number" option under the digits.
Tap on the Add Number >> a pop-up will appear and you've to choose an option.
Either you can choose to Create New Contact or you can even choose to Add to Existing Contact if you want to replace any number.
That's it.
Steps to remove contacts on Apple iPhone 11/11 Pro/11 Pro Max
Usually, you can delete multiple contact numbers on your iPhone at once. You will need to choose and delete contacts individually. Check out the steps below to delete a contact number.
Go to the Phone icon from the Home screen.
Tap on Contacts >> Select a contact which you want to delete.
Next, tap on the Edit button at the right corner.
Then scroll down to the particular contact number and tap on the Delete Contact.
Similarly, you can delete other contacts as well.
Steps to Remove Multiple Contacts At Once on your iPhone 11 Series
1. Use iCloud to Delete Multiple Contacts
Tap to open the Settings menu >> Select Accounts & Passwords.
Then tap on iCloud >> Turn off the Contacts toggle.
If prompted, select the option to Keep on My iPhone.
Next, turn on the Contacts toggle to turn it on again.
Tap on Merge to save all of your contacts in iCloud.
Now, turn off the Contacts toggle again >> Select the option to Delete from My iPhone.
Go back to your Accounts >> Select the mail provider for your account.
Finally, turn off the Contacts toggle with each account >> Select the option to Delete from My iPhone.
This method will delete all of your contacts at once.
2. Use Third-Party Tool to Delete Multiple Contacts
Go to the App Store >> Tap on the search bar and type in the 'Groups' app.
Search for it and tap on the Get button.
Enter the App Store passcode or authenticate with your Face ID.
Once installed, open the Groups app >> allow access to read Contacts.
From the Group list, you can select All Contacts.
Now, select the contact names which you want to delete. Tap on the circle outline at the left side of the contact's name. A checkmark will appear on selected contacts.
Once done, tap on Choose Action at the top of the screen.
A pop-up menu appears >> tap on Delete Contacts.
Tap on Remove from my iPhone to confirm the process.
You're done.
We hope that you've found this guide helpful and now you can easily add or delete contacts on your iPhone 11 series devices easily. You can comment below for any queries.