Genshin Impact is the newest adventure RPG from the highly praised and well-known developers, miHoYo. The anime-style game has done a magnificent job of blending the old with the new, crafting an open world full of vast and diverse landscapes just waiting to be explored. You can gather your party and set off on a journey crossing vast oceans and soaring through high mountain passes. In this guide, we will take you through all the Weathered Obelisk Locations in Genshin Impact.
The multiplayer game has plenty of locations to explore, with interesting points of interest. Mashing together two combat modes, it allows for battles both real-time and turn-based. The characters and their unique combat styles add depth to the already expansive world that Genshin Impact offers. Genshin Impact provides an unforgettable gaming experience for anyone looking for something unique in their RPG experience. So, let's take a look at where to find all Weathered Obelisk Locations in Genshin Impact.
Genshin Impact: Where to Find All Weathered Obelisk Locations
Weathered Obelisks are mysterious stone structures scattered throughout the world of Genshin Impact 3.4. They contain cryptic, ancient writing, and their origins remain controversial among the Genshin Impact community. While some believe these Obelisks are a reminder of the game's ancient past, others think they represent a greater power and offer insight into its future. Although little is known about the significance of Weathered Obelisks, adventurers in Genshin Impact can explore them as they discover new places and uncover untold secrets.
You might remember Primal Obelisks in the Hypostatic Desert area if you have explored it. You will come across them just before climbing up to the Desert of Hadramaveth in Genshin Impact. To activate these Obelisks, you need Sacred Seals. This time, with Weathered Obelisks, you are in for a similar task. However, this time they are in the upper desert.
There are 35 Weathered Obelisks which you can find in the sandy region, and they have tons of loot waiting for you. Make sure not to miss out on the Primogems, treasures, and lore you will get your hands on. Additionally, there is a secret achievement that you will be able to acquire for yourself.
When you come across the Weathered Obelisks, you will need to use the Mark Sacred Seals option. This is to reveal the locations for all Sacred Seals belonging to it. In this method, you will be able to speed up the process of finding the Sacred Seals. They are all close to the structure, so you should be able to find them quickly. Use your Elemental Sight to get them all, in order to activate the Weathered Obelisk.
Below, you will find the list of all the Weathered Obelisks locations in Genshin Impact.
Where to Find All Weathered Obelisks
Here is the interactive map which marks out all the Weathered Obelisks in Genshin Impact. Note that some of them are underground, and you will need to look for them below the ground level. The Sacred Seals should be close to all of the locations of the structures.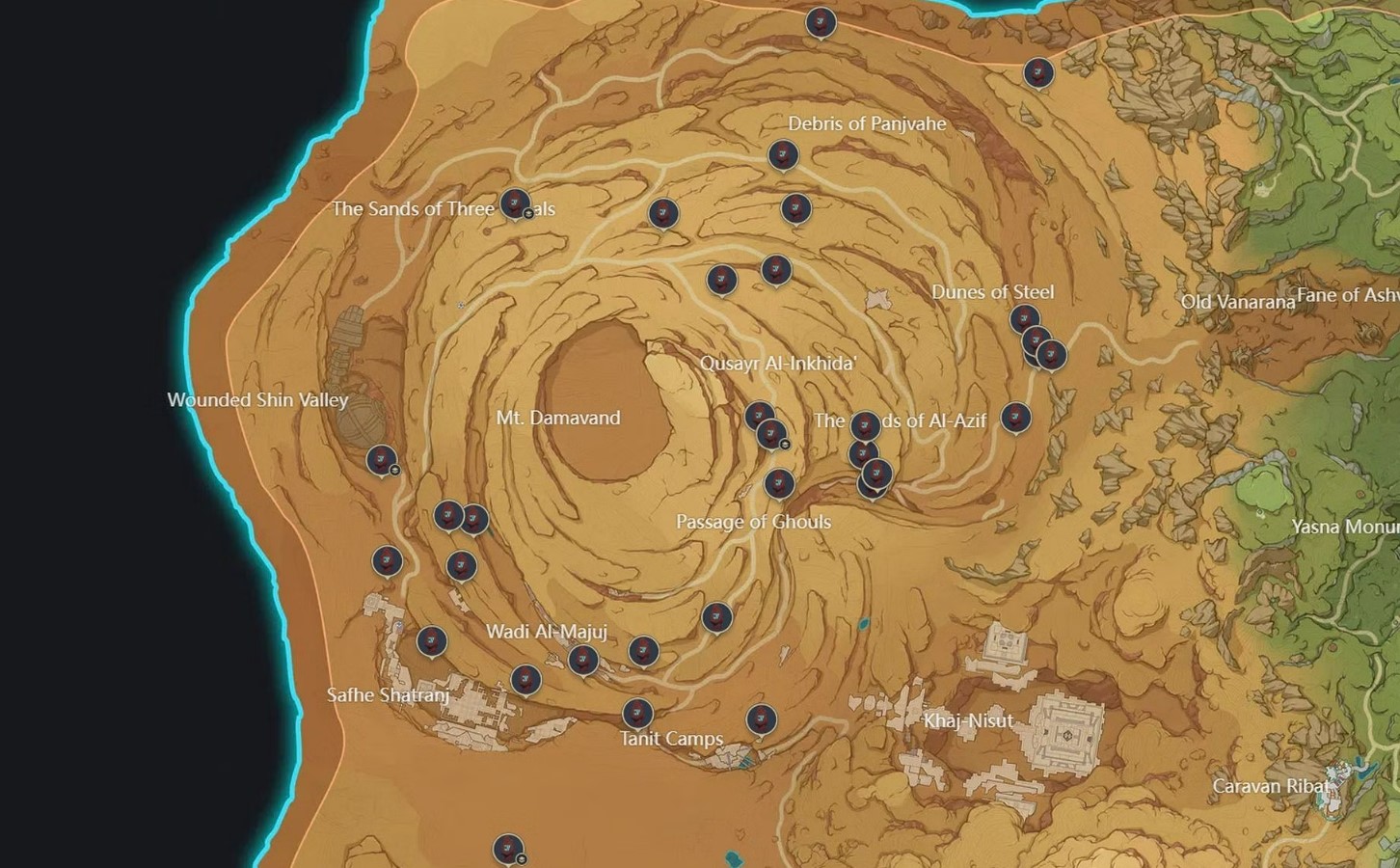 Additionally, keep in mind that you will need to complete the Dirge of Bilqis quests to reach all seals. Some of these areas will need you to use the Jinni's powers. In this way, you will be able to collect all the Sacred Seals and complete activating all the Weathered Obelisks.
Once you have collected them all, you will get the hidden achievement of the Parvezravan Khwarrah. This will reward you with a total of 205 Primogems in all. If you are looking to top-up your balance of Primogems, it's a good idea to go hunting for all of these Weathered Obelisks in Genshin Impact. Now that you know all the locations with the help of this guide, you can go ahead and find them all.